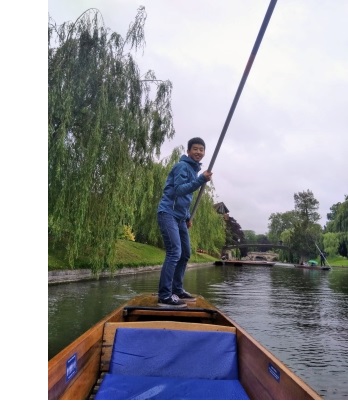 Andrew is from Manchester (North West England), and wrote this at the end of his first year studying Engineering here at Christ's College, Cambridge. At school, Andrew did A-Levels in Maths, Further Maths, Physics, and French.
What aspects of your course attracted you to it specifically?
Cambridge Engineering is known for being different to other Engineering courses, as the Engineering course here doesn't specialise until third year so that all students in Part I (the first two years) learn equally about mechanical, structural, electrical, and material disciplines. This attracted me as I could be exposed to a wider range of material. Of course the supervision system is unique and worth mentioning too. Every week, we complete work (usually a problem sheet) which we then discuss in an hour-long meeting, or 'supervision' with an academic who has worked on the subject, the 'supervisor'.
Why did you apply to Christ's?
Christ's was the first College I properly visited on the Open Day, because it was on the main road from the train station! The great gate looked more open and welcoming than other Colleges, so it made a good impression, and the courts were really pretty. Back home, I read online about the Fellow's Garden, which despite its name is open to students during the week. The unlimited (and free!) side dishes in Upper Hall, the College canteen, also appealed me. Also, for Engineering, Christ's was the only College to require the STEP I mathematics paper, something I was quite confident in being able to do well in, so that also drew me in.
In my first year, Christ's also offered a book grant to freshers. Since Engineering has no set texbooks, I bought some books related to my course or the French and German lessons I'm taking in the Engineering department: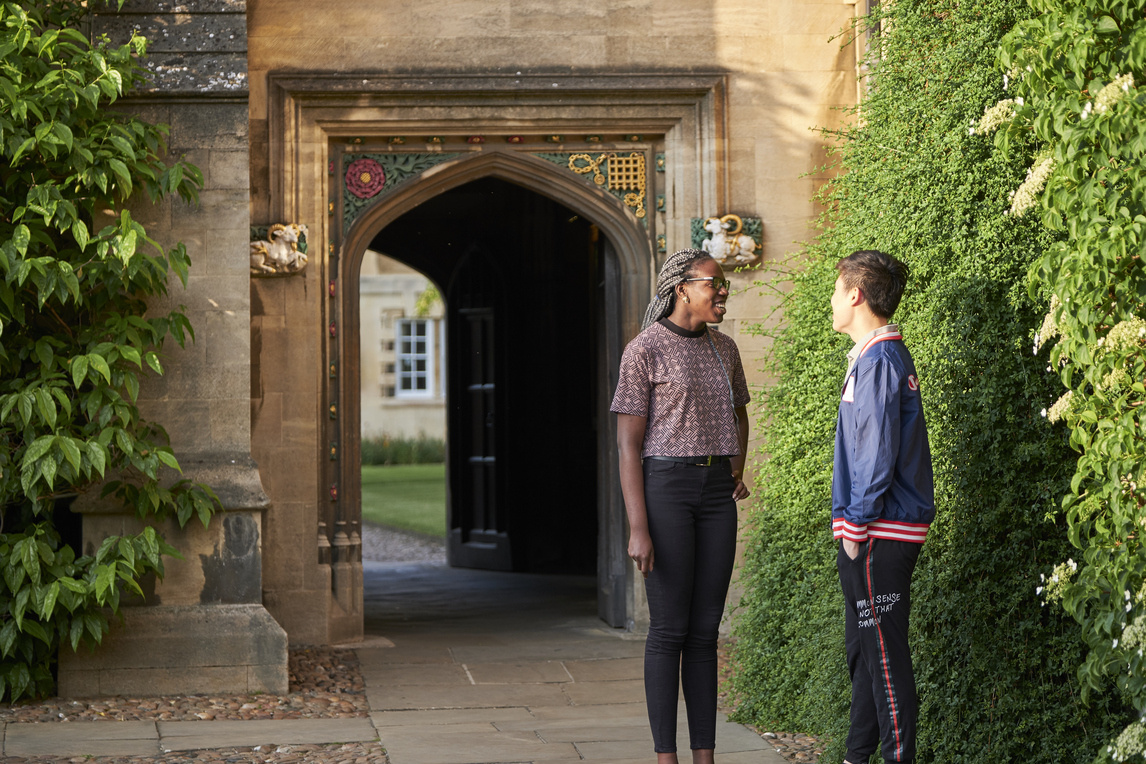 What do you think of the collegiate system in general?
Compared with other universities in the UK and around the world, I think it's a great system! Colleges provide an area which you can call home. It's where your coursemates live and you have dinner together, and where you come home to from a day at the department, from a night out or from being tired playing sport. Living in a smaller College like Christ's is especially good as all undergrad accommodation is in College or, for some second years, in College-owned houses a couple of minutes away. A lot of student admin is organised by offices within College, which you can easily find.
I spend a couple of hours a week in Homerton and Fitzwilliam Colleges in supervisions, and it's always an adventure when a few of us Christ's engineers make the 15 minute cycle away from College. I met my girlfriend, who is at Jesus College, in Cambridge and so I spend a lot of time in the Jesus-owned Jesus Lane houses. I visit friends from my course in other Colleges a lot too.
"Colleges provide a place that you can call home."
Andrew
How did you find the application process?
The application process was smooth as long as you read up what you were meant to do, filled in the right forms and replied to your emails. The interviews at Christ's were quite chilled, and I felt they were really trying to see what kind of person I was and not just how good I was at solving particular maths and physics problems, as was the case with friends applying to engineering at other Colleges. I had a chance to talk about the books, interests and projects I mentioned on my personal statement to a considerable level of detail.
I took the ENGAA (Admissions Assessment), and used the past papers online to practice for this. Further practice was just from talking to interesting physics teachers at school and finding random physics problems from the faculty resource, old specifications (e.g. OCR), Olympiads etc. Solidly revising mechanics from physics and maths was useful too. Revising STEP was more straightforward, as there are a lot of online resources and past papers.
I revised the specific books I listed I had read (e.g. a really good book about visualising structural engineering concepts). I also did a bit of research on fields I mentioned in my personal statement, such as smart cities, which wouldn't normally be mentioned in my school studies, so that I could talk confidently about it in the interview. I also read some magazines, which were particularly useful:
Less useful were generic books about engineering and studying engineering at university.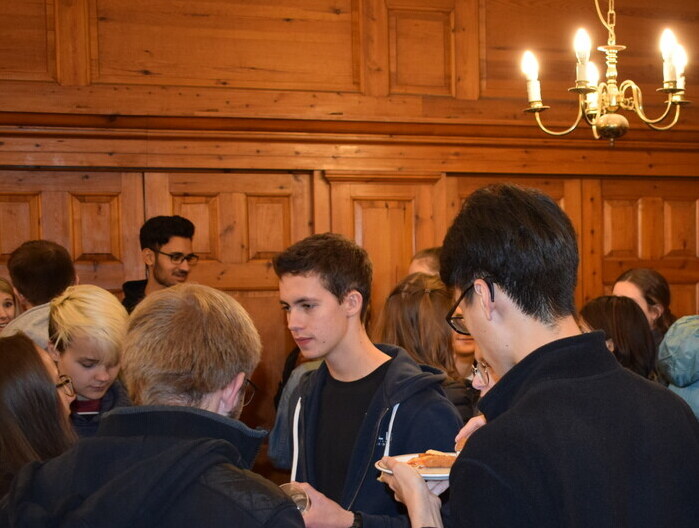 Before you came to Cambridge, what were you looking forward to?
I was most looking forward to and also most nervous about making new friends! Luckily there are a lot of ways of doing it, especially in Freshers' Week. Within the first couple of days you'll meet your coursemates from your College, of which there are about 10-12 in Christ's every year. You'll also get to know people living along your corridor, and freshers and non-freshers you meet at societies. In Christ's, and especially amongst Christ's engineers, there are people from all sorts of backgrounds. Although there aren't many northerners in Cambridge, this isn't a difficulty in making friends with other people from elsewhere in the UK. As a British-born student of Chinese ethnicity, I found I had a lot of common language with Chinese, Singaporean, and other eastern Asian international engineering students which let me learn a lot more about studying abroad from Asia. Who gets in will change each year, but in our year at Christ's more than half the engineers are from China, Hong Kong or Singapore, there are a couple of EU students and one other UK student from the south west.
I was also worried about Cambridge being a student city, coming from a big city with big suburbs and a busy town centre with most people working. I was worried about it being too much of an academic bubble. During the first term, I settled in, and discovered Cambridge's suburbs through running and cycling. Throughout the city there are a lot of non-student and non-tourist activities to do - I love going running deep into the suburbs, leaving the city centre and getting lost in places which don't really have any student contact, and going to events organised for Cambridge as a normal city and not as a student town. For example, watching open mic nights and listening to live jazz nights in pubs around Cambridge, going to random country fairs, all of which are normally advertised online or around town.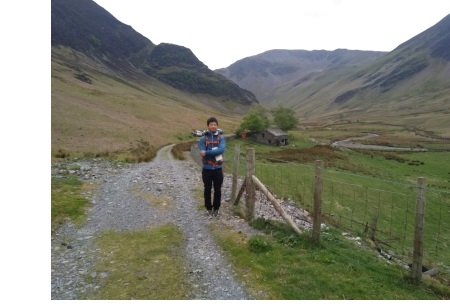 What are your favourite memories of Fresher's week?
It was exciting meeting so many new people and having that first conversation or going on your first night out together, thinking that these could be your lifelong friends. Meeting and getting along with my coursemates, being able to see 4 years of studying with them, having fun, and making fun of them, was really great.
In Freshers week I also went to an introductory social event for Cambridge University Hillwalking Club which I found out about from the Freshers' Fair. As a trail runner from the North, I was used to being able to travel an hour to the Peak District on the weekends and to go on quick trips to the Lakes to stomp around on the hills, so I was worried about being stuck in Cambridge with some flat patches of grass and a river. With the Hillwalking Club I found a group of like-minded people organising fortnightly trips up north to the hills which I was so familiar with.
"Meeting and getting along with my coursemates, being able to see 4 years of studying with them, having fun, and making fun of them, was really great."
Andrew
How does your teaching work?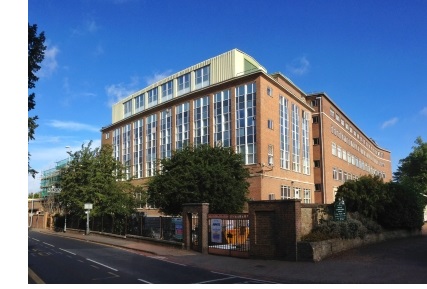 We have four or five supervisions a fortnight, one for each paper (Mechanics, Structures, Electronics, Maths). These change throughout the year. We have two or three hour-long lectures a day in the engineering department, which although not mandatory, help you get up and feel academic in the mornings, which is motivational, and as exam term approached and concentration was diverted to revision, it was nice at least to see your friends in lectures and know you're in it together.
We normally have about four to eight hours of labs a week, depending on the timetable. This decreases during Easter term, in exams season. These help you consolidate and use concepts from theory as they are directly linked to specific lectures or lecture series. Plus, although sometimes they are a bit prescriptive, mundane and old-fashioned, they are sometimes a fun way to spend times with your coursemates.
The optional French and German classes I take are more like school, which I enjoy as it's how I've been learning language since Year 7. During Michaelmas and Lent terms I attended two-hour classes each week in French and German in the engineering department, and then complete the homework and revision in my free time, and in Easter I attended semi-intensive two-hour classes in German twice a week in the University Language Centre.
How do you manage your workload?
If you're considering studying at Cambridge it's likely you have the willpower to make sure you concentrate on work when needed but also know how and when to have fun. At first the responsibility left to us of doing the right supervision work and to the right standards was surprising, but I quickly realised that the supervisors were just friendly teachers who are more there to help you understand topics than to quiz you and mark you.
 As your College coursemates are also studying the same things as you, you have a support system and can judge how much work you may need to do for a certain task. In Easter term, since I had completed all supervision work throughout the year, I could still spend a lot of time socialising and make sure I was prepared enough for the exams.
As long as you give yourself the time, there are always things to be able to do in your free time, including chatting to friends at upper hall (where you can sit for hours eating unlimited broccoli and curly fries), walking round town, societies based on your interests, sports, eating etc.
"I quickly realised that the supervisors were just friendly teachers who are more there to help you understand topics than to quiz you and mark you."
Andrew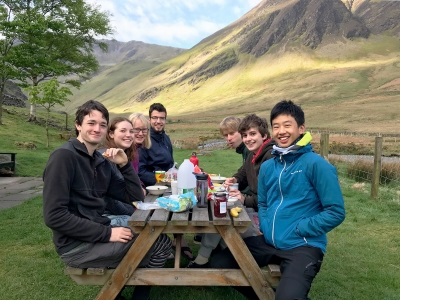 Are you involved with any

student initiatives, societies or sports in Cambridge?
As I've mentioned, I got involved in the Cambridge University Hillwalking Club this year. The club organises trips every two weeks during term to classic and less known locations around the country, including central and eastern Lakes, central and southern Snowdonia, North Yorkshire. They last for a weekend at a time, and are where I spend some of my best moments during term.
We stay at bunkhouses for two nights, and you can do whatever you want whilst there. I have time to go on one trip a term, where I explore the area running, covering 40+ km on an outing. It's nice to get out of Cambridge during times of stress and see signs for M1 "The North"! If you're interested, bring your outdoors shoes to Cambridge and find us at Freshers Fair! There is a Freshers' day trip to the Peak District every year at the beginning of first term.
How do you spend your holidays?
I spend most of the short vacations at home. It's always a long and arduous journey from Manchester back to Cambridge avoiding London, but it's a nice feeling that you're traversing the country to go to university.
During Christmas holiday I went on the Varsity skiing trip with some friends from Cambridge and Oxford, and had nights out completely different from the weekly Cambridge nights! During Easter holiday I spent a week in Paris on an exchange trip organised by the Engineering department Language Unit (some of the nicest people in Cambridge). Despite being very cheap, the trip was packed with activities in Paris and at their university organised by the students. During week 0 of Easter term, they came over to stay with us in Cambridge and we introduced them to Cambridge life, scenes and night life!
In this long vacation I'm doing a three-month internship in Shenzhen, China, at Dexta Robotics, a small tech company at the forefront of devices for human-machine interaction and haptics. I found the company at careers fair in Cambridge and applied for the internship it because despite being of Chinese ethnicity, I've never lived in China and thus wanted to experience life working and living there, and to see if working in firms in the Chinese "Silicon Valley" are what I'd like to do in the future. Working in embedded systems, I came up with a hardware idea to improve the motion tracking of the device and integrated it into the design and software, which will be implemented in a future version of the product. 
What are you most looking forward to next year?
As I'm on an internship abroad all summer, I'm looking forward to going back to see all my friends in Cambridge again! It's going to be great to have unlimited vegetables again in Upper Hall, and experience again the Cambridge quirks - the excursion to "plodge" (the porters' lodge) to check your pigeonhole, the always surreal experience of battling your way through tourists to get out of Great Gate, going downstairs from your mate's room to a supervision class, safely roaming around the streets in the early hours.
Part IB of Engineering is similar to Part IA as in we still study general engineering, so as the course broadens and deepens, we still all have to by and large study the same things.
September 2019
 
Please be aware if you're considering an application that our student writers describe their experiences. Although the majority of the information stays the same, some details may change from year to year. Do read the student profiles in combination with our undergraduate admissions pages for full information.
Back to Student profiles page / Engineering at Christ's / Next: Annie's profile