There are lots of food options at Christ's:
Upper Hall 

During term time, Upper Hall is the day-to-day College canteen. It serves breakfast, lunch and an evenin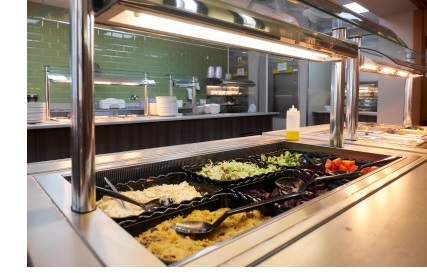 g meal during the week, and at weekends there's a longer brunch to give you more flexibility on your meal times as well as the evening meal. It can get quite busy, especially during the evening meal, but there's always enough space for anyone who wants to eat there.
For breakfast and brunch, the food is priced individually so you can mix and match. There are set prices for meals at lunch and dinner, and sides in the salad bar (ranging from lettuce to chips!) are both free and unlimited.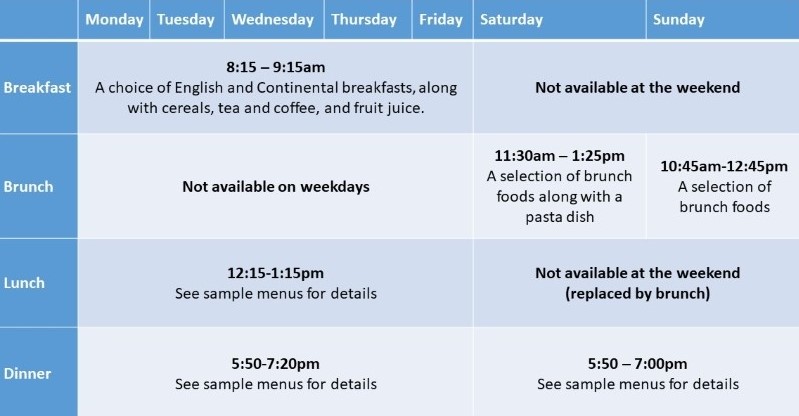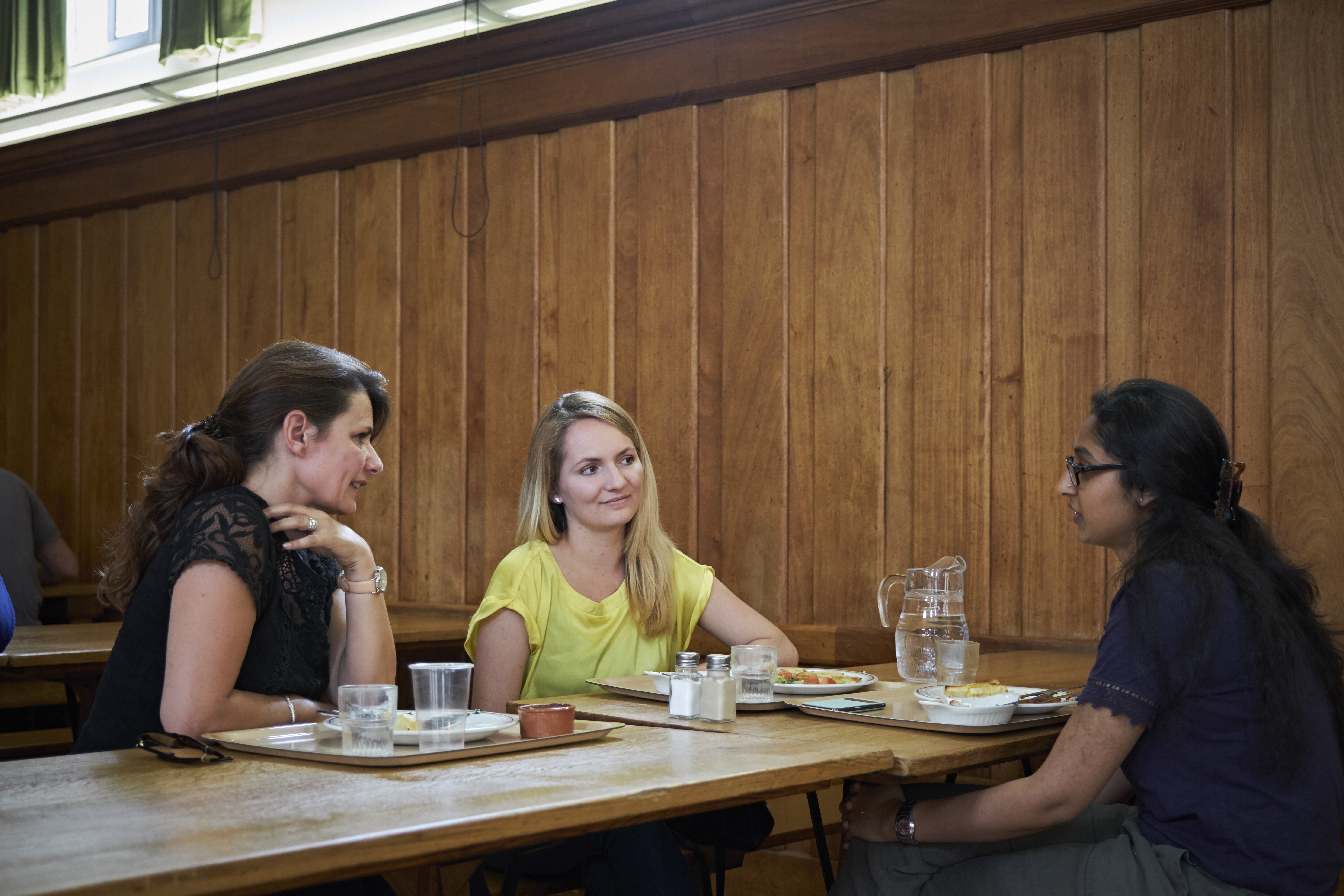 During term time there's a set price menu which includes self-service vegetables and/or chips. For each meal there are a number of special dishes available, but the some items such as jacket potatoes, sandwiches, salads and vegetables are available whatever else is being served. At lunch time there is also soup and a range of hot pies.
Snacks and drinks are also available whenever the servery is open, and include fruit, yoghurt, confectionary, flapjacks, cakes, mineral water and a range of soft drinks.
Eating in Upper Hall gives you a lot of choice and is very convenient in a busy student schedule. It's also a good opportunity to catch up with friends during the day.
"Upper hall is always a great way to meet friends spontaneously and to socialise with different people over each meal. It really helps to bring together the college community, as you get to know everyone."
Anissa, Medicine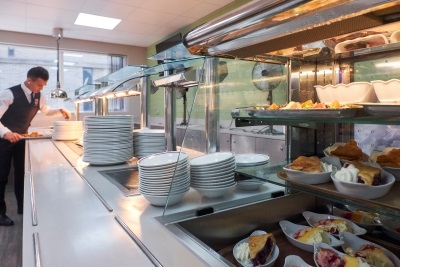 Details will obviously change each week, but you might be interested to look at some Upper Hall sample menus to get a sense of the choice of food that is typically available in the cafeteria, along with corresponding sample allergen information if that's relevant. As a student you can look at the week's menus on the College intranet.
You pay for the food by swiping your university card at the till, then you are charged on your next College bill (you get these each term).
Buttery (First Court)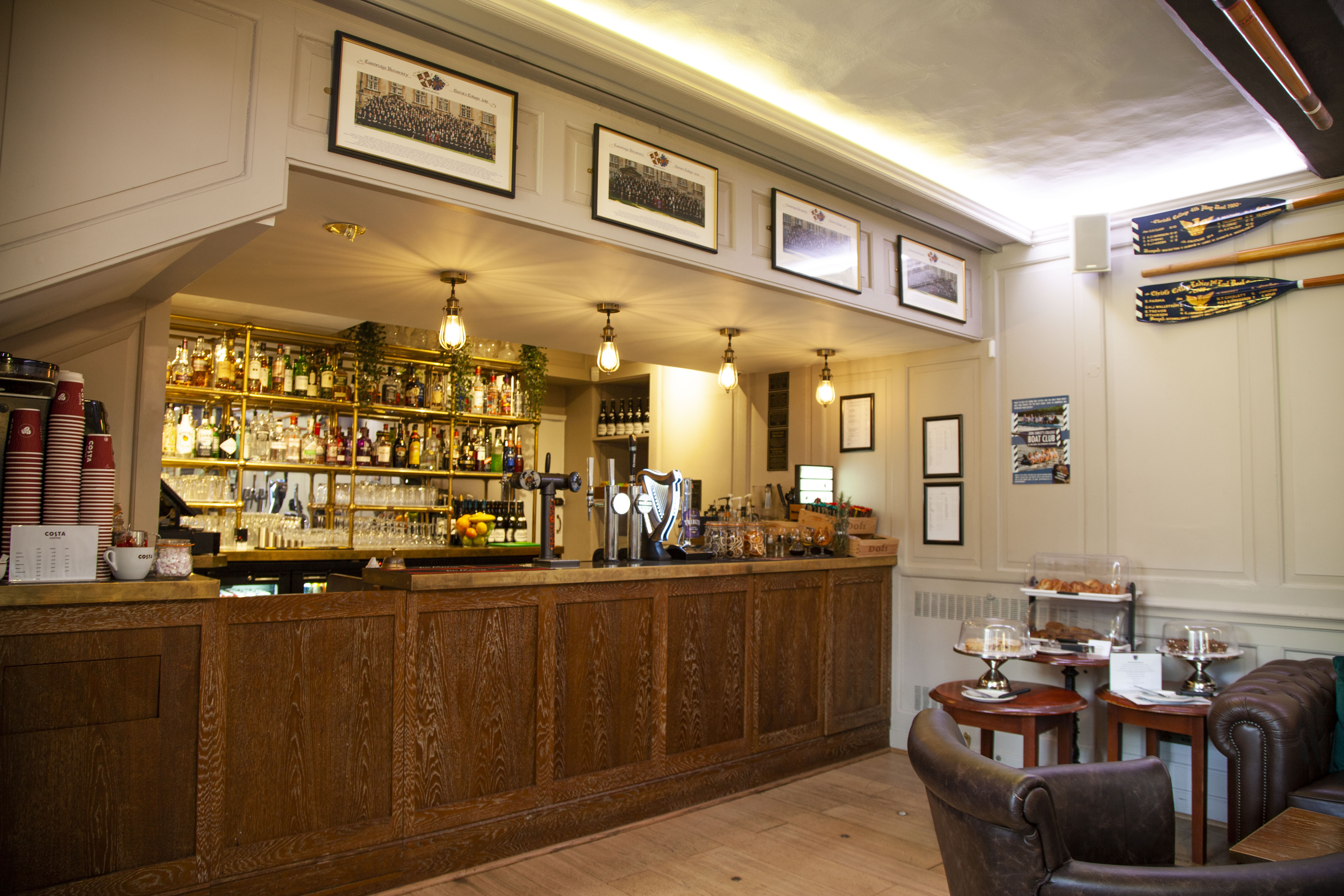 The College Buttery is open throughout the day and you can buy other snacks such as sandwiches, paninis, crisps, fruit, nuts, chocolate bars, flapjacks, pastries and cakes as well as soft drinks, Costa coffee, tea, hot chocolate, milkshakes etc. 
The Costa Coffee comes with a student discount of 20%, so it's cheaper to use the Buttery than cafes in town. There's lots of comfy sofas too, and student societies often use the Buttery for meetings during the day.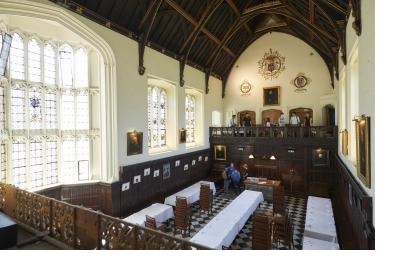 Formal Hall
If you would prefer a served meal or if it's a special occasion or get-together, you may decide to attend 'Formal Hall'. This is a three course meal in the College Hall, which dates back to the sixteenth century. People usually attend formal hall dinners to celebrate birthdays, as part of societies, or because they've got a friend or family member visiting from home.
Students have to wear their gowns for formals, and people tend to dress smartly, but that's usually the most formal thing about formals. At Christmas and Halloween, there are special 'super halls', which are slightly more expensive - menus usually include more courses or drinks, and the Hall is decorated for the occasion.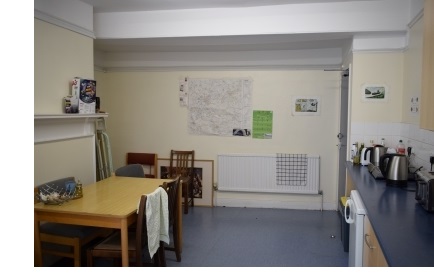 Student kitchens
Many students also  prepare some food for themselves, especially for breakfast, lunch and snacks. Most accommodation at Christ's has access to a kitchen (referred to as a 'gyp room' in Cambridge). These come in various sizes, and can be small, but all are complete with kettles, induction hobs, and microwaves. 
Christ's is diagonally opposite a Tesco Express in one direction, a couple of minute's walk away from Sainsbury's in another direction, and not much further from Market Square (markets happen seven days a week in Cambridge and there's lots of street food stalls at lunch time). There are also branches of Aldi and Waitrose within cycling distance of the College (these are all UK supermarkets, if you're unfamiliar with the names).
"I got into the habit of making some of my favourite comfort food in the gyp rooms (the small kitchens in the accommodation), and experimented each term with what food I wanted to bring from home."
Mira, who studied Education at Christ's