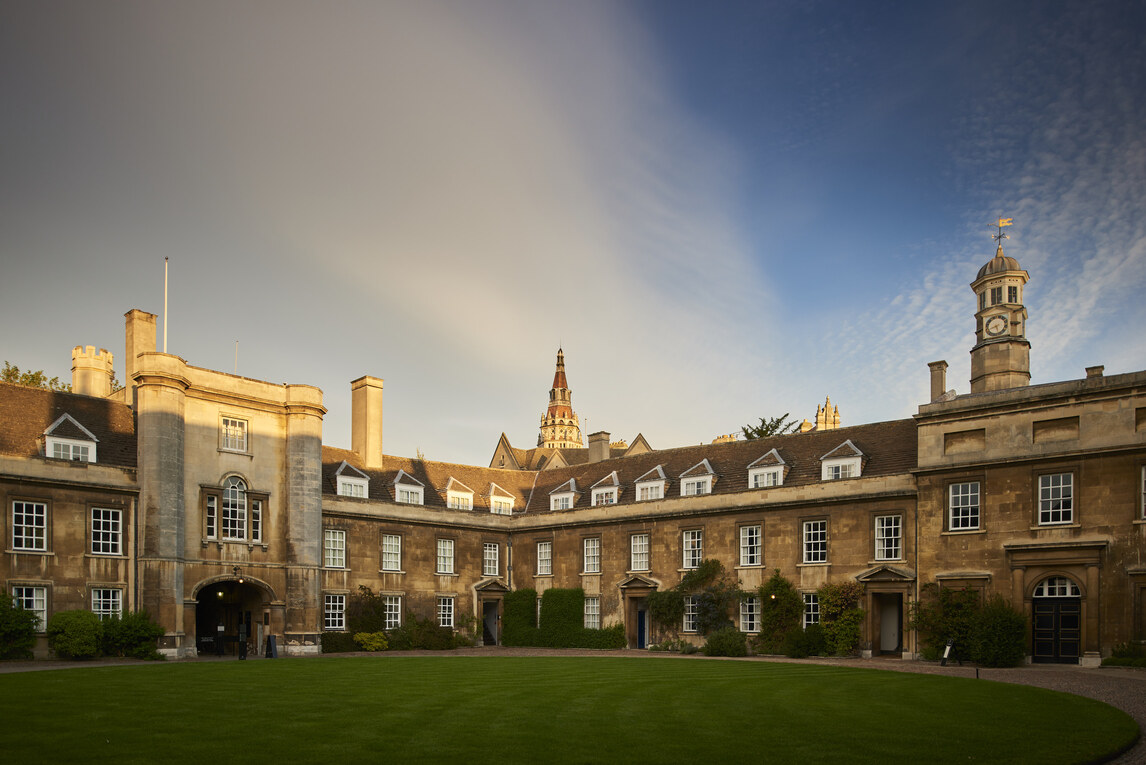 Welcome! Thank you for submitting a UCAS application and applying for 2023 or deferred 2024 entry. We are the Christ's Admissions Team, and our names are Kristy, Jan, Hayley and Ellie. We're here to administer (but not to assess!) your application and answer your questions, and we'll support you through this section of the Christ's website from now until decisions-time in January 2023. The Cambridge process assesses you carefully, and there are quite a few forms and 'bits' to do after your UCAS application, but if you follow the information in this section and work with us stage by stage (we've put the dates next to each stage), we will be able to guide you through the process smoothly.
Current points
Thurs 24 November
Thanks to those who attended this evening's interview set up support session!
See the table at the end of the Stage 4 info for dates, times and booking forms for the next sessions (you can attend once you have an invitation to interview email).
For those waiting for an invitation to interview in other subjects, see the Stage 4 info and Stage 4 advice. Medics, we have now received the BMAT results.
For those with a College Registered Assessment. The main thing is to ensure that you have read the email and attached pdfs with instructions carefully, and that (if relevant) you have the Moodle link and log-in details ready. You may be at a disadvantage if you have not read the information we've sent you properly. Also, please do not miss your assessment time as it is not possible to reschedule these - international applicants in different time zones, please be especially careful.
Contacting Christ's: We need your help to work efficiently! We request that you start all emails to Christ's Admissions Team with:


Stage 1:  Up to 15 Oct
Make sure you've read how to apply, read and act on the info at receiving emails, and sign up for the Applicant Webinar Series if you want to. Any applicant for the following subjects who has not sat the Admissions Assessment should contact us: Chemical Engineering & Biotech, Computer Science, Economics, Engineering, Law, Medicine, Natural Sciences.
Stages 2 & 3:  15 Oct - 3 November

Questions about late forms / documents? Please see the current questions page rather than emailing us. Remember also that in Stage 3 we emphasised the importance of the Subject information and said that you may be at a disadvantage if you do not read it.
Stage 4: November
Invitation to remote interview & College registered assessments
We will begin inviting applicants to attend remote interviews as soon as possible in the second half of November and will keep you updated in the box at the end of this section. Invitations are sent by email. For students who we decide not to interview, we aim to communicate our decision by the end of November at the latest.
Interviews at Christ's College will be take place on various dates from Monday 28 November - Wednesday 14 December 2022. Please see the subject information, where more precise interview dates will be posted (nearer the time) as soon as they are known for individual subjects. 

If you said on My Cambridge Application that you will be unable to have an interview on a particular date, we will do our best to arrange your interviews avoiding that date. However this cannot be guaranteed due to the difficulty of arranging interviews for all candidates on the small number of dates that may be available for an individual subject.
Please do not ring the Admissions Office to check on the progress of your application. If you have an important and genuine enquiry, please email us and we will do our best to help. Remember though: once we get past the application forms stage, fewer queries = faster invitations to interview.
We have sent invitations to interview (i.e. with dates and times) in the following subjects
Archaeology; Architecture; Asian and Middle Eastern Studies; Chemical Engineering & Biotechnology; Classics; Computer Science; Economics; Education; English; Geography; History; History and Modern Languages; History and Politics; History of Art; Human, Social and Political Sciences; Land Economy; Law; Linguistics; Modern & Medieval Languages; Mathematics; Music; Natural Sciences (Biological); Natural Sciences (Physical); Philosophy; Psychological & Behavioural Sciences; Theology

Top tip: The way to cope well with this stage of the application process is to get all your info from the box above and ignore anything else you hear from anyone.
 
Interview set-up support sessions
Once you have received an invitation to interview (with the date(s), times and joining details) you can sign up for one of the interview set-up  support sessions below:
All times are UK times. If you wish to attend, you only need to do so once (they are the same session). You can sign up until 1 hour before the session start time in all cases (we cannot include you if you try to sign up later than that so please do not ask).


Stage 5:  28 Nov - 14 Dec
Remote interviews
This section is for students who have received an invitation for remote interviews. It will be expanded gradually and further detail may be added to the pages already available. We recommend that you re-read the information shortly before interviews in case any details have been updated. 
Interview Guidelines
Why do we interview and what do interviews involve? 
A brief note on software
A brief note on the platform for Christ's interviews
Interview set-up support sessions
Webinars in late Nov / early Dec to walk you through the software & set-up for interviews.
Home or school?
Guidance on where to have your interviews
Subject Information
Where you find the interview and any College-registered assessment details specific to your course. Some details may be updated nearer the time so you are advised to re-read information before coming for interview.
FORM: Interview attendance reply form
Details (and a deadline) will be in your invitation to interview. Please ensure that you submit this form to confirm whether you can attend your interviews once you have received the invitation to interview email with date(s), times and joining details.
Practical info for the interview period: We update this in the run-up to interviews so if you read it early, please ensure that you re-read it just before your interview day.
Please read the relevant page once you have received your invitation to interview and know which parts will be relevant for your interviews.
If you have a problem
Please read about what to do if you have a problem.
Sitting a College-registered remote assessment
If you're selected for interview in a course that requires this, details are sent to you by email.
Information about College-registered assessments by subject

Subject content, paper structure, sample questions available. See summary table and click on the subject name for more (the academic side of the information, not practical details).
 
Only relevant to you if your invitation to interview says that you have some pre-interview reading or other study immediately before your interview; we give practical details about how this works.
Adjustments
If you requested adjustments via the adjustments form and evidence document, please remind yourself of the information on this page for information about what happens when you are invited for interview (steps 5, 6 and 7). 
What current students say about online interviews
Some of the students who were interviewed online in December 2020 (the first year of online interviews, during the pandemic), are now in second year at Christ's! Some of them wrote profiles over the summer, and we've collected their online interview comments together for you.
The current questions page has a section for questions about interviews.
Do check the current questions before contacting us! Many thanks. 


Stage 6: January
the outcome of your application
Applicants selected for interview will receive an update via the UCAS website with the outcome of their application on Wednesday 25 January 2023.
 
Subject information I Current questions I Contact Christ's I Confidentiality I Use of personal information