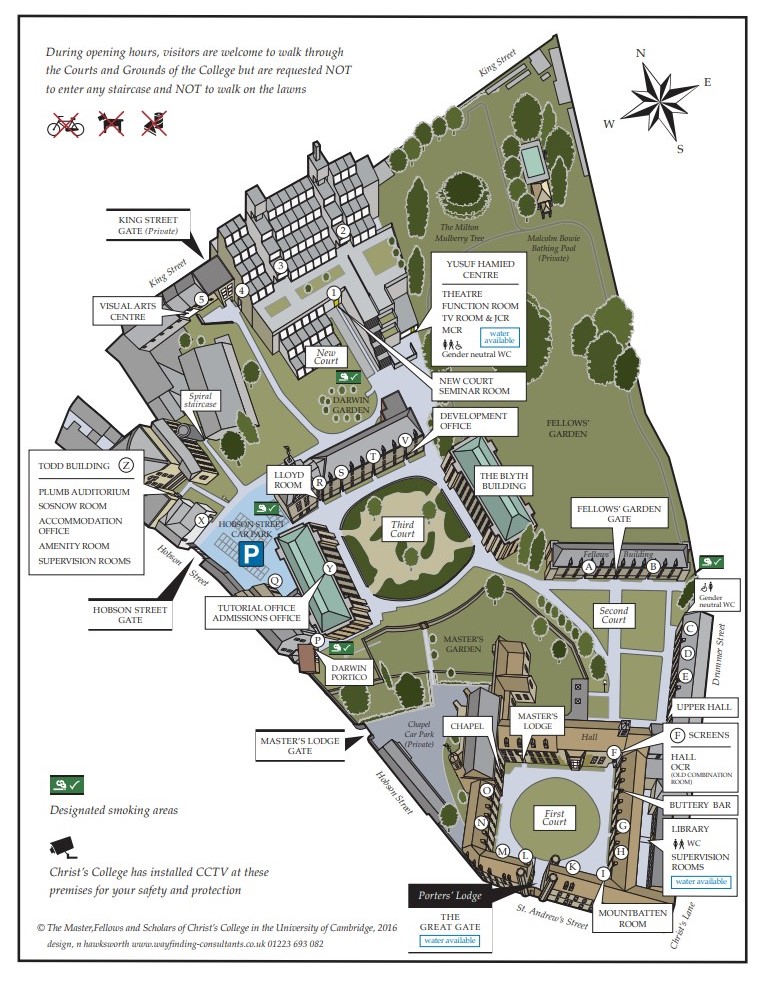 In Cambridge
Christ's main gate is on St Andrew's Street.
By Train
You can check the timetable and prices, and book tickets on the National Rail enquiries website. If you're a UK student, do consider getting a 16-25 railcard if you'll be doing a number of journeys to universities (or elsewhere), as these give you a third off the ticket price.
Cambridge has 2 railway stations. We recommend that you travel to Cambridge (a 21 min walk from Christ's) and not Cambridge North (a 45 min walk from Christ's).
 
There are direct trains to Cambridge railway station from both London Liverpool Street and London Kings Cross mainline stations. It's worth checking the arrival time as well as the departure times, as some trains take 45 mins and others stop at all stations and take closer to 2 hours! 
 
For students travelling from the north, you normally need to change at Peterborough and/or Ely if you don't come via London.
Cambridge railway station is not in the city centre. When you arrive at Cambridge station, the options for getting to Christ's are as follows:
Walk
This is easiest - it's a 21 min walk for the 1.1 miles (1.8k) to Christ's and the route is easy. Coming out of the station, go straight down Station Road (the road in front of you), and at the end of the road, turn right onto Hills Road. Then you just keep going straight until you get to Christ's. Hills Road becomes Regent Street, which then becomes St Andrew's Street. Route to Christ's.
Get on a Cambridge  bus

There are frequent bus services from Cambridge railway station to the city centre. When you get out of the station, go left for the bus stops and look out for the Citi 1, Citi 3 or Citi 7. The bus-stops say which buses there are, and where they go. Check that your bus is going into Cambridge since the busses go in both directions. Ask for a single to the centre - that should only be £1.

The buses stop on St Andrews' Street, on Emmanuel Street or in the small Drummer Street Bus Station. If you have a look at this map, you'll see that all three are effectively in the same place, very close indeed to Christ's.

For Cambridge buses, you get on and pay the bus driver before you sit down. Most bus drivers in Cambridge are very helpful (and used to students travelling alone), so if you are unsure, just ask / check with the bus driver as you get onto the bus. You can use cash or contactless.

After your visit, for the way back to the station, this map shows you where to catch your bus (the Citi 1 towards Fulbourn, the Citi 3 towards Cherry Hinton and the Citi 7 towards Sawston or Saffron Walden all stop at Cambridge railway station). 

Get a taxi

There's a taxi rank at the station exit, and for your return, there's a taxi rank on St Andrew's Street, just outside Christ's. Should you need to call a taxi at any point, the biggest local company is Panther or alternatively, CamCab. Taxis from the train station to Christ's is usually around £7-8.

If you've spent more than three months in the care of a UK Local Authority and are travelling for an open day or a taster day, please see additional information.
By Coach
Coaches can be a good option and where there's a good service, it may be cheaper than getting the train. National Express long distance coach services terminate at Parkside, on the Northern side of Parkers Piece. Christ's is only a few minutes walk from there.
By Road 
If you plan to travel by car, we recommend that you look at the Traffic England website or equivalent before setting out, and allow extra time for congestion etc. People often underestimate how busy the roads around Cambridge get. 
There are several Park and Ride sites located outside the city centre with frequent buses into Cambridge. We recommend that visitors use these facilities whenever possible as this works best for those arriving by car.
Cambridge city centre is often very congested indeed, particularly around rush hours and school run times (around 3.30pm), when you tend to get stuck in a long queue. If you do decide to venture in, the closest car park to Christ's is the Grand Arcade or the Grafton Centre, however do be aware that parking in Cambridge city centre car parks can be difficult (these city centre car parks are often full) and is also expensive.

There is no visitor parking at Christ's, and it is difficult for visitors to approach the College by car in the historic centre, due to the small medieval roads, the regular congestion and the one way system, which means that there's no direct access to St Andrew's Street from Regent Street, while Hobson Street is one-way with no entry permitted from the King Street end (SatNav's are not always aware of these restrictions). Be careful driving centrally as there are some bus gates, which will result in a fine if you go through them!
 
By Plane
The nearest  and most convenient airport for Cambridge is London Stansted. Despite the name, this airport is not actually in London - it's roughly half way between London and Cambridge, and that has a train terminal underneath the terminal with regular trains to Cambridge (then see the information above about arriving by train). You can use this website to find the train times. Alternatively there is a National Express coach that will take you between Stansted and Cambridge.
Stansted is smaller than some of the other 'London' airports so not all flights go to it. Many students coming to Cambridge instead travel to one of the other London airports (e.g. Gatwick, Heathrow, London City) and then get a train or coach from there to Cambridge.
Maps
School groups
School groups travelling by coach or minibus are advised to drop off in the Queens' Road Coach Drop-Off Layby (10 min stay only) and park the coach or minibus in Madingley Park and Ride. Please see details in the practical information for school visits.