Christ's International Webinars
In July we run annual Christ's International Webinars to help students applying from outside the UK. These include a film to watch in advance, a brief presentation for international students, and a long period of Q&A so that you can type in the questions you would like to be answered by Dr Emily Tomlinson (Director of Admissions) and by a Christ's international student from your country / from a relevant country.
Please register your interest if you would like to recieve an email when booking opens for our international webinars in July 2023.
Here is some feedback from students who attended the July 2022 international webinars:
All countries webinars
"It was very helpful to see proper information regarding the finances and scholarships for international students."
"There were many insightful comments and notes regarding the application process and a sneak peek into the UK school culture/schooling experience."
"I liked how the presenters were very encouraging and answered in detail for all the questions."
"I found it to be the best webinar I've been too so far because the individual presentations were short and engaging with a light air to it which made me less anxious and genuinely keyed into what was being said."
"The powerpoint prepared and answers from the admission officer and students are very detailed and comprehensive. Thank you for giving me so much information of studying in Christ' College."
EU countries webinar
"The webinar was very insightful and informative. I found it especially helpful that all our questions about the application process were answered and that two of the international students at Christ's gave advice for the application process from a student's perspective. The information about the different financial aid options was also very useful."
Malaysia & Singapore webinar
"I enjoyed the sharing by students from Singapore and Malaysia. It allowed me to gain a better perspective of how it is like being a Singaporean studying at Christ's."
"I had clear understandings on the overall application and admission process at Cambridge specially for international students. I greatly thank, Christ's admission staff for their time and commitment."
"The perspectives by students were really insightful! Hoping to be able to hear from more students in the future."
Christ's Online Open Days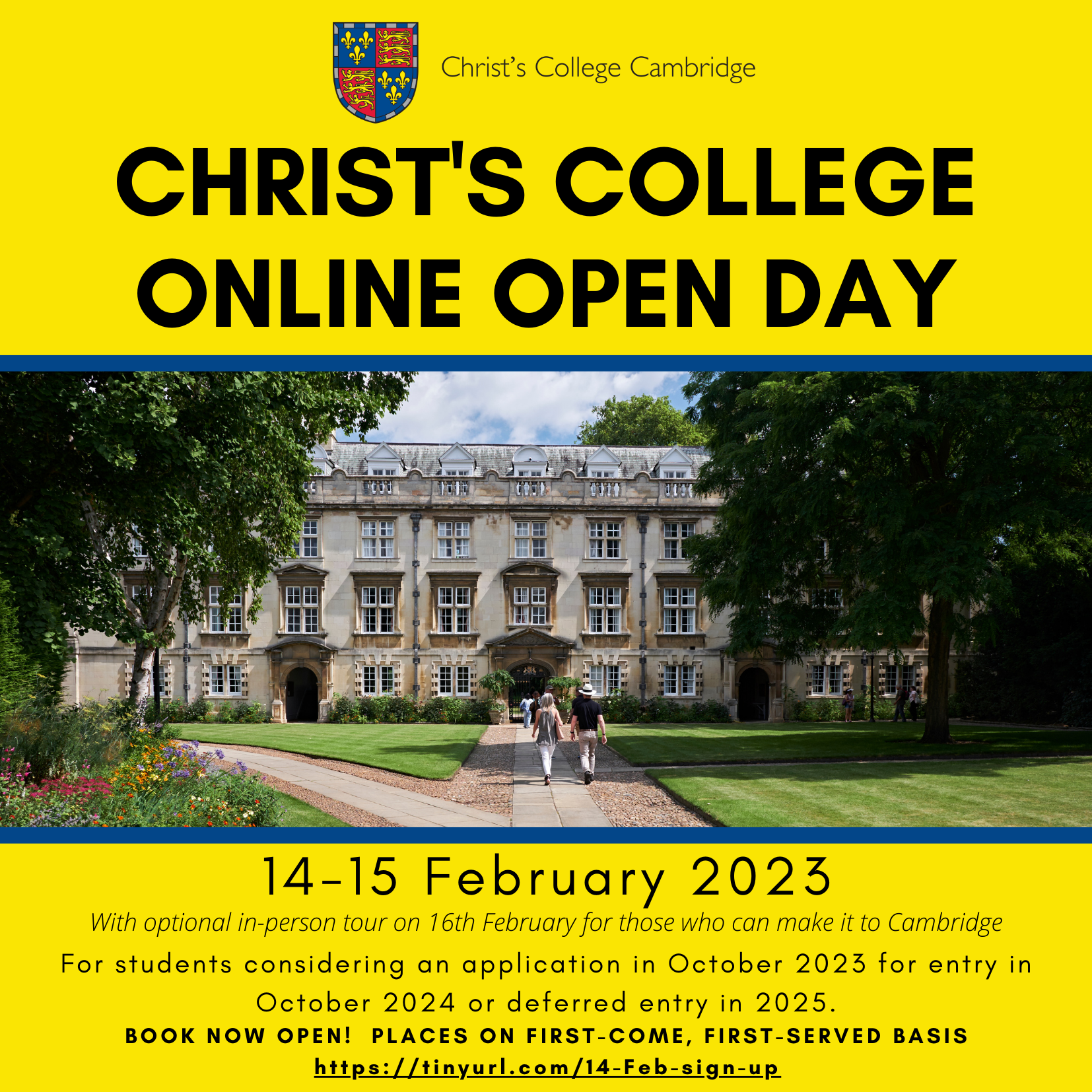 International students are welcome to sign up for our Online Open Days - they are accessible from anywhere with an internet connection and they take place in the run-up to your application - October, February, (July for the University-wide event) and September. 
The next open days are set out on our College Open Days page. If booking is not yet open, there will be a form to register your interest so that we can send you an email when booking opens.
College Open Days include a talk with the Director of Admissions and chance to ask questions, a session with a subject specialist, and online look at the College and opportunity to ask questions of current undergraduate students. All of this programme is online, but on each occasion there will also be an optional opportunity to visit for a tour if you want to (in-person tours will be on a separate date to the online events).

Christ's College Regular Webinars
For students applying in Sept/Oct 2023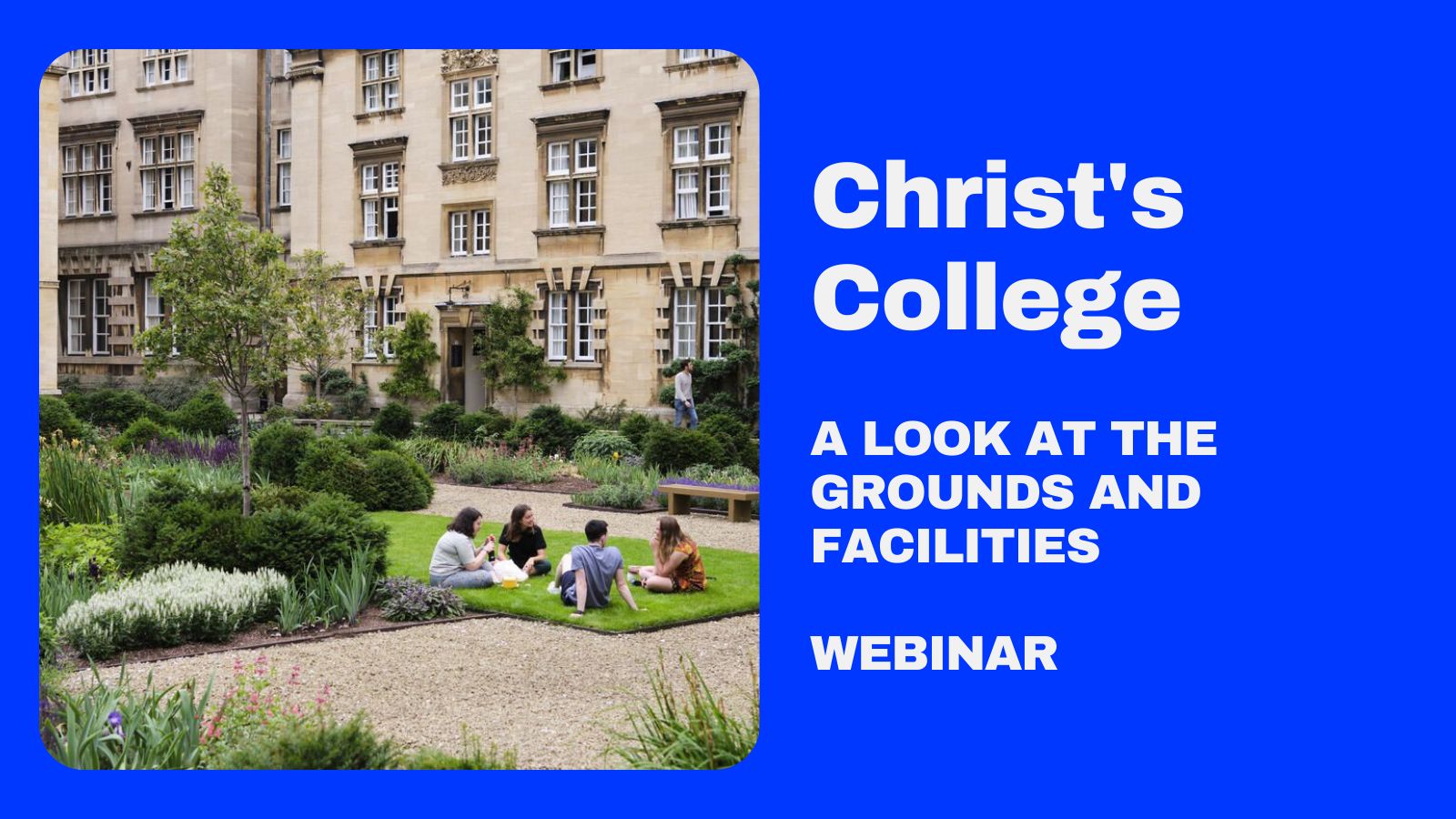 We offer webinars for both UK and international students on our open days and events page from February until August. Regular webinars (e.g. Christ's College: a look at the grounds and facilities, Cambridge for Beginners, Personal Statements) are normally scheduled a week or two before they take place. Note that we will be repeating events and will sometimes put them at the beginning or end of the UK day so that those of you who are in vastly different time zones can also access them.
Further information about each of the regular webinars offered is on our regular webinars page:
"From the moment you arrive you'll have all the support you need in order to thrive here both socially and academically"
Frederik from Denmark

Other online talks including general talks and subject talks