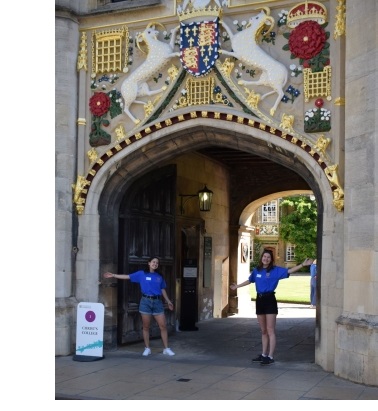 The society for helping and encouraging future students from all backgrounds is one of the biggest groups in College. Christ's Representatives (or CRep's) help prospective students by being there at events and open days to help give everyone a friendly welcome, show visiting students around the College, chat about what studying here is really like and sometimes you may give presentations about student life too. You can make a real difference as a C'Rep!
In the Covid-19 pandemic the C'Reps continued to be very active, taking part in a range of online open days and webinars to help support future students in their university research through the pandemic. 
CReps work with the JCR Access Officer and Admissions & Outreach team. You attend a training session when you sign up, and then you'll get the requests for help. You can do as much or as little as you like, as some opportunities just last half an hour (e.g. giving a College tour), while others are for a full day event or even a residential where students stay over a few days.
At large events, CReps are the students in blue t-shirts! You can find out more and sign up to join in at the Christ's Freshers' Fair in your first week.
You can find out about some ouf our C'Reps by reading their student profiles:
A number of C'Reps have gone on to further roles in outreach, including work with outreach organisations, Schools Liaison Officer roles at Cambridge and two of the recent University Student Union Access, Education & Participation Officers have been former C'Reps! The Admissions & Outreach team at Christ's is very heppy to advise and support students who are interested in outreach careers.
"It is vital for current students to get involved in the process, as we were once in the shoes of prospective applicants and can make a dramatic difference to how they see the university."
Shadab