Jane Stapleton DCL FBA was born in Sydney, Australia.  She initially studied science, gaining a BSc in chemistry from the University of New South Wales and a PhD in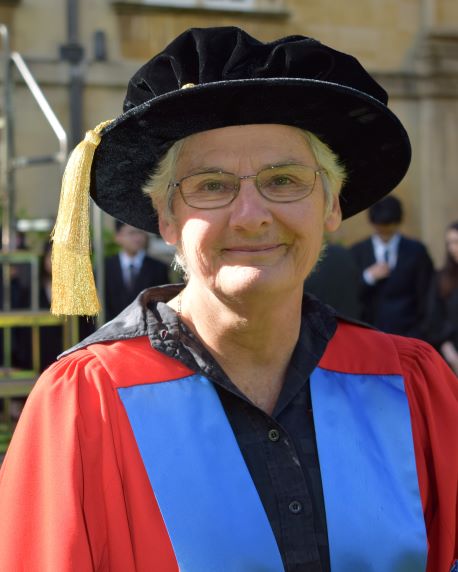 physical organic chemistry from the University of Adelaide.  In 1977 she took up a post-doctoral research post at the Department of Chemistry in the University of Cambridge.
Deciding to switch to law she gained an LLB and University Medal from the Australian National University followed by a DPhil in private law from the University of Oxford.  She was elected a Fellow of Balliol College, Oxford and taught at the University until 1997, rising to the position of Reader in Law.
From 1997 to 2016 she held a Research Chair in Law at the ANU, where she is now an Emeritus Distinguished Professor and, from 2002 to 2015 she was the Ernest E. Smith Professor of Law at the University of Texas at Austin.    In 2000 she was elected a Member of the American Law Institute (ALI) and, in 2004, was elected the first non-US Member of the ALI Council.  In 2011-12 she, and her husband Peter Cane, were Arthur Goodhart Visiting Professors of Legal Science at the University of Cambridge.  During that academic year Jane was a Fellow of St John's College and Peter was a Fellow of Corpus Christi.
Jane specialises in the law of torts and a major focus of her research has been on causation in law, philosophy and science.  She has acted as a consultant in major commercial, pharmaceutical, medical and environmental litigation in the United Kingdom, United States, Australia and New Zealand.  She was appointed an Honorary Queen's Counsel by Her Majesty in 2020.
Jane became the 38th Master of Christ's College on 1 September 2016.  She is married to Peter Cane DCL FBA, himself an eminent academic in Law.
Address: Christ's College, Cambridge CB2 3BU.
E-mail: masters-assistant@christs.cam.ac.uk