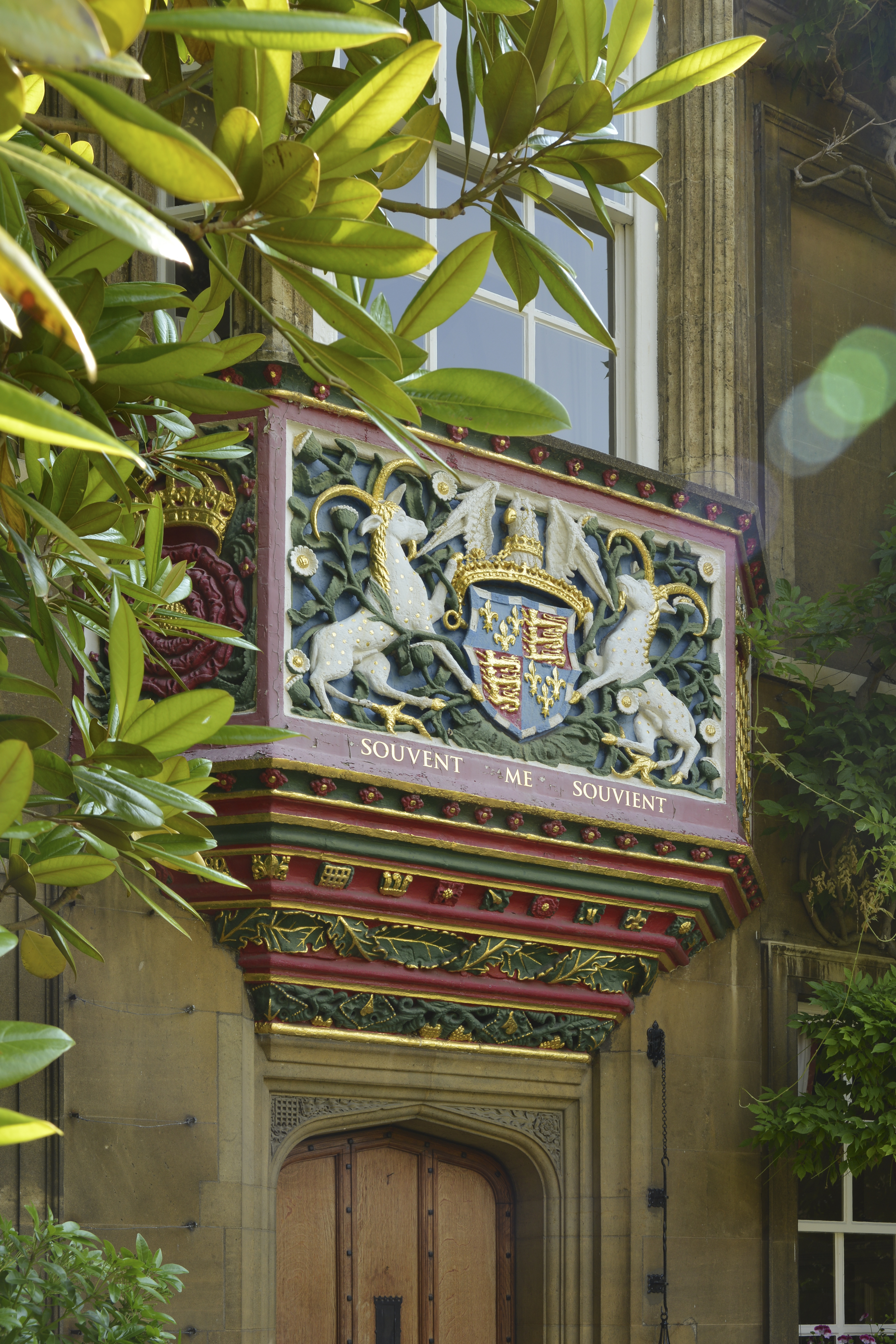 Welcome! This section has information about the subjects you can study at Christ's and about the application process, either for Undergraduate applications or for Postgraduate applications (the procedures are entirely separate).
You can also look at the College facilities and map of the grounds, see what our students think in the undergraduate student profiles, find out more about the College from the College Life Section or read the excellent websites created and maintained directly by our undergraduates and postgraduates.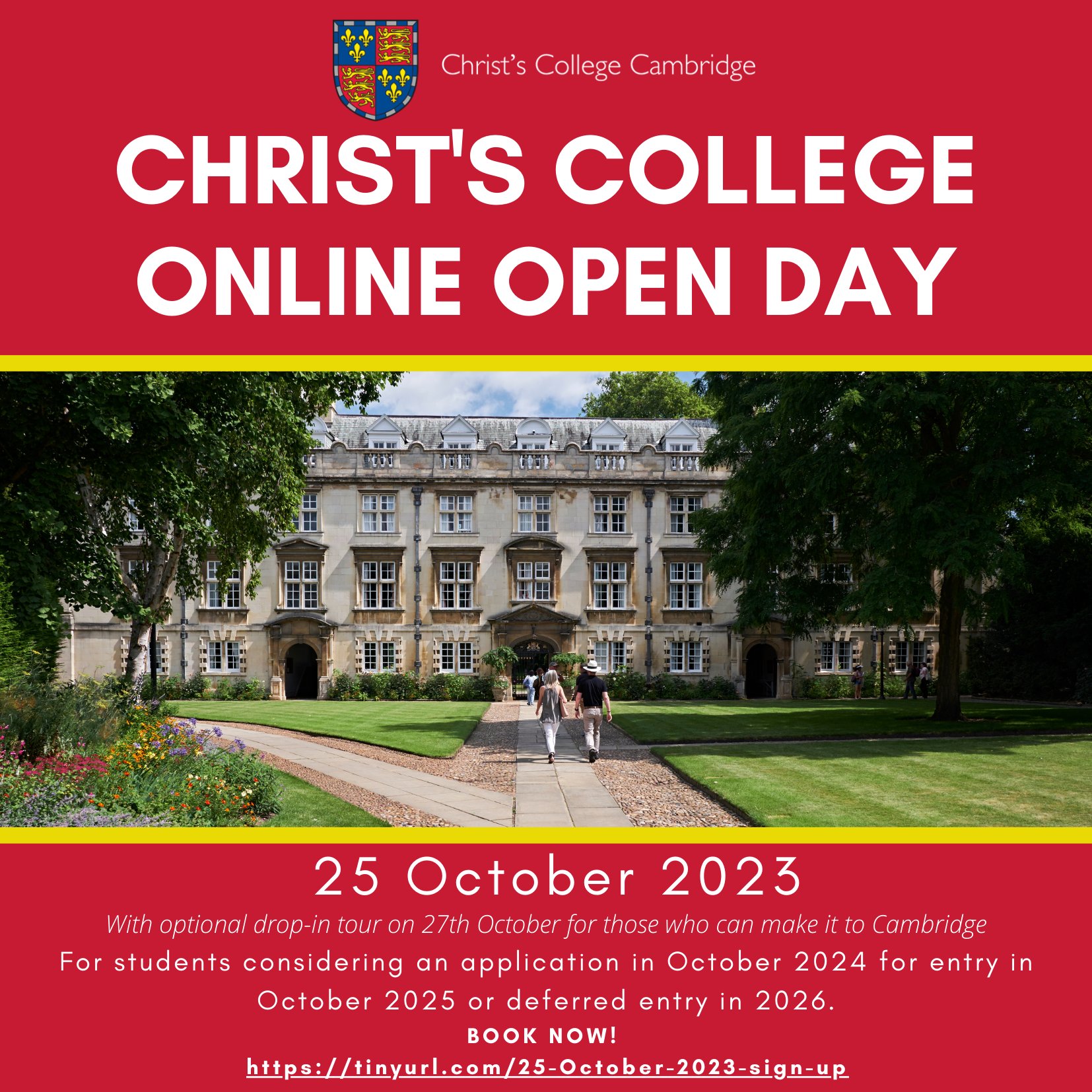 We hope that you will enjoy exploring the College and the opportunities available here.
 
Forthcoming events
(including online)
We hold a number of events through the year for prospective students.
If you are interested in an event that we've not yet opened booking for, you can register your interest if you'd like to receive an an email alert when booking opens - see the link for the relevant event in the information below.
 
Date(s)
Event
Course type
Who can attend? 
10 October onward

West Midlands Webinar Series

Undergraduate courses
For students in Year 12 attending a state school in the West Midlands. A four-part webinar series delivered in collaboration between multiple colleges from Oxford and Cambridge. Visit the series webpage for full details!
25 Oct 2023

Christ's College October Online Open Days

Undergraduate courses
Online sessions on 25 Oct, with an optional in-person tour on 27 Oct. These Open Days are for prospective students applying in October 2024 for Oct 25 (or deferred Oct 26 entry). If you are considering an application in October 2023, please instead come to our Sept Online Open Day.
1-2 and 6-9 November 2023

Lincolnshire Oxbridge Webinars

Undergraduate courses

For students in Year 12 and Year 13 at state schools in the counties of Lincolnshire, North Lincolnshire and North East Lincolnshire. 

In collaboration with Lincoln College, Oxford including Introduction to Oxbridge sessions for students in Year 12 and Interview Support sessions for students in Year 13. Visit the webpage for full details and dates!

21 November 17:00
Subject Matters: The Importance of Your Post-16 Subject Choices
Book a place for 21 November
Undergraduate courses
This online session is for UK students in Year 10-11 (England and Wales)/ S3-4 Scotland/ Year 11-12 Northern Ireland, thinking about going to university, and those in this age group outside of the UK who will be taking A-Levels or the International Baccalaureate. This is one of our regular webinars.
Teachers and careers advisors, plus parents or other supporters are also welcome to watch this session.
31 Jan
16:30
Cambridge for Beginners
Online event
Book for 31 Jan
Undergraduate courses
This is an introductory webinar for prospective students considering an application to Cambridge. The first part will be on the College system, teaching, student life etc., the second part will take you through the application process and let you know how to prepare for a competitive application. Students from all backgrounds are welcome to book a place. This is one of our regular webinars.
Events in 2023-24

Further events in the academic year 2023-24

Undergraduate courses
If you're starting Year 12 (S5 Scotland, Yr13 Northern Irstarting Sept, you can register interest for events later in the year (in cases where we've not yet opened booking. If you do this, you will receive an email when booking or applications open. NB. You can also use this if you are not currently in Year 12 but are planning to apply to Cambridge in Oct 2024 (for Oct 2025 or deferred entry).

Undergraduate admissions / Postgraduate admissions / Grounds and Facilities