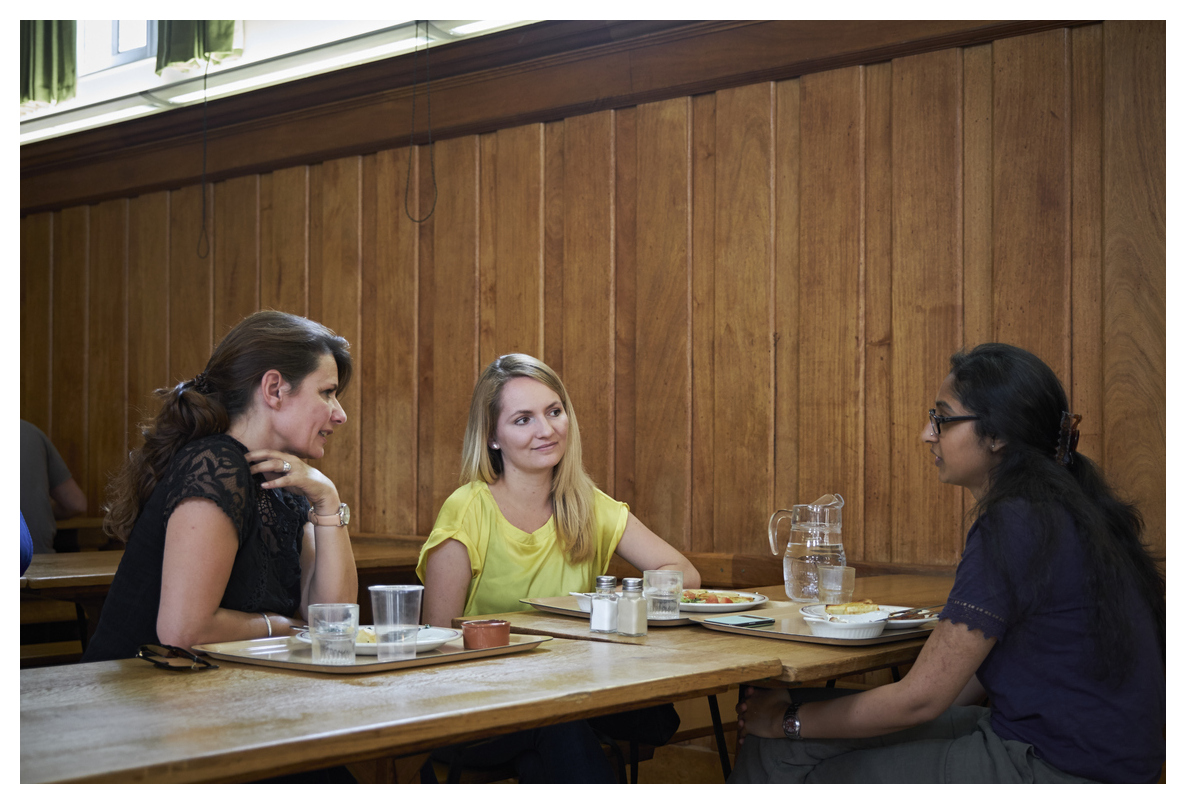 If you will be 21 or over at the start of your Cambridge course, welcome! This page is for you.
Here at Christ's, we welcome applications from those who will be 21 or over at the start of your course. Although it may come as a surprise to know that we call you 'mature' from 21, there are some details for mature applicants that are a worth setting out, so we hope that you will find this separate page useful to read alongside the rest of our undergraduate admissions section.
NB. If you will be applying from a university or applying for a second undergraduate degree, please also see our page for students applying from a university. 
 
Choosing a Cambridge College
If the College system at Cambridge is new to you, you might find the following pages useful as a quick introduction: 
One thing you'll see is that as a mature applicant you can choose between applying to one of the three colleges for mature applicants only, or applying to any of the 'standard-age' colleges such as Christ's. This is very much your choice, and if you like Christ's, we hope that you will feel confident to consider an application to us as a mature student. Of course, we're often asked what the difference is, really, between applying to Christ's and applying to a mature College. In the table below, we've done our best to give you a fair summary. You'll see that as they are designed for mature applicants, the mature colleges can organise one or two things differently to make it a bit easier for some circumstances, however if you've had a look at the information for Christ's below and are able to make it work, we would welcome your application to Christ's. 
 
 
Christ's College
Mature Colleges
College
Christ's College
(For the other 25 standard-age colleges, see the College list) 
Welcomes mature applications?
Yes - as a 'standard-age' college, we welcome both mature applicants and 'standard-age' applicants. 
Yes - all applicants are mature applicants. 'Standard-age' applicants are not eligible to apply. 
Which courses are offered?
All Cambridge courses except Veterinary Medicine. We have a Christ's subject page for each course if you'd like to find out more about studying for a particular course at Christ's. 
Each mature College offers either all or almost all Cambridge courses. Before applying, do check the college pages linked above for any courses that are not offered. 
Application deadline

The application deadline is 15 October for all subjects.

There is no second application deadline at the 'standard-age' Colleges, so for this option to work, you'll need to be ready to apply by October.  

There is an application deadline of 15 October for all subjects.

There is an additional, second application deadline of 1 March for some (but not all) courses (see further detail). This second deadline is particularly useful if you've only just come back to education after a gap and have not had time to find your feet by October. We would particularly encourage students just starting an Access to HE Diploma to consider using this second application deadline. 

Pre-interview Admissions Assessments

Your course may require a pre-interview Admissions Assessment.

In order to make a valid application, applicants to standard-age Colleges in all subjects that require a Written Assessment that requires registration  (see table) will need to 

Your course may require a Written Assessment. Please check the arrangements for these if you are applying to one of the mature Colleges, as sometimes there can be differences to the standard arrangements.

What will the age range in College be like? 

Most of our undergraduate students are 18 or 19 at entry, though we always have some students starting aged 20 or over. Think about whether this bothers you or not. Christ's is friendly and welcoming, and our students come from a good range of backgrounds and countries around the world.

The College community is built on how much everyone shares - an excitement for their subjects, for learning, for getting everything they can from their time in College. There aren't big barriers between year groups or between undergraduates and graduate students so you should quickly find yourself settled both into your own year and into the wider College community.

If you feel that Christ's is for you, and you want to be a part of our college's rich and diverse community, you will be welcome. 

All students will be 21 or over, but even at mature colleges, people often don't realise that the majority of students are in their twenties.

You will have a wider range of ages than you'll find at most standard age colleges, however, as the mature colleges also regularly accept students in their thirties, forties, and beyond. That extra time also means that people will have done other things before starting at Cambridge. 

If you would prefer to be part of a slightly older community than at Christ's, do explore the websites of the mature colleges to find out more about them. 

College Accommodation
Undergraduate students normally live in College-owned accommodation in single rooms (see the accommodation page). If a student has a partner or a family, we don't have suitable college-owned accommodation, however private accommodation may be possible with permission from a Tutor. The University has an Accommodation Service to help students who need to find private accommodation. Please email us before applying if you wish to discuss accommodation arrangements at Christ's. 

At mature Colleges, most undergraduate students live in College-owned accommodation in single rooms. Mature Colleges may have more options within college-owned accommodation (including a small amount of accommodation suitable for couples and families). Please see the college websites or contact the relevant admissions offices for more detail.  

Who to email for further information
Kristy, Fran and Ellie in the Christ's Admissions Office are happy to answer questions from prospective mature applicants considering an application to Christ's: 
admissions@christs.cam.ac.uk

The email addresses for the Admissions Offices at the three mature Colleges are listed below: 

Hughes Hall: admissions@hughes.cam.ac.uk
St Edmunds: admissions@st-edmunds.cam.ac.uk
Wolfson: ugadministrator@wolfson.cam.ac.uk

Films
Christ's student Q&A film
Film about the mature Colleges
Mature entrance requirements
Mature students apply to Christ's with a range of qualifications including international qualifications. The academic standards we ask you to meet are the same as for other Cambridge applicants, but what we need to emphasise is that if you have the ability and potential, there's no problem if you get the qualifications and grades that demonstrate this at a later age than school leavers. We will assess you on your recent achievements and on your potential to thrive on the course you are applying for. 
Here are some of the most common UK qualifications that our mature applicants ask us about, but do please email us for further advice or if your qualification isn't listed. 
Qualification
Grades needed
Notes
A good option for mature students? 
A levels
A*AA - A*A*A 

Yes - A-levels are what the majority of school-leaving applicants take, and in some subjects it is difficult to identify alternative qualifications that offer comparable breadth and rigour.
We are happy to consider A levels in combination with other qualifications. Do email us for advice if you are planning this. 
For scientists, in particular, one or more appropriate A-levels may remain the best way to demonstrate that you have the knowledge necessary to thrive on a Cambridge course.
On the downside, we realise that not all mature students can access A level courses and the costs can be high - you will need to do some research to find out what is possible in your area.  

Access to Higher Education Diploma
Distinctions in all relevant subject units

It's not possible to apply with an Access Diploma alone for entry to Economics or any science degree, other than Psychological and Behavioural Sciences (see further detail). 
Access Diplomas do vary, and you should ensure the course you follow contains a serious examination element, as well as permitting in-depth study in the area(s) that most interest you.

As long as you are aware of the course restrictions (this qualification is not suitable for all Cambridge courses), an Access to Higher Education Diploma can be a good option if you lack confidence in basic study skills or haven't yet decided which course you want to apply for.

If you have completed your Access to Higher Education Diploma, see post-qualification applications. 
Some students may feel confident to apply having just started an Access to Higher Education Diploma course, though we normally advise you to consider using the second application deadline offered by mature Colleges. Do email us if you have questions about this.

Certificate in Higher Education
Distinction 

You can apply with an Open University Certificate in Higher Education, with Distinction, for entry to most Arts courses, and Psychological and Behavioural Sciences, however please email us to check the suitability of a specific course before applying.
Non-vocational Certificates (such as Social Sciences) are more likely to meet our requirements than vocational ones. 

Much depends on the specific course so we recommend that you email us at an early stage to ensure that the Certificate you are taking / that you hold is appropriate preparation for the Cambridge course you want to study. 

It will be important to send us a summary of the course syllabus when you apply (see details of the application process below).. 

Foundation Programmes
Offers are tailored to the course detail. 
It is possible to apply with a high performance in a suitable foundation course. Please email us to check the suitability of a specific course before applying.
It will be important to send us a summary of the course syllabus when you apply (see details of the application process below). 
Vocational and professional qualifications 
n/a

We cannot admit students solely on the basis of vocational and professional qualifications. These may sometimes help to demonstrate commitment to your chosen subject, but do not generally give you appropriate academic preparation for Cambridge.

n/a

If it's a while since you were in education...
It you've achieved the grades needed for entry to Christ's but more than two years have passed between your exams and your application, we would need you do additional preparation before applying in the form of formal study. This is to ensure that you can perform at the real level of your ability in the admissions process and that you are not disadvantaged by your time out of education either in getting a place or at the beginning of your course.  We do not consider applications from mature students who do not have some recent formal education. 
Institutions that you could explore for appropriate modules include:
Alternatively, you could explore MOOCs (Massive Open Online Courses):
Whether you have attended a course at an institution or taken some MOOCs,  it will be important to send us a summary of your course syllabus when you apply (see details of the application process below).
...and do email us if you need advice. 
 
The application process
Mature applicants to Christ's follow the same application process as all other applicants, though there may be some additional detail you need to provide in places.. As a mature student, it will be important to think through a few details in advance: 

Financial information
There are no age limits for financial support arrangements - these are available to all students studying for their first undergraduate degree. Indeed, some mature students will qualify for more support than standard age applicants. Do read the finance section for details of the costs and the support available including the Cambridge Bursary Scheme, Christ's College Prizes and funds, and the Christ's International Awards.

How can I find out more? 
If you'd like to visit Christ's, you are welcome to come to an open day if you'd like to. Elsewhere on this website we often write in terms of school years, but mature students who are interested in an application are also welcome to request a place at the Christ's open days and taster days advertised for Year 12 students. 
If the open day dates don't suit you, please feel free to visit another time or to send us an email with your questions. 
If you would prefer to go to an event specifically for mature applicants to Cambridge, it would be worth looking at the mature Colleges' websites as they organise a number of visits over the year. The Cambridge SU Shadowing Scheme for mature students is also an excellent opportunity to find out what studying at Cambridge is really like. 
Back to Undergraduate Admissions main page / Why choose Christ's? / Subjects at Christ's / Facilities