Why study Engineering at Christ's?
At Christ's we welcome Engineering students from all across the world. Our six Fellows work together with research students and external academics to cover all aspects of Engineering at a high level, so you can be confident of an outstanding start in the subject. Almost half of our first-years achieved Firsts in 2018.
Our graduates go on to work in a range of sectors, including in traditional engineering companies, consultancies, management consultancies, investment banks, hedge funds, start-ups, research and for online giants such as Google and Facebook.
 
Course content and structure
Please visit the University website for full details of the Engineering course content and structure.
Cambridge offers two courses (or 'triposes') in Engineering:
There is also a separate Chemical Engineering and Biotechnology degree, or after two years of Engineering you can opt for the one-year Management Studies course to gain a BA degree after a total of three years of study.
Please visit the University website for full details of the Engineering course content and structure.
 
Teaching
Christ's College has the following Engineering Fellows and Bye-Fellows whose broad collective expertise means we're well placed to support your studies.
The University's Engineering Department arranges all your classes, lectures and practicals. Christ's Director of Studies in Engineering Dr Elena Punskaya helps organise your work and 'supervisions'. These weekly small-group tutorial sessions with College Fellows, university lecturers or research workers give you the advantage of personally-tailored tuition and guidance. And we're willing to provide extra sessions if needed.
Christ's is handily located right in the heart of Cambridge, only 15 minutes' walk from the Engineering Department.
 
What do our students think?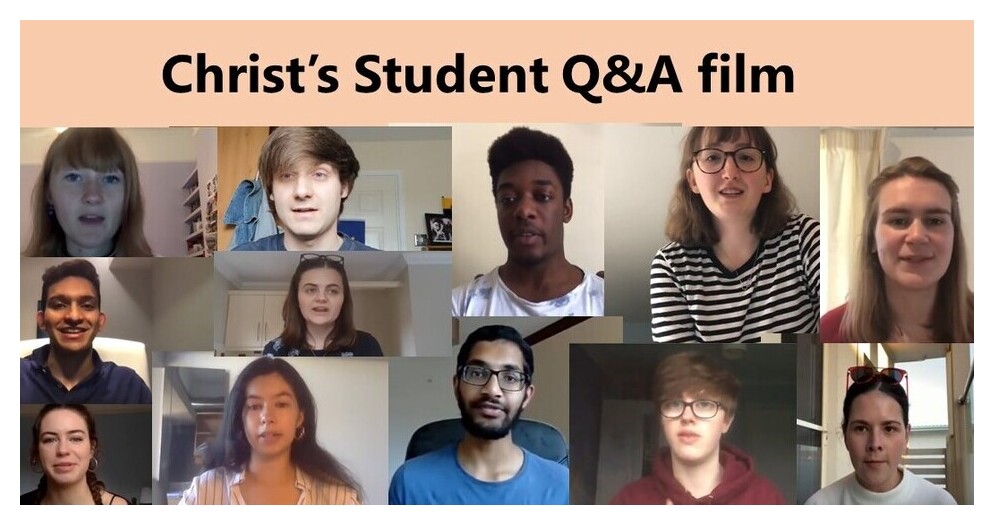 Read about the experiences of Andrew, Ollie, and Hiral who recently studied Engineering here at Christ's. There's also Statos, who did first year Engineering before changing to Natural Sciences (Physical).
You may also find the following student session from our February Open Day helpful as Annie is currently studying Engineering:
If you'd like to hear from other Christ's students, please watch the Christ's student Q&A film, and visit our Student Profiles page.
"I'd advise any applicants to go into the course with an open mind about specialisms – often people change their minds after studying all of Engineering for the first two years!"
Hiral

How to Apply
Visit How to Apply for full details and a timeline of the application process. We welcome applicants from all backgrounds and school types, all over the world. If you're applying from outside the UK, please read our international students section.
News
*****All applicants for Engineering must be registered for the ENGAA by Friday 30 September 2022 (18:00 UK time).*****
See the written assessment section.
On interviews: students who apply in October 2022 and are selected for interview will be interviewed online - you will not need to travel to Cambridge. For more detail see the interviews section below.
Applicants for Engineering at Christ's are not required to take STEP exams.

Subject requirements
To apply for Engineering, you should take
Mathematics (For International Baccalaureate students, this should be 'Analysis and Approaches')
Physics
A third mathematical / science subject at A-level, IB Higher or equivalent. If you are an A-level candidate and your third maths/science subject is not Further Mathematics, you will be more competitive if you can offer Further Mathematics as an AS-level.
There is no additional STEP requirement for Engineering at Christ's.
If your school does not offer Further Mathematics, you may be able to get support through the Advanced Mathematics Support Programme. It can support you by offering advice about choosing Further Mathematics, revision events, university applications, enrichment materials and activities, and tuition, when it is not available through your school or college.
A number of our international candidates from countries where you study a wide range of subjects at school in the final two years find it helpful to take part in mathematics competitions as a way to focus on extending their mathematical knowledge and ability. 
Admissions Assessment (Registration required)
Applicants to the University of Cambridge for Engineering (or Chemical Engineering via Engineering) must sit an  admissions assessment called the Engineering Admissions Assessment (ENGAA). This will take place in your school, college or local testing centre. The same assessment is used regardless of which College you have applied to. The Engineering Admissions Assessment examines your academic abilities, knowledge-base and potential, and forms part of our holistic admissions process: there is no set score that we are looking for. When applying, it is important to be aware of the registration and assessment dates:
Thursday 1 September 2022 - ENGAA registration opens.
Friday 30 September 2022 (18:00 UK time) - Engineering applicants must be registered to take the Engineering Admissions Assessment (ENGAA). See how to be registered. You should ask for your candidate number before the deadline as proof that you are registered.
Please note that open centres may set an earlier deadline for accepting entries, and it is your responsibility to check if this applies at your centre.
Wednesday 19 October 2022 - Engineering applicants sit the ENGAA assessment.
Information about the assessment including example papers and subject content is available on the University Admissions website from March each year.
Interviews (online in 2022)
If we invite you for interviews, these usually take place in very late November or early December. Those invited for Cambridge interviews are normally interviewed for 35-50 minutes in total. At Christ's, we usually split the time into two interviews with academics in Engineering. During these interviews, you will have an opportunity to show us your academic potential, your approach to solving problems and your ability to generate ideas.
Do not forget that the interviews are not just there for us to ask you questions. They provide you an excellent opportunity to ask us about the course, the College and the University. Further, more general information about interviews (including two useful films) is available in the Cambridge interviews section.
Offers
We typically admit between eight and twelve engineering students per year. Offers for Engineering are likely to be minimum A*A*A at A-level including A* in A-level Further Maths (or minimum grade A at AS level Further Maths), 42 points overall in the IB with 7,7,6 in relevant Higher Level subjects, or equivalent in other qualifications.
The international students section has further information about typical offers for other qualifications. If you will have already finished school when you apply, please see our page for post-qualification applications.
Taking a gap year
For those who are considering a gap year, deferred entry applications and post-qualification applications for Engineering are encouraged by the College. A gap year can offer a valuable opportunity to travel and/or gain work experience in an industrial setting (via, for example, the Year in Industry Scheme), which can be a major advantage during the undergraduate course. See the industrial placements information on the Engineering Department website.
 
Helpful Resources
I want to study Engineering
Cambridge Engineering Department resource to help you to develop and practice problem-solving skills for Engineering courses at competitive universities. 
ENGAA preparation resources

Scroll down this page to find details of the format, the specification (including a list of the the scientific and mathematical knowledge that ENGAA questions can draw upon) and specimen papers. The ENGAA must be taken by all Engineering applicants and it's essential to be registered by 18:00 UK time on 30 September 2022.

Advanced Mathematics Support Programme
Website with advice on choosing Further Mathematics, revision events, enrichment materials and activities, and tuition, when it is not available through your school or college. See in particular A level Maths resources and A level Further Maths resources. If you're studying independently, Integral offers an online Further Maths course.
Isaac Physics 
Website to help you develop problem-solving skills in Physics from GCSE to A-level through to the transition to university. See A-level resources and student support. There is also a mentoring scheme. 
A-Z of Women in Engineering
Resource made by Stemettes
Prototype games
These games are designed to teach real concepts from Engineering, Physics and Maths while still being fun to play.
Nuffield Research Placements
Year 12 opportunity to work on a summer research project.

Strict eligibility criteria apply.

Use IT to learn about physics, aerodynamics, design, manufacture, branding, graphics, sponsorship, marketing, leadership/teamwork, media skills and financial strategy, and apply them in a practical, imaginative, competitive and exciting way.
Engineering video FAQ's
See FAQ's on course content, and on specialisations
Recommended reading
Suggestions for budding engineers if you are looking for an interesting insight into Engineering. This is not a required reading list.
Maths study from home resources

See NRICH Maths at Home and Integral.

HE+ Engineering
Website for secondary school students who want to explore Engineering.
CamGuides
Introducing the

academic and information skills that you will need during your studies, as well as how and where you would be working.


Open Days and Online Events
Online events: Our open days and events page advertises online opportunities as well as events you can attend in Cambridge (in normal times). These include our regular webinars from February until August, and our College Open Days in October, February and September.
The Engineering Department puts on lots of events for the annual Cambridge Open Days, in July. Booking opens in April each year and you can visit Christ's College on the same day. If you can't visit in person, there is a virtual tour of the Engineering department online.
 
Want to know more?
For a full picture of what the course involves, please read the University's Engineering course prospectus, take a look at Undergraduate Engineering admissions and the Department of Engineering information for prospective students too. It would be helpful to watch this film about the Dyson Centre too.
If you have any queries, send them to admissions@christs.cam.ac.uk and we'll help however we can.
 
Undergraduate Admissions main page / Back to the subject list / How to apply / Why choose Christ's?