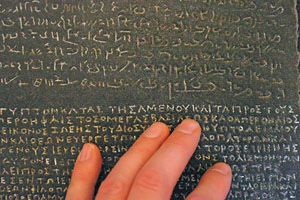 Why Study Linguistics at Christ's?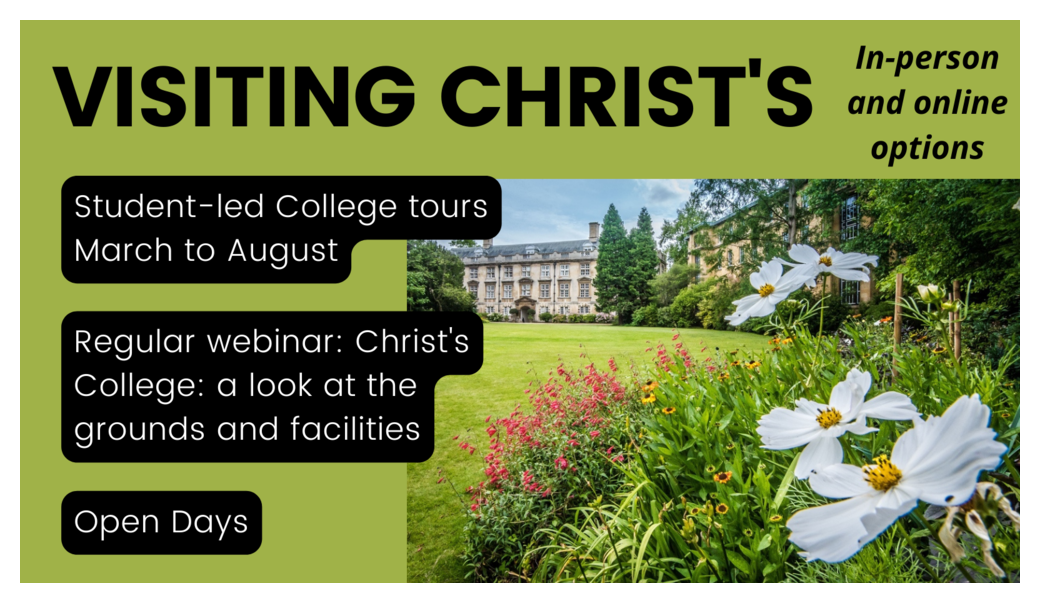 Perhaps more than any other Cambridge college, Christ's has been a hotbed of linguistic activity and boasts quite a number of alumni with linguistic interests:
Charles Darwin, our most famous alumnus, engaged in a legendary debate with Max Müller over the evolution of language (see summary and the exchange of letters)
Quentin Skinner, the prominent historian and former Fellow is known for (among other things) his work on speech act theory and rhetoric
Richard Clarke, Laurence Chaderton and Francis Dillingham were among those commissioned by King James to translate the Bible into Modern English
Sir Ernest Alfred Wallis Budge, notorious Egyptologist
Sir John Lyons, author of a famous book on Noam Chomsky, and master of Trinity Hall
Walter William Skeat, author of the landmark Etymological English Dictionary and the definitive edition of Chaucer's works
Sir Ralph Turner, leading Indologist, author of the great Comparative Dictionary of the Indo-Aryan Languages, and Director of the School of Oriental & African Studies (SOAS) at University of London
Thomas Burrow, Boden Professor of Sanskrit at the University of Oxford and author of classic The Sanskrit Language
Alfred Cort Haddon, one of the founders of modern British anthropology, famous for his study of life in the Torres Strait Islands
This course gives you broad interdisciplinary training, teaching you to analyse quantitative data, construct grammatical models and test hypotheses. As a result, you emerge with the kind of transferable intellectual skills employers are keen to see.
Graduates go on to careers in speech therapy, teaching (especially languages), speech and language technology and even forensic linguistics. Familiarity with the range of human languages is a huge advantage in careers where you might need to master a new tongue quickly, such as the Diplomatic Service.
 
Course content and structure
The Linguistics course (or 'tripos') is a three-year degree. Please visit the University website for full details of the Linguistics course content and structure.
 
Teaching
As well as lectures organised by the University's Department of Theoretical and Applied Linguistics, you have weekly 'supervisions' at the College. These small-group tutorial sessions (1-to-1 or in pairs) give you personally-tailored tuition and support – one of the advantages of a Cambridge education. Christ's Director of Studies in Linguistics Matthew Tyler arranges these for you and can offer guidance whenever you need it.
 
What do our students think?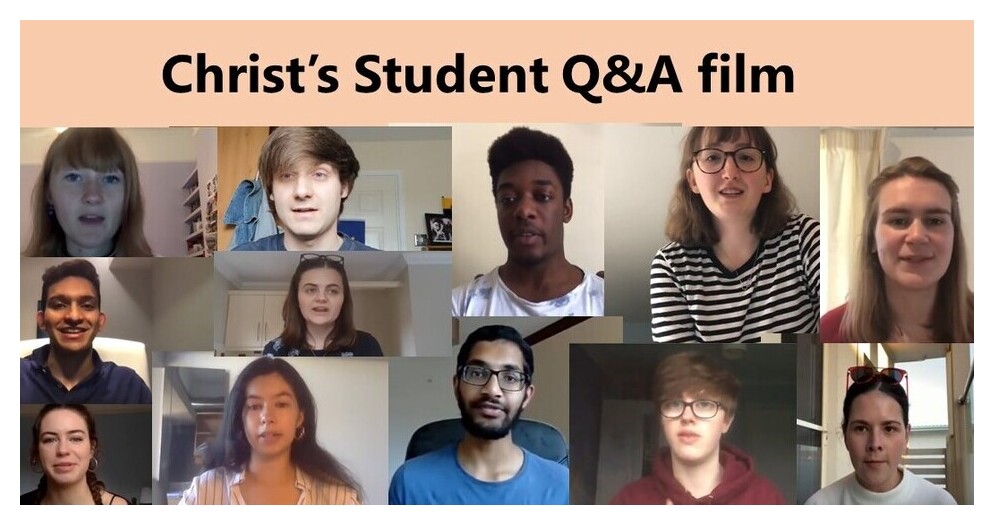 Imogen and Arthur both studied Linguistics here at Christ's College. They have written about their experiences in their student profiles:
If you would like to hear more from Christ's students, please watch the Christ's student Q&A film, and visit our Student Profiles page.
 
How to apply
Visit How to Apply for full details and a timeline of the application process. We welcome applicants from all backgrounds and school types, all over the world. If you're applying from outside the UK, please read our international students section.
News
On interviews: students who apply in October 2022 and are selected for interview will be interviewed online - you will not need to travel to Cambridge. For more detail see the interviews section below.
The written assessment for Linguistics is College registered. That means that you do not need to register for it. If you are invited for online interviews, we will organise it for you automatically. See the written assessment section below.

Subjects: what do you need?
As linguistics is interdisciplinary, we don't need you to take specific subjects – we welcome applicants with an outstanding academic profile in the sciences or the arts. However, it is helpful to do some formal language study by learning languages or taking English Language A-level (or equivalent).
We're looking for applicants with a lively curiosity about the nature of language.
Have you ever been struck by a language that puts verbs in a different position in the sentence?
Or wondered why languages change over time – making Chaucer hard to understand, for instance?
Or felt puzzled when speech recognition software gets a perfectly clear word wrong?
Basically, if you've ever found yourself asking Why? or How? in relation to language, Linguistics is for you.
Interviews (online in 2022)
If we invite you for interviews, these usually take place in early December. Those invited for interviews are normally interviewed for 35-50 minutes in total. At Christ's, we usually split the time into two interviews with academics in Linguistics.
Read the information and watch the short films on Cambridge admissions interviews for an idea of what to expect.
Your written assessment will be at the end of November and will not normally be on the day of your interview. You will be able to complete the assessment online in a remotely invigilated session - you will not need to travel for it. Details of how the assessment will work will be given to students selected for interview by email.
Written Assessment (College registered)
If you are selected for interview, we ask you to take a written assessment in the second half of November. We arrange your assessment automatically so you don't need to register. You do the same assessment regardless of which college you apply to.
The Linguistics written assessment lasts one hour and you don't need to have any prior knowledge or do any special preparation to sit it. Read more about the assessment, including sample papers and subject content, on the University Admissions website (available from March each year).
Your written assessment will be at the end of November and will not normally be on the day of your interview. You will be able to complete the assessment online in a remotely invigilated session - you will not need to travel for it. Details of how the assessment will work will be given to students selected for interview by email.
Offers
We define the terms of each offer individually, but the typical conditional offer is:
A*AA at A-level
42 points overall in the International Baccalaureate with 7,7,6 in relevant Higher Level subjects
If you're taking another qualification, we expect you to be working at or close to the top of the mark range i.e.
Option Internationale du Baccalauréat: at least 17/20 overall, with 17 or 18 in relevant subjects
Read about offer levels in other exam systems and international entrance requirements.
If you will have finished school when you apply, please read about post-qualification applications.
 
Helpful resources
Reading suggestions
Suggestions to help you find out more about Linguistics and develop your interests
British accents and dialects
Online resources from the British Library
Online lectures

Change and stability in the native language of migrants
Stability and change in child language
Language learning and creativity
The acquisition and evolution of linguistic variation
Darling, dukeling, duckling: how historical corpora can verify predicted pathways of language change

Blog
The Language Log (also available as a Twitter feed).
Essay competitions
Entering an essay competition is a good way to explore a relevant topic and get some extra practice in writing a convincing and well-structured essay. Examples: Trinity Linguistics Prize; Babel Young Writers' Competition
National Linguistics Olympiads

These are competitions where you solve linguistics problems. See for example UK Olympiad (and their useful set of past problems). Other countries often have similar resources pages e.g. Australia, Ireland, USA to give a few examples from anglophone countries.

The Linguist List
Website forum with discussion of linguistic issues. About the Linguist List
Podcasts
All Things Linguistic has a list of linguistics and languages podcasts.
TED Talks

How language shapes the way we think
Why language is humanity's greatest invention

HE+ Linguistics
Website for secondary school students who would like to explore Linguistics
Language learning
Memrise features films of native speakers.
Language taster films
METIS presents a taste of Indoensian, Korean, Mandarin Chinese, Catalan, French, Arabic, Cornish, Portuguese, Persian, Nepali
Poster presentation
ULAB offers a Linguistics Poster Presentation opportunity for sixth form students to present work.
CamGuides
Introducing the

academic and information skills that you will need during your studies, as well as how and where you be working.


Open Days and Online Events
Our open days and events page advertises regular online opportunities as well as events you can attend in Cambridge. If you can, sign up for a College Open Day (our October, February and September events normally include a meeting with a subject specialist). Between February and August we run regular webinars:
Subject Matters: The importance of post-16 subject choices (this one is also run Sept - Nov)
Cambridge for Beginners
Christ's College: A look at the Grounds and Facilities
Personal Statements and preparing for an application
Further subject-specific opportunities you might wish to consider include Subject Masterclasses organised by Cambridge Admissions Office, and subject-specific talks in the July Cambridge Open Days. If you are a UK student from a background where there is little tradition of entry to Higher Education, you can apply to attend a Sutton Trust Summer School in Linguistics or to shadow a current undergraduate studying Linguistics via the Cambridge SU Shadowing Scheme (do be aware that there's a high proportion of applicants to places for both of these last two opportunities so please don't be discouraged if you don't get a place).
Want to know more?
For a fuller picture of what the course involves, read Undergraduate Linguistics admissions on the University website. You should also look at the information for prospective students on the Department of Theoretical and Applied Linguistics site.
If you can't find what you need, please send any queries to admissions@christs.cam.ac.uk. We'll be glad to help.
Back to the subject list / How to apply / Why choose Christ's?