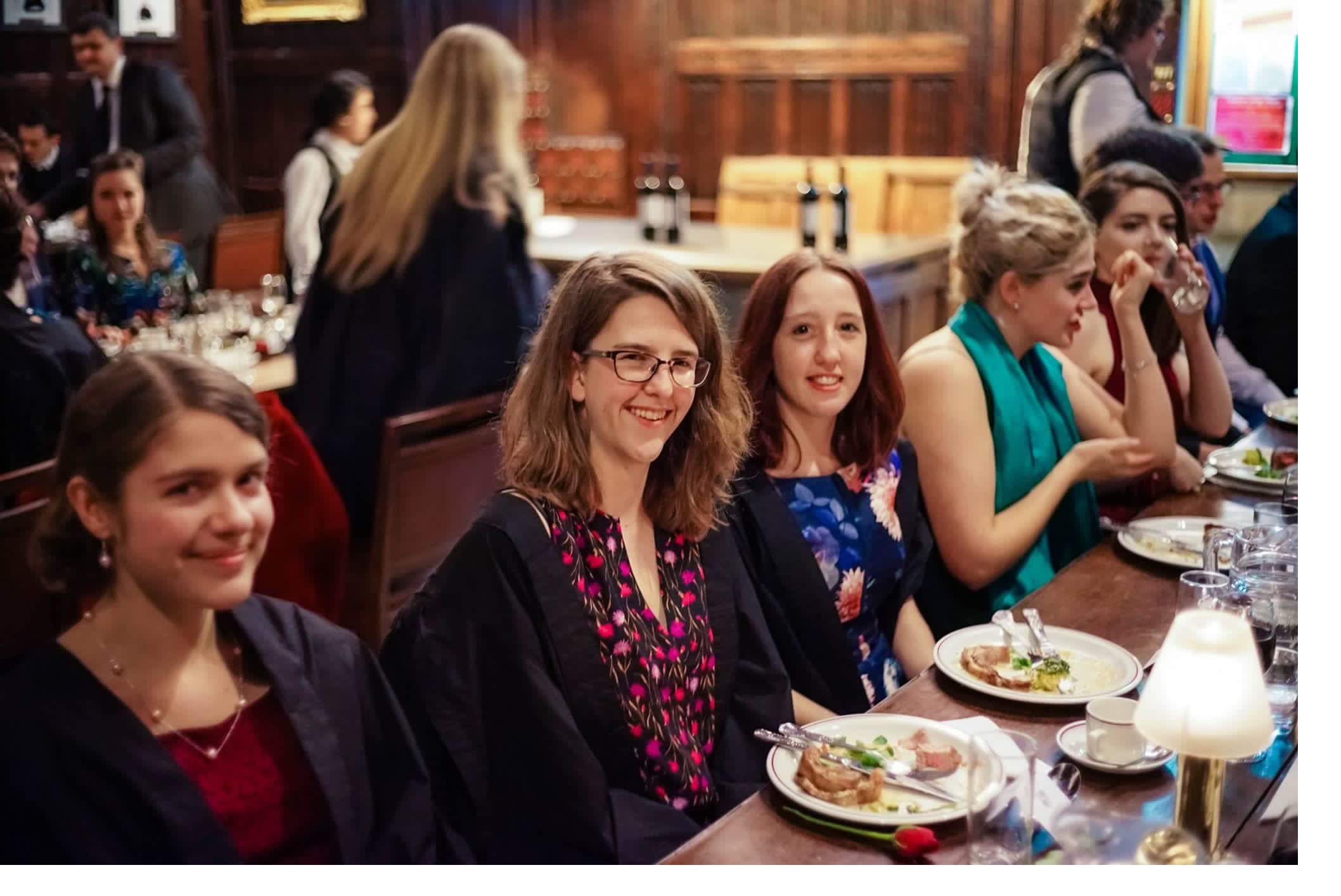 Imogen has just completed her third year of Linguistics here at Christ's College, Cambridge. From Chesterfield, Derbyshire in the north-midlands of England, she did A-levels in French, Art, Physics and Maths.
How easy did you find it to choose a university course?
Not particularly easy. As you can see from my A-levels, I did both maths/science as well as arty stuff. I really didn't want to lose that mixture so I initially looked into doing Physics with French which, unsurprisingly, nowhere seemed to do. Luckily, the head of languages at my school suggested that I might like Linguistics and he was absolutely right!
After that I spent ages looking for courses where I could take French with Linguistics, but specifically where I wouldn't have to do French literature which significantly narrowed my options. I spent a lot of time looking at rankings and then the actual courses and working out how much of the course would consist of literature. Ultimately, though, I ended up coming here and doing single honours Linguistics without French! A lot of it was simply the fact that it was Cambridge, I more or less applied just to see if I could get in, which then happened much to my surprise and delight! Of course, I also liked the look of the course itself – the first year gives you a broad spread of the kind of areas you can tackle in Linguistics and then in second and third year you specialise. Looking back, something that I hadn't considered when choosing this course but that retrospectively was an amazing part of it was that you quite literally are being taught by the people who wrote some of the the key books and papers in the field.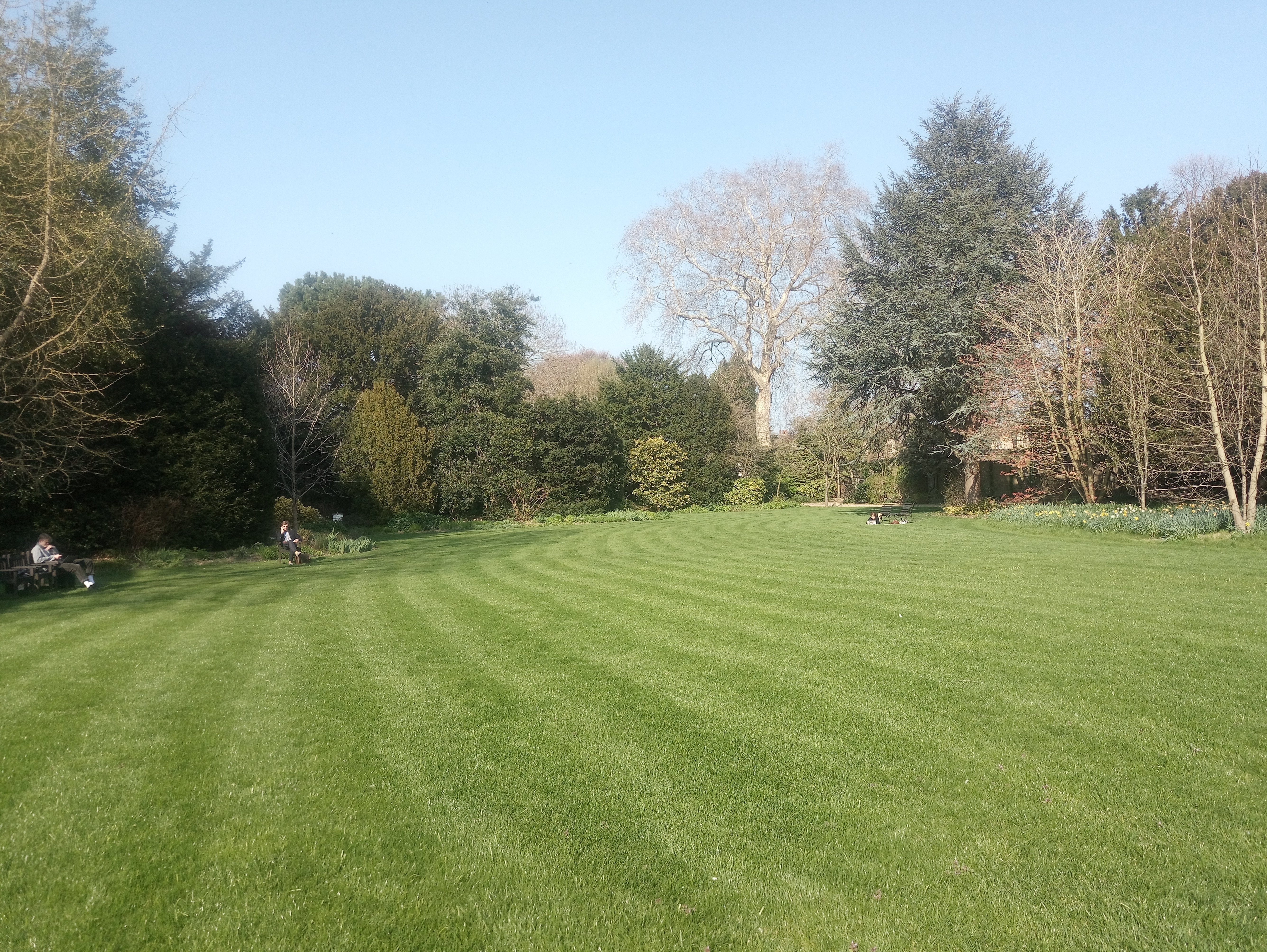 How did you choose Christ's?
The Linguistics course is quite small so unlike most of the larger subjects, everything academic would be organised centrally from the subject department rather than through College. This meant that choosing a College was purely choosing a place to live.
When it came to Christ's I just really liked the atmosphere and feel of the College, particularly the Fellows' Garden which felt like somewhere I would enjoy spending time. We also have the best porters in Cambridge!
From a more practical perspective, the College is incredibly central and only a 15 minute walk from the Sidgwick site (where all my lectures were). 
I'm so glad I decided to come here, so much so that I came back after graduating to help out at an open day and share just how much I love the College with the people coming to look around.
What advice would you give sixth formers considering Linguistics?
Do a bit of reading up beforehand, but don't worry about having to know loads. It's more important to show how enthusiastic you are about the subject and of course it's good to show this through reading you've done. They know that no one has done Linguistics at school and are looking for the people who have questions, rather than necessarily the correct answers.
I read a book about sociolinguistics in preparation which ended up not being particularly relevant for the course here because there are no sociolinguistics papers beyond first year. I just read it because it seemed interesting, and then it helped feed the discussion in the interview. Besides, it's always good to have that extra knowledge. Read anything that you think sounds interesting - some of the more 'pop' linguistics books are always good as a starter, e.g. anything by Steven Pinker.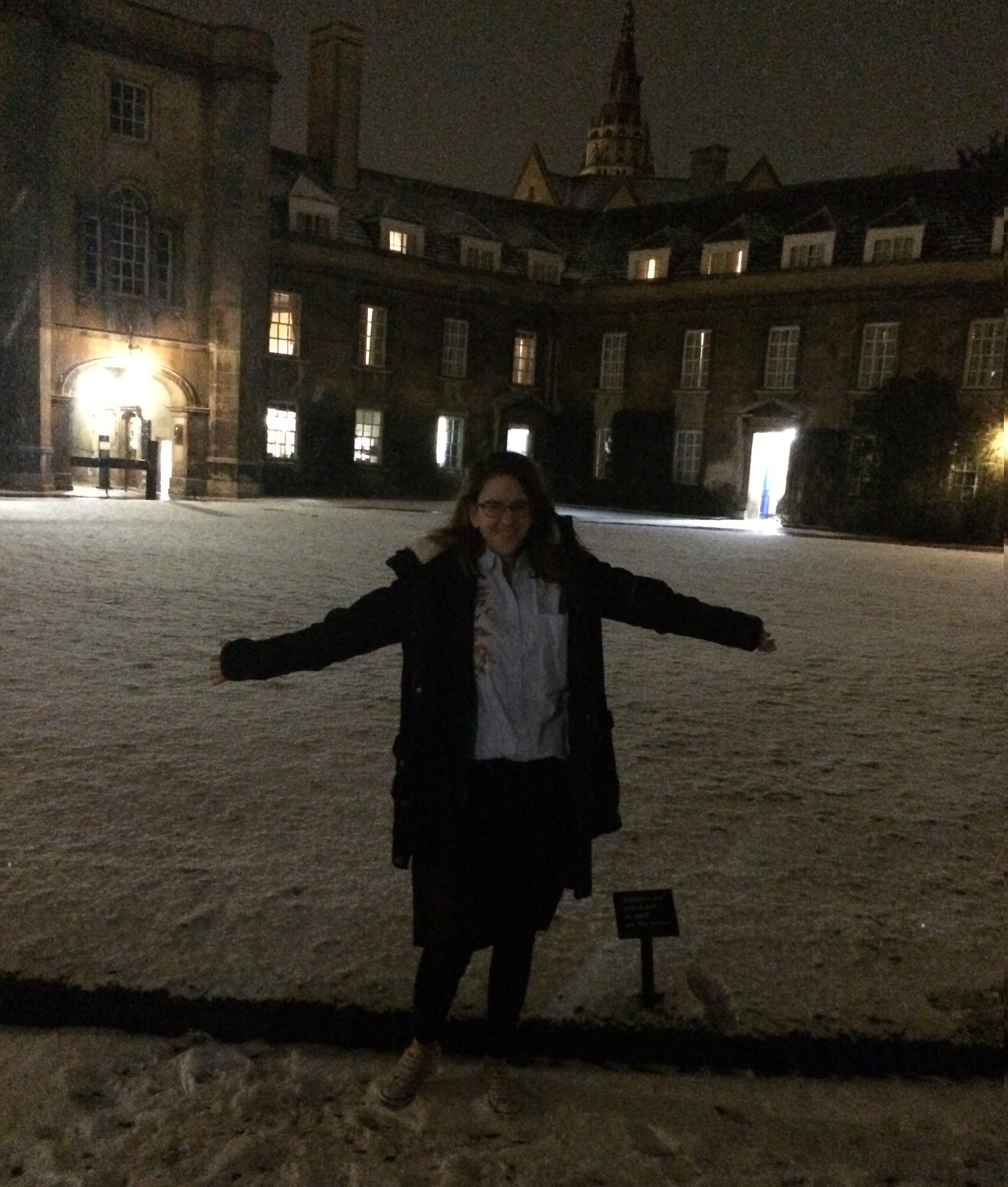 What was being in the final year of the course like?
It was different to first two years in that I had a dissertation, which consumed a lot of time during the year. It was great to have a chance to collect and work with your own data, and despite all the stress it caused I had a great time researching. This year was also different because we had a general paper which is something specific to the Cambridge course. This is a paper that requires you to bring in everything together from all three years and answer questions about the approach to Linguistics as a whole. It was bit of a weird paper and could have some strange questions, but I enjoyed getting to take a step back and combine everything I'd learned on the course. In fact, I even managed to include something I had learned from the sociolinguistics book I read for my interview!
 
What papers did you study this year?
In third year you choose two papers, then you have the compulsory general paper and the dissertation. I chose syntax and phonetics.
Syntax: I chose this paper because I had enjoyed it in first year, and then during second year I heard loads of people complain about it. I decided to stick with it anyway since there were no other papers left from the pool of papers shared between second and third year that I particularly wanted to do for my final year but luckily it ended up going well! It was interesting but just very theoretical.
Phonetics: I took this paper because it was incredibly well organised and had both a written section and a practical section and I liked that I wouldn't have all my eggs in one basket - if one didn't go great, I could use the other to help pull me up. It had a great lecturer and weekly practical sessions as well as lectures so you have more contact hours. It was just recommended as a really good paper to do for final year.
There wasn't really a big timetable change compared to first year, just fewer lectures because there were fewer papers – I didn't have to do contact hours on a Saturday or anything!
I also really enjoyed the semantics and pragmatics paper which I did last year, and which then fed into my dissertation.
 
How did you organise a healthy balance of work and social life?
I have no time management skills: if I make a timetable I don't stick to it - it's just a lot of procrastinating during the day and working through the night. I was better this year than I was last year, when my friends joke that I stopped existing because they didn't see me for almost the entirety of exam term. This year I managed to keep a better balance between socialising and working (or rather trying to work), but then again during the earlier terms I had my dissertation eating up a lot of time. There is definitely a large workload at Cambridge but a lot of people manage their time better than me and have a more even balance.
Exams went well in the end. During the year, over the Christmas and Easter holidays, I would make sure that I had made thorough notes from all the lectures. This meant that when it got to exam term I would already have my core notes and then all I had to do was learn them, which I managed to do in the few days before each exam, and do extra reading around them. Especially for the syntax paper, a lot of the term was spent making sure I'd fully understood the complex key concepts before it came to just learning them. I definitely recommend getting things together in advance so when it comes to learning you have all your notes prepared. It was also useful to meet up with other people on the course and spend some time discussing ideas, particularly for the general paper.
What have you most enjoyed about your time at Christ's?
I've really enjoyed the community, there are such lovely people here. Everyone is so friendly, and even when we're stressed, we've organised meeting up and having tea in someone's room - everyone is in the same boat and at least slightly stressed all the time, so we know to look out for each other.
I've lived in P staircase for two years where the rooms are cheap (in second year I was actually in the cheapest room in College!) and you don't have to pack all your things up every vacation. I mostly liked P because I was living with a group of friends, and the rooms are cosy and they do have character. I actually prefer it to the far more modern staircase 4 rooms – I like that it's all a little bit wonky. The main problem is Hobson Street noise but that's just something you can get used to.
 
Did you receive any particular support from College during your degree?
I did have some College funding – after the first year I spent a month in France in the summer helping tutor English and I got some funding from College. They seem very willing to fund things if there's an academic benefit.
 
Where is your favourite spot in College?
I love the Fellows' garden. It's such a beautiful and calm place. When it was snowing it felt so magical to just walk around and then when it was sunny I went and worked in there.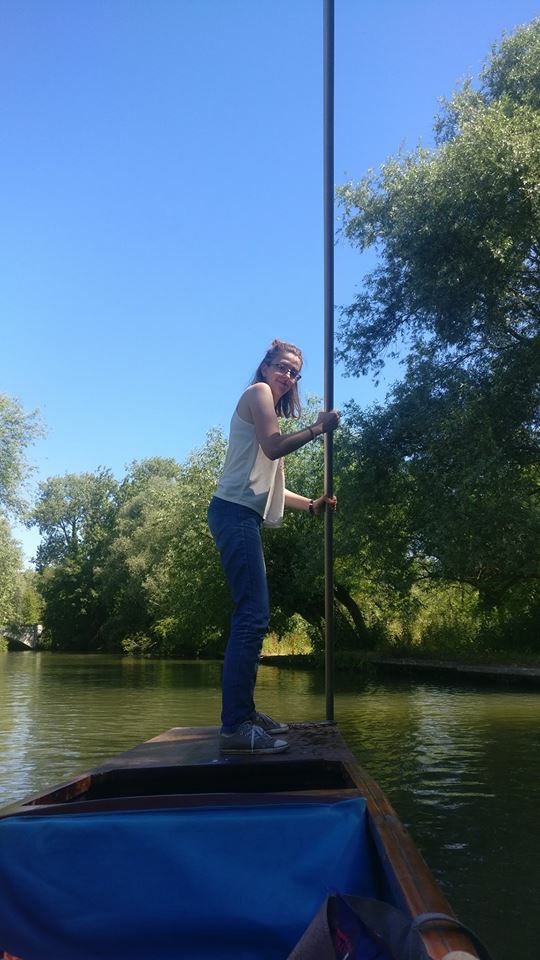 What are your fondest memories?
I loved the time after exams ended, when the weather is beautiful and you just get to enjoy Cambridge as a place. You can go exploring or have a picnic or go punting, and while you can obviously do all of this during term, there's something liberating about not having to think about anything academic for a while. Cambridge such a lovely place and I feel like you don't get to enjoy it enough during term time.
Then of course this year there was the Christ's May Ball which was obviously good fun, I also got to help out with the music for the Christ's Amateur Dramatic Society's performance of The Winter's Tale which they performed in the outdoors for the annual 'Shakespeare in the garden'.
 
Is there anything you would change about how you tackled life here?
Manage my time better! It turned out okay in the end but the journey to get there could have been easier. I don't think I would have changed the papers I took or anything though.
 
What will you miss most about Christ's?
The place, the people, there's a sort of security to being in a little College, being close to the shops, not having to walk for more than two minutes to get to Sainsbury's. I'm going to miss the sense of community here and it's somewhere that has definitely become home.
 
What support is there at Cambridge for careers? 
I have gone online on the careers page and had a look through when I was trying to figure out what I wanted to do next year. There were also talks I went to on what to do with a degree in languages - they tend to be more slanted for the Modern and Medieval Languages students though. I haven't found much which is specific to Linguistics, but there aren't many Linguistic-specific jobs. It's more about the transferable skills and how you want to use them in your career. There's also the Cambridge Careers service that sends regular emails about talks and workshops available. I know there is support for it and that the information is available.
 
Do you have any plans for what you'll do post-graduation?
November to July I will be doing an Erasmus traineeship working as an English assistant at a primary school in France. The Erasmus programme is still open to postgraduates provided it's completed within a year of graduating, and while it's not what I want to do in the long-term it will hopefully give me a year to sort out what I actually want to do.
For others in my year, I know there are a few who are going to Harvard for a 5 year PHD. Personally I don't know how they can dive straight into five more years of academia without even taking a break! Some more are going to do Masters, others are taking a year off to consider doing Masters, and then someone is going to do translation work, someone is going to work with taxes, and someone else is going into radio!
September 2018
Please be aware if you're considering an application that our student writers describe their experiences. Although the majority of the information stays the same, some details may change from year to year. Do read the student profiles in combination with our undergraduate admissions pages for full information.

Back to Student profiles page / Linguistics at Christ's / Next: Elliott's profile