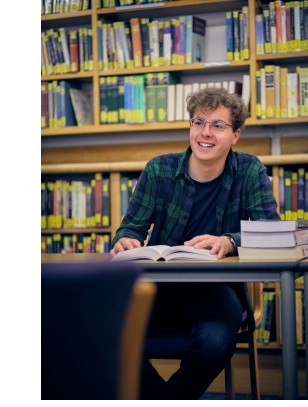 Mati is from Piaseczno in Poland, and wrote this at the end of his first year studying Land Economy here at Christ's College, Cambridge. At school, Mati sat the Polish Matura, studying Mathematics, Geography and German.
What attracted you to your course?
It was probably the unique nature of the Land Economy course, and its closeness to my actual interests that made me choose it. I'm interested in spatial organisation and management, and I have long been an enthusiast of observing new land developments, in person or from architectural magazines.
I thought about studying Architecture, Engineering, and Geography, but didn't feel quite cut out for any of them. I actually found out about Land Economy by accident, when I was checking out what courses Cambridge had on offer! It caught my attention because I wanted to learn something about economics, while the law part seemed a tempting intellectual challenge, and I liked the course's employability.
Compared to a typical Geography & Economics course, this course covers law, some rare options in spatial economics, and some real estate finance. Unlike the Real Estate courses at other universities, there is a more abstract, academic side to Land Economy - it's not just purely technical skills that you learn. In a nutshell, this is a niche course, both vocationally useful and giving you all the advantages of the Cambridge education system.
"This is a niche course, both vocationally useful and giving you all the advantages of the Cambridge education system."
Mati
You got your offer through the Winter Pool - how did you find changing to Christ's?
I wasn't sure what college to choose, so it didn't matter to me a lot that I was pooled. However, I feel I ended up in a very good place with plenty of resources and friendly people. At first it feels confusing to be pooled, but after you find out more about the college which has given you an offer, it becomes exciting in no time.
Christ's gave me loads of surprises - for example, a library open 24/7, which can obtain any book for you, free laundry facilities, and the College cats. There is also enthusiastic and effective support available from the College nurse, your tutor, the chaplain, etc. If something troubles you, you're never left to deal with it on your own.
It would be hard to do justice to all the forms of support I have received from College, but the most significant ones that really helped me were a bursary that was available when I applied and free counselling sessions.
What do you think of the collegiate system in general?
Having spent a year in Cambridge, the College system here has become a very natural concept for me. I used to find it somewhat arcane and inexplicable, and I still struggle to clarify it to my family exactly what it is - that Colleges are neither subject faculties, separate universities nor mere halls of residence. Whatever the dictionary definition of the collegiate system, I feel that the most important function of Colleges is to create communities which are not too tight-knit but still provide a sense of identity. In this way, they support you throughout so that you don't feel crowded out at this massive institution. Encompassing living and working spaces, Colleges allow you to develop academically in a peaceful environment.
How did you find the application process?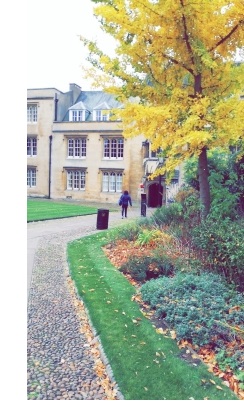 The application process was quite exhausting and nerve-wracking for me, especially having to provide things like photos and certified translations. It's good to make sure you know what you will have to prepare at each stage of the application, because sometimes there is not much time to complete everything you're asked for. For example, if you're from outside the UK, make sure you remember to have certified translations of previous two years' final grades ready, because after you've applied at UCAS you're given only a few extra days to complete the additional questionnaire(s).
For Land Economy, there was Thinking Skills Assessment (TSA) when I applied. Basically, I had a go at a sample paper that was available on the internet and I did it within the time I would be given for the real one. I couldn't find any more papers, but the sample paper raised my awareness of how short the time was for doing the exercises and what kinds of questions I would be asked.
I had no expectations coming to the interview, but I felt more at ease than I thought I would, based on the sample interview videos. I think it's not worth excessively stressing out, since interviews are not used to browbeat you intellectually, but to check your potential. First of all, I made sure I was fully aware of what I had talked about in my application. I also practiced giving longer answers on some relevant topics in front of a mirror. This, along with the fact that I was speaking about my interests, made me more confident in the interview.
My advice for prospective applicants would be to apply for a course that really interests you. That way, it will be much easier for you to write and talk about the subject, and you're most likely to show off your potential well. I know it's hard to write a personal statement for Land Economy as it is unique, but I think that doing super-curricular activities that interest you and making sure you can show evidence for this is a good start. Just be honest and positive - the eye-catching part of your application is this one which shows enthusiasm for and understanding of the subject.
"The eye-catching part of your application is this one which shows enthusiasm for and understanding of the subject."
Mati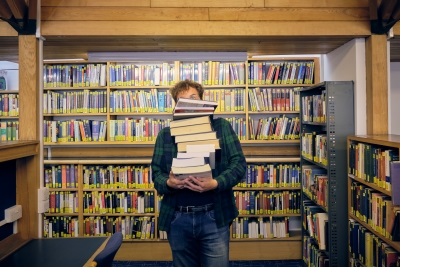 Before you got to Cambridge, what were you looking forward to and what were you most worried about?
What worried me the most before coming to Cambridge was nervousness that I would not get used to the new environment. These fears turned out to be ill-founded, but I was surprised by the fast pace of life here. I was not prepared to be bombarded by the multitude of things to do and people to get to know, but I have learned to focus on things I enjoy and not to regret not doing something else. What I liked the most about Freshers' Week was the time spent on games in the evenings, when we could just get to know each other and have fun. Although university felt like a cool summer camp at first, it soon became a normal part of my life.
I was nervous about the Economics part of my course, as the school curriculum in Poland does not include Economics at all. However, I've had a great supervisor who motivated me and encouraged the progress I made throughout the year.
What surprised you about starting at Cambridge, if anything?
The first thing, and it is my lasting impression, was that the culture and tradition of the university is all very academic and focused on your degree. Also, the University Library amazed me. It's cardholder-only and may become one of your favourite places if you find yourself in a need to go beyond textbooks and classic supplementary texts. It's not just that you're expected to do a lot of high-end work here, you also get supplied with practically everything you may need to proceed with your studies.
How does your teaching work?
I have between two and three supervisions per week. You should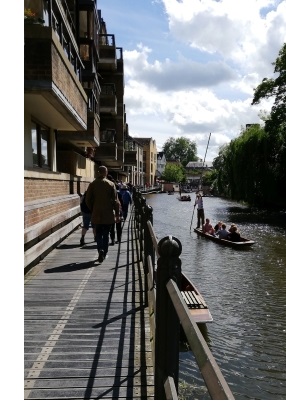 expect to have an assignment to do for every supervision, usually an essay. Some supervisors want to receive them two days before the supervision, some want them even a week early. For papers (options) 1–3 you have the same supervisor each term, but I had a different supervisor for each supervision for paper 4 so that I could work with topic specialists.
Lectures are ten per week in Michaelmas term (Oct-Dec) and eight per week in Lent term (mid Jan - March) and in the first year the lectures are very neatly organised in two or four hour blocks. Both supervisions and lectures have reading lists which are very useful. In Easter term, nothing is compulsory, but it is all worth attending. You may even have some extra revision supervisions, which tend to be slightly longer than normal.
Lectures and supervisions were unlike anything I had previously experienced. Lectures are jam-packed with material, but it is important to balance them with background reading, revision, and independent research. Supervisions supplement the curriculum and are to help develop your skills, but they do not form the core of everything essential that needs to be learnt. However new and heavy lectures and supervisions may be, it is the sheer amount of implicitly expected independent work that is likely to be the real surprise.
Compared to school, I have to do a lot more on my own. You have to learn to commit to studying, as there are no weekly short tests nor well-defined lists to memorise, and your social life may encroach on studying time if you let yourself believe you can just do the work later.
What are the best and hardest things about your course?
The best thing about the course is that I can work on very topical material, and that I meet world-class experts in very specialised fields on a day-to-day basis. Here at Cambridge, my curiosity is constantly stimulated. The hardest thing, though, is that suddenly your extra knowledge and involvement becomes the norm. You have to really strive in studying, handling knowledge, and finding motivation to get a good grade.
The course contains so much stuff that I would not have thought about before starting it, and is challenging in way that I could not have conceived of on application. I'm really enjoying furthering my understanding of the subjects I dabbled in before.
"The best thing about the course is that I can work on very topical material, and that I can meet world-class experts in very specialised fields on a day-to-day basis."
Mati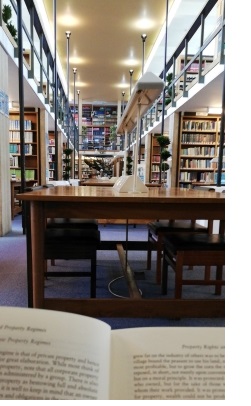 Looking back over the year, what do you feel you have got out of it?
I have enjoyed the variety of papers I have taken over the year. The biggest lesson I've learnt is not to underestimate the damaging effects of procrastination and bad time management, and to take initiative without hesitation. The course itself has enlightened me on economic and legal concepts. I've also improved my critical thinking and I've fallen in love with referencing, which is absolutely crucial in academia.
I think my favourite topic from this year has been Administrative Law (part of Paper 2, The Public Sector). I am completely new to law, but I have found it enjoyable so far. I liked the fact that I could learn general principles from particular cases. The paper itself was very reading-heavy and demanding, but it was fascinating and deeply engrossing.
How do you manage your workload?
Going to a library for the day is the easiest way to ensure I stay on track with my work. As a Land Economy student I have access to at least six libraries, which is helpful as it tends to be hard to focus in my room. The subject libraries at the Sidgwick Site are especially good. If I want to spend an entire day there, many facilities are at my disposal – cafeterias, spaces to relax, etc. It's tourist-free and tranquil, and I can walk through the beautiful King's Parade on the way. The Fellows' Garden at Christ's is a nice place for many, but I find it quite distracting when I sit on grass and when no facilities are at my fingertips, so I only go there to do some reading. During Michaelmas and Lent terms I tried to maintain 6pm-9pm as the end time for work, and I've had quite a lot of time for socialising.
How have you found living in College this year?
Probably my favourite aspect of College is the balance of things – history, modernity, just the right size, nice gardens and buildings. I also like the location – it's close to the Grafton shopping centre, the town  centre, Sainsbury's (supermarket), banks and two post offices. My least favourite thing is that tourists visit. It can really be a hindrance on weekends, when town is busy, but you can close yourself off in the library and ignore them. No tourists are admitted during the quiet revision and exam period in Easter term, and it's very peaceful. This year I've loved participating in the chapel community in College. Besides attending two choral evensongs a week (nothing is compulsory), I've enjoyed the Chaplain's Breakfast on Sundays after the Communion service.
What do you do when you're not working?
My Department and lecture rooms are in close proximity, so it's never practical for me to cycle there, but I use my bicycle for recreation. Once I did 38 miles to Newmarket via small villages to the south - it was a gorgeous trip, but exhausting, especially due to heavy winds I encountered on the way back. My favourite route to cycle is the old Roman trail on the Fens. It's magnificently peaceful and I happened to encounter wild rabbits there several times. My other favourite is the path between Grantchester and Newnham, easy to ride and not too heavily gated.
I'm not a huge party-goer, but I spent quite a lot of time socialising last year, sometimes with College friends and sometimes with the Polish society. Social events don't necessarily involve partying! There can be film-watching, discussion clubs, board games, and so forth, so I can get up next morning at a normal time. The people here are really friendly and the cultural barrier is definitely not insurmountable!
"The people here are really friendly and the cultural barrier is definitely not insurmountable!"
Mati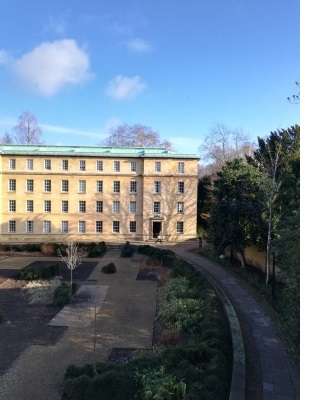 Where have you lived this year? What did you think of it?
I have lived in Y building, Third Court and I've had an absolutely gorgeous view over the garden, and the pond on the Master's Lodge grounds. My room was a set, so the bedroom was separated from everything else, and the nights were really quiet – you wouldn't expect that from a central place near some party venues. The distance to kitchen facilities and the bathroom (at the other end of the corridor) was only a minor inconvenience. Next year I will be living on the opposite side in a very similar building, which I'm very content about.
Do you know which papers you'll be taking next year?
Next year, I'll be taking five papers:
Paper 6 (

Fundamentals of Finance and Investment

)

Paper 7 (

Regional Economics and Policy

)

Paper 8 (

The Law of Real Property: Principles, Policy, and Economic Implications

)

Paper 9 (

Private Law

)

Paper 11 (

Land and Urban Economics

)
What really interests me about these papers is their direct relation to real-life problems, often with reference to spatial organisation. I also like the novelty of Papers 7 and 11, which concern much under-researched areas. These subjects are not only full of opportunities for a brilliant dissertation, but are also cutting-edge and have a plethora of possible future uses.
August 2019
Please be aware if you're considering an application that our student writers describe their experiences. Although the majority of the information stays the same, some details may change from year to year. Do read the student profiles in combination with our undergraduate admissions pages for full information.
Back to Student profiles page / Land Economy at Christ's / Next: Hannah's profile