Kathryn is from Ealing in West London, and wrote this after completing her second year studying Classics (the 3-year option) here at Christ's College, Cambridge. At school, Kathryn sat A-Levels in Latin, Maths, History, and Economics.
What aspects of the Cambridge Classics course attracted you to it?
I think the Cambridge course is especially good because it's broad – you get to do Art and Archaeology, History, Philosophy, and Linguistics, as well as languages and a broad range of literature. The interdisciplinary papers you can take in third year offer the opportunity to look beyond just the ancient world, and to examine its reception in later literature, film, and other media. Even before third year, the course gives you the opportunity to expand beyond a more 'traditional' Classics degree. I really enjoyed a lecture series on literary theory offered in Easter term of first and second year - depending on your supervisors and reading lists, you're definitely encouraged to think about your texts from more modern critical angles (e.g. feminist, post-colonial).
"Even before third year, the course gives you the opportunity to expand beyond a more 'traditional' Classics degree."
Kathryn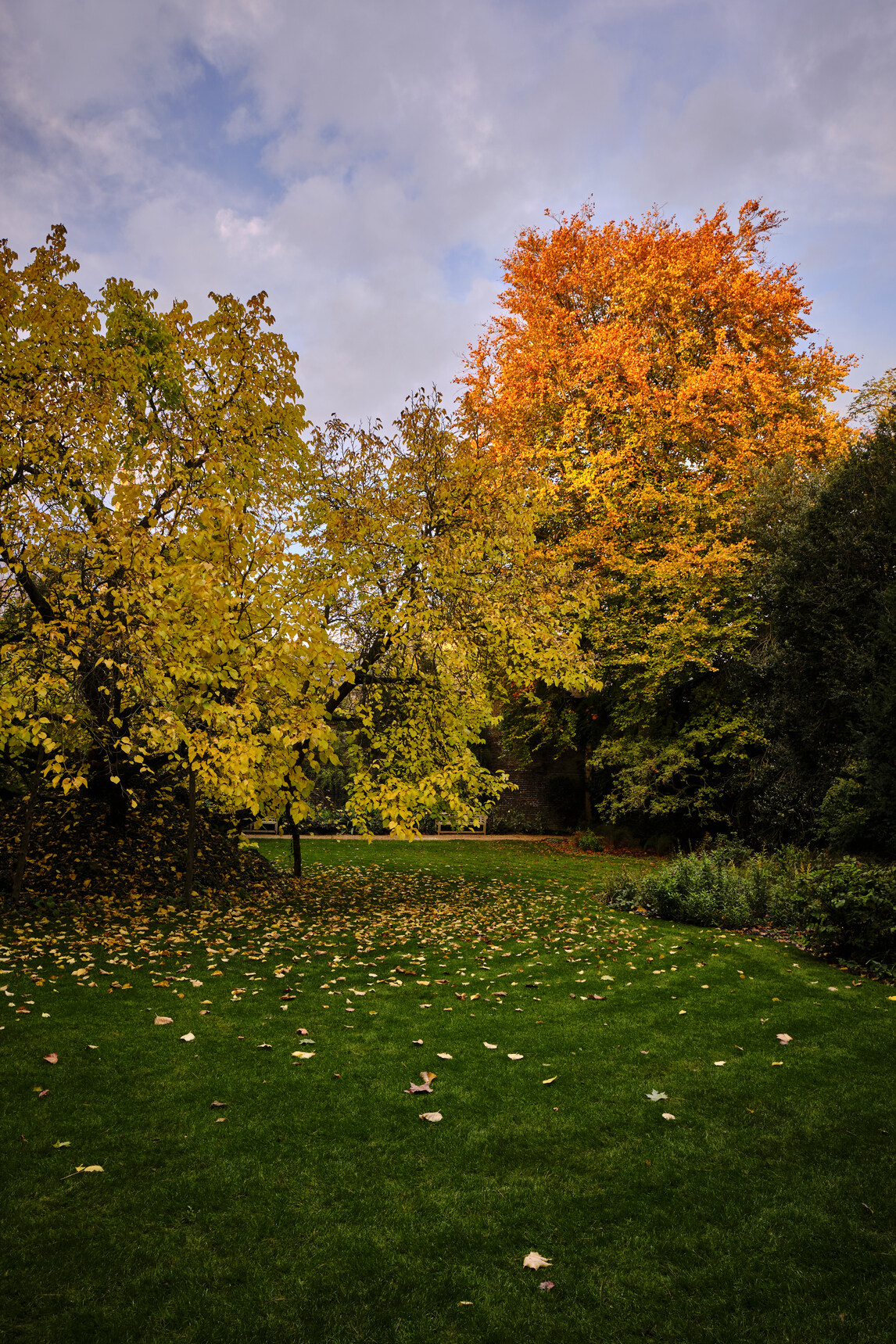 Why did you apply to Christ's?
I knew that I wanted a reasonably central College, so I came up to Cambridge for the day to look around. I looked at King's, Queen's, Sidney Sussex, Clare, and Christ's and Christ's was my favourite of all of them. Christ's offers significant financial support to its students, including the first year book grant, which everyone receives. I've also been given some money both for a French course I took at the language centre and to stay in College accommodation outside of term time. College does also offer travel grants, so that you can go away during summer, but Classicists can get travel money from the faculty too (as long as you're going somewhere relevant to the course).
Whatever College you end up at, it's still possible to see and spend time at all the other Colleges. For instance, lots of your supervisions tend to be at other Colleges. This is completely normal, as no College will employ academics who specialise in every area of the course, and your Director of Studies will organise the supervisions well in advance. Also, most of my friends doing Classics are at other Colleges and we like to do 'formal swaps', where we go to each other's dinners in the hall (called 'formals') and bars.
How did you find the admissions process?
The Admissions Assessment for the three-year Classics course is a translation. It's specified that any vocab not on the AS level list would be glossed so the only real preparation I did was to learn this list. Of course, the translation work I was doing for Latin A-level at the time was also helpful!
To prepare for my interview, I basically read a lot. At the time, I was very interested in epic and tragedy so I re-read the main epics and read as many tragedies as I could. I'd say the best thing to do is to make sure you've read everything you mention in your personal statement - apart from that, just read whatever you enjoy and ignore anything you don't. I think it's much better if what you've read is things you find genuinely exciting.
"Just read whatever you enjoy and ignore anything you don't."
Kathryn
Was there anything that you were nervous about, in relation to the course?
My school didn't offer Greek, which is a position that lots of Cambridge classicists are in. I'd been able to teach myself and to eventually take the AS level outside of school at the end of my Year 13. Even so, my Greek was much worse than my Latin and my knowledge of grammar non-existent. I was worried I'd be behind.
I didn't really need to worry as between Intensive Greek (IG) reading classes, language lessons, and translation supervisions, it's possible to improve very quickly. (Intensive Greek, or IG, refers to the classes given to people who were unable to do Greek A-level at school). I especially wouldn't get too hung up on grammar – the language lessons give you the opportunity to revise everything. Also (at risk of disappointing my supervisors) to this day there are probably three verbs whose principal parts I could convincingly recite and I've still managed fine!
"Between IG reading classes, language lessons, and translation supervisions, it's possible to improve very quickly."
Kathryn
How does your teaching work?
In Classics, there are five 'caucuses'. These are just the five subject areas: Literature, History, Art and Archaeology, Philosophy, and Linguistics. For first and second year, everyone has to do Greek and Latin Literature and Language. Halfway through first year, you pick two from the other four caucuses to carry on studying, and two to drop. For example, I chose to study History and Art and Archaeology, and to drop Philosophy and Linguistics.
During term, you write one essay per week, and these are fairly evenly distributed across the subject areas you've chosen. For instance, in second year I would write two History essays, two Art essays, two Greek Literature essays, and two Latin Literature essays per term (Cambridge terms are 8 weeks long).
This means that in an average week you have two supervisions, one on your essay and one on translation. In first year, I had an extra supervision per week as I took the optional Prose Composition papers (translation from English into Latin and Greek). Of course, if you're an Intensive Greek student, you'll also have four or five Greek lessons a week in first and second year – these are mostly reading the Greek set texts.
Second year has had a lot of courses I've really enjoyed. The epic poetry modules are amazing, and the 'Roman Youth' Latin Literature course introduced me to one of my favourite texts of all time, the Achilleid. I also thought all the Art modules were great. These included Mycenae (an archaeology module), Late Classical and Hellenistic Sculpture, and Visual Narratives, which examined how art was used to tell stories.
How easy is it to balance social and academic commitments at Cambridge?
Balancing social and academic commitments isn't too challenging. To start with, work doesn't have to be a solo activity. I take regular tea and snack breaks with my friends if we're in the library, or enjoy working in cafes so that we can chat while we write our essays. I even met one of my best friends because we both used to work in the Waterstones café just opposite Christ's. Also, there's plenty of free time to socialise. I prefer not to work in the evenings so that I can have dinner with my friends and then hang out for the rest of the night.
This year I lived on Jesus Lane (where Christ's owns some houses) with about half our year. It's been really nice to all live together in one big group, and to have parties and barbecues in the summer. Finishing second year is a little bittersweet because a lot of my close friends have just graduated, and next year I'll definitely miss living on Jesus Lane, although it'll be nice to be back in College and a bit closer to the centre of town.
Are you involved with any

student initiatives, societies or sports in Cambridge?
I volunteer with a student-run charity in Cambridge, and this year I've been on its committee. It can sometimes be time-consuming  but it's really rewarding work and I've met some of the loveliest people in the world through it. There's all sorts of charitable work and activism going on at Cambridge and I'd really recommend getting involved! I'm also on the committee for the 2020 Christ's May Ball, which is good fun and also means you get a free ticket to the ball itself.
Overall, Cambridge societies are really inclusive and welcoming. For example, I've become a regular attendee of 'Scales Club', probably best described as the Gonville and Caius karaoke club, despite the fact I'm neither at Caius nor at all able to sing!
"There's all sorts of charitable work and activism going on at Cambridge and I'd really recommend getting involved!"
Kathryn
How do you spend your holidays?
In the holidays I like to relax, spend time visiting friends at other universities or friends from Cambridge in their home cities. In the summer, I tend to go away with friends or with my sister for a little while and am planning a holiday to Italy with some other Classicists in the next Christmas break. I tend to come back to Cambridge a week or more early for each term to get some reading done and settle in. It can feel a little empty but there's generally a lot of grad students and a few other early arrivals that I hang out with during this time.
Do you know which papers you'll be taking next year?
Next year I'll be taking three papers and a dissertation. I'll be taking the Aeneid paper, in which you study the whole epic, Women in Greek Literature, which surveys writing by and about women from Greece, and Beyond Classical Art. This paper looks at art from beyond just Greece and Rome, including Roman Britain, Cyprus, and India.
At first, I struggled a lot to choose my papers, but my Director of Studies and friends in the year above really helped me make my decision.
I'll also be writing a dissertation, probably on Statius, a Latin poet who wrote under the emperor Domitian. His work includes two brilliant epics. One, the Thebaid, is about Thebes. The other, the Achilleid, is a potentially unfinished, potentially deliberately truncated epic about Achilles' youth before he went to Troy. I chose Statius because my primary area of interest is Latin literature, and I find the way later epic interacts with its predecessors, both Greek and Latin, especially interesting.
September 2019

Please be aware if you're considering an application that our student writers describe their experiences. Although the majority of the information stays the same, some details may change from year to year. Do read the student profiles in combination with our undergraduate admissions pages for full information.
Back to Student profiles page / Classics at Christ's / Next: Tom's profile