Sam wrote this at the end of his second year studying History and Politics at Christ's College, Cambridge. He is from Mill Hill, North-West London, and did A-Levels in History, English Literature and Politics. 
What attracted you to History & Politics?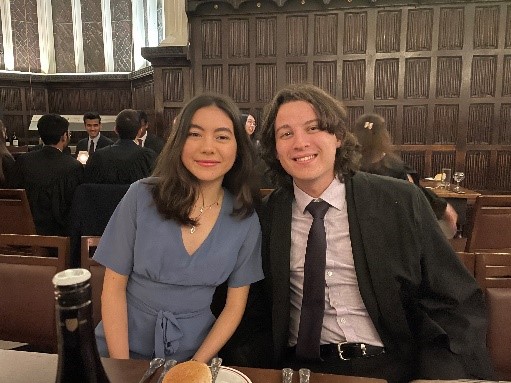 At school, my favourite two subjects were History and Politics, so when it came to deciding what I wanted to do at university, it seemed very natural to do a joint History and Politics degree. 
One of the things that made the Cambridge course stand out was the emphasis on political thought. It is compulsory for all history and politics students through first and second years and Cambridge is one of the world leaders at the history of it.
Why did you apply to Christ's?
I knew I wanted an old, central college that was on the smaller side, so I made a shortlist and then visited 5-6 on the Open Day. Simply put, on that day I liked Christ's the most. It's generally lived up to my expectations and I've had a good experience!
I really like the College system. It means that you have your own contained community within what can be a large and daunting place, and specific people that can help you out on a day-to-day basis that are only responsible for a small number of students. 
I was fortunate in that my school was able to explain the college system in Oxbridge to us, but to those struggling to navigate the system and choose a college, I'd say that it doesn't matter too much so definitely don't get too stressed out about it. But do try and visit Cambridge and get a feel for them.
Have you recieved any particular support from Christ's while you've been a student?
A couple of things! Firstly, they helped me sort out my access arrangements for exams very easily and quickly.
Secondly, they will be helping to fund my dissertation research in the US! As I'm writing this, I'm in Burlington, Vermont, using the archives at the University of Vermont to research Bernie Sanders, trying to piece together his political ideology with a case study from when he was mayor here. It's been great, I had a couple days in New York and I've loved being on a US college campus during term time. 
Pictures from my dissertation research trip

| | |
| --- | --- |
| | |
What was your interview like? 
It was kind of what I expected it to be. I'd been assured before that the fellows interviewing would be nice, and they were, but otherwise it was essentially a couple of short supervisions, which are the small-group teaching offered at Cambridge. Probably what surprised me most was having to talk about the History of Ice Cream!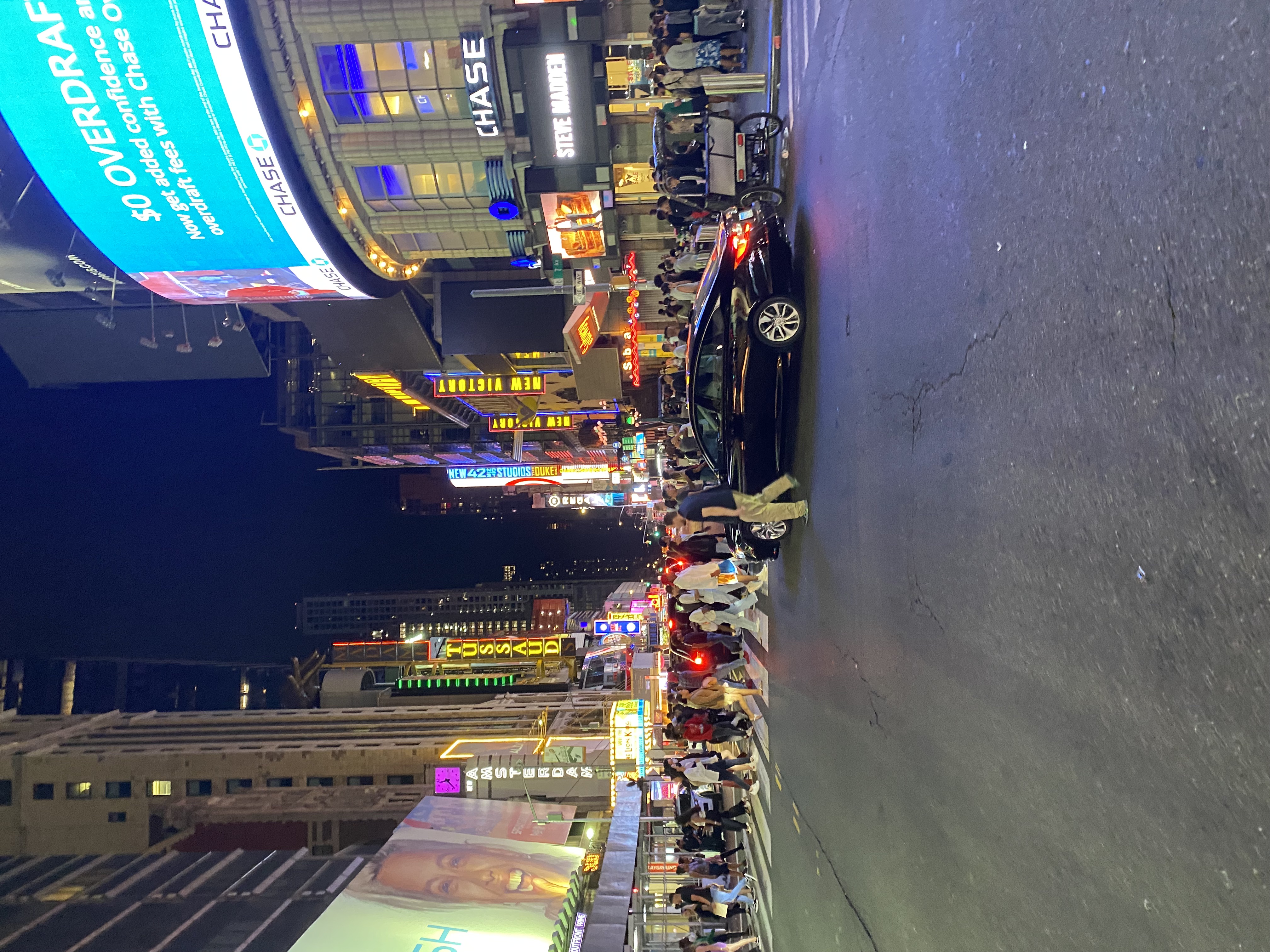 I had a couple of mock interviews at school which were very useful in giving me practice in talking through my ideas. For a variety of reasons, I had four free days to prepare before my interview. I spent one day each researching more into the books I had referred to in my personal statement, and another day doing other research. However, to be perfectly honest most of the work I did those four days was completely useless, so don't worry if you don't have that much time to prepare.
My advice would be to follow your gut about things and be yourself. Interviewers can see when an applicant is being authentic or not so answer questions how you actually want to, not how you 'feel you should'. 
How did you prepare for your admissions assessment?
I did the History part of the Arts-Humanities Admissions Assessment, which is split into multiple choice questions on texts and an essay, although I this has changed since I applied: now it's the History Admissions Assessment, which has specimen papers on this page, though check the History and Politics page for the most up-to-date information. My main preparation was to do those practice papers.
How did you find settling in?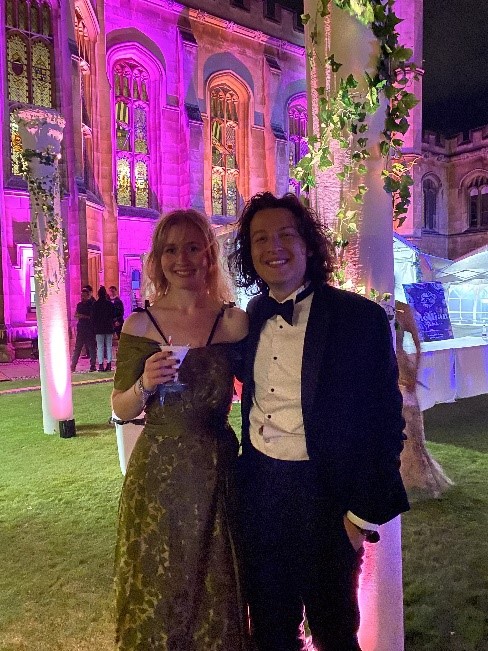 Before starting at Cambridge, I was looking forward to studying here, but I worried most about the social aspect. Academically I settled in well, possibly because I simply had to: I had an essay due about ten days after I arrived. I found my general rhythm over the first term. 
Socially, it took me a little longer, but that wasn't helped by starting in the middle of the Covid-19 pandemic. Eventually, I did get settle in though, so don't worry if that aspect takes a little longer to come. 
How did you find starting supervisions? 
They were pretty enjoyable to be perfectly honest, and far more informal than I ever imagined. There really is a difference between school and university, as you often refer to supervisors by their first name, and you have real discussions with them. I should say here that it is really normal to find you don't mesh with every supervisor, as everyone has different styles of working which suit different people. That is not to say that they aren't good or useful, but don't feel disheartened if a particular supervisor is not your cup of tea.
How is your work now different to at school? 
Freedom! No, in all seriousness at school you are placed on a constrained routine that suits some but not others. Now, I have plenty of work to do still, but I can do it whenever I fancy. So if I want to wake up at 10am, I can do. Similarly, I found that I work well late at night, so I can do that too. Otherwise, you also get freedom to choose what you want to do, both in terms of papers (less so in 1st year), but also topics within papers. So you actually get to write what you care about and are interested in, which I think naturally improves writing
What are the best and hardest things about your course?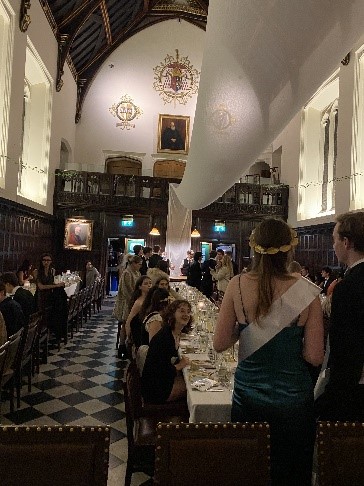 I think the best thing is its variety. Unlike History students, who are supervised on a paper a term, History and Politics students are supervised on everything at once, which means no topic gets too dull or anything, as you are constantly switching around. An actual 15 day work period for me included: an essay on the Vietnam War, followed by one on Economic Interests in contemporary Western politics, followed by one on early 18th Century Natural Law Theorists. A complete range.
Perhaps the worst thing though is that this is still a very new course, especially by Cambridge standards, so there are some teething problems that are still being worked out.
Is the course what you expected it to be when you applied? 
Pretty much, though I didn't realise how much ability you'd have to choose the topics you write on. But otherwise, it really is an equal split between History and Politics, which I guess is a difference from other universities as they often ask you to go to one side.
Through first and second year, you do one true history paper (a whole range, from post Roman Empire Europe to post-1865 US), one true politics paper (there two international relations options, or comparative politics), and one History of Political Thought, along with another slightly different paper which normally works at the intersection of both History and Politics. 
My favourite supervision of this year was probably one I had on the populist rise for POL 4: Comparative Politics. It was just conducted in a way that completely suits me, which was constant challenging and questions, and the discussion was just so much fun. Also, I have to mention some POL 1: The modern state and its alternatives supervisions I had in first year, which were probably the most fun I've had academically. 
What does your timetable look like?
It's complete chaos in the best possible way I think! Normally I'd have about five lectures a week, as only three of our papers are 'taught'. The other is a coursework paper in 2nd and 3rd year, or a class paper in 1st Year.
Supervisions are completely irregular, often fitting to the History or Human, Social and Political Sciences schedules. It means you can go two weeks without any supervisions, and then have three in a week. I tend to find that the main crunch points are the last week of first term the first week of second term. It's for this reason that I usefully work on a five day cycle independent of when my supervisions are: in Lent last year, I worked out than an average essay took me five days to complete, and a coursework essay (5,000 words) took me a week and so I work off of that. I start term with my first essay and spend 5 days on it, and then continue onwards no matter if the supervisions are soon or not, spending five days on each. It means I constantly keep ahead and then have leeway for when I'm tired or unproductive later on. 
How do you manage your workload?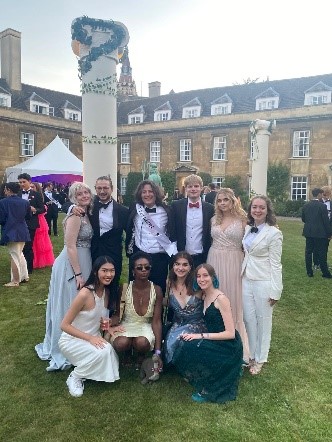 I was the President of the 2022 May Ball Committee so I kind of had to! That required at least twelve hours of work a week, probably considerably more during the last term of last year. I normally used that to procrastinate on my work, and then my work to procrastinate tasks that I didn't want to do. I also will go out probably twice a week to Selwyn College as that's where my main friend group is. And finally, I normally try and relax over dinner by watching a film or some TV.
Where do you typically like to work?
The vast majority of the time, I like to work in my room. But every so often, I work in the side room of the History Library for convenience, such as between a couple of lectures, or needing a certain book. And I also work in the Selwyn Bar sometimes too with friends. 
What are your favourite and least favourite things about the college? 
I think my favourite thing about college has been some of the people I have interacted with, especially fellows (academics) and staff. As May Ball President, I would have frequent meetings with various members of staff, and all of them were not only incredibly supportive of us, but actively went out of their way to help us, whether that was sending a lovely email or being relaxed when we'd made a mistake. Similarly, the fellows I have interacted with have all been lovely and given me some of the best academic experiences I've ever had, while also being understanding of my other commitments.
My least favourite is probably the lack of ovens and freezers in the kitchens. I cook most of my meals myself, so that limits the range of food I can make.
What do you do when you're not working?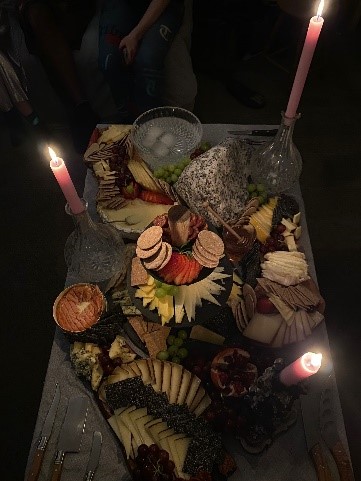 Well for most my time at Christ's I've been the May Ball President, so a lot of my time has gone into that. I have had to devote a lot of time to it, but it was really enjoyable and I made a lot of great friends from doing it.
Otherwise, my friends and I like to have wine & cheese nights, or some specialist cocktail nights, so that occurs pretty often too.
Where have you lived this year? 
I lived in R1, in the Stevenson Building this year for the second year in a row. I've loved it because it's a beautiful wood-panelled set with tons of space and a great view over Third Court. It's probably my favourite place in college. 
What are you most looking forward to next year? 
This year was better than my first one in that I was fully settled, which meant I had more of an ability to manage my time, socialise and just enjoy the experience. Next year I'm looking forwards to having a bit more free time. I'm hoping to take advantage of the language programme so that'll be fun, and I'm pretty settled socially so having that the whole year will be nice too.
In terms of papers, I am doing a History Dissertation, the core History and Politics Paper, a paper about the History of Political Thought from 1890 onwards, and one on the History of International Political Thought over the last 2000 years. I took them as I really enjoy political thought.
September 2022
Please be aware if you're considering an application that our student writers describe their experiences. Although the majority of the information stays the same, some details may change from year to year. Do read the student profiles in combination with our undergraduate admissions pages for full information.

Back to Student profiles page /  History and Politics at Christ's / Next: Victoria's Profile