Martin wrote this at the end of his second year studying Economics at Christ's College, Cambridge. He is from Copenhagen, Denmark, where he studied for the Danish studentereksamen, taking Physics, Mathematics, English, History and Danish at the highest level. 
Why Economics at Cambridge?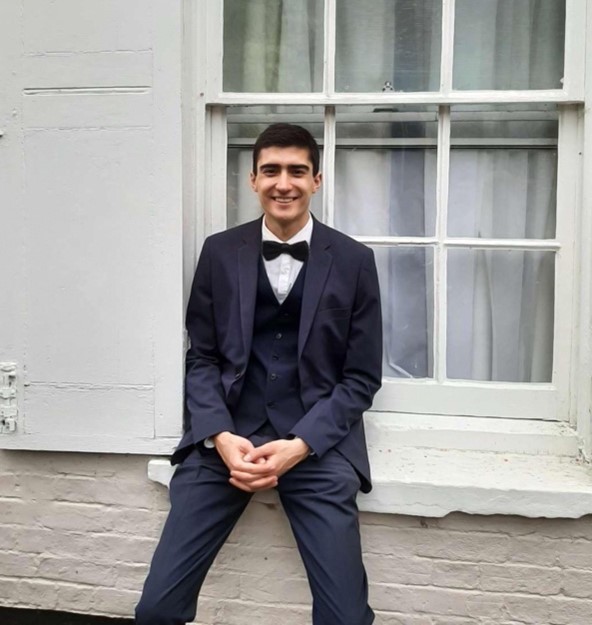 Mathematics had always been my favourite subject at school, so the quantitative emphasis of the Cambridge course made it stand out. I essentially knew from the start that I wanted to pursue a careeer in economic research where a solid mathematical foundation is critical. Having now completed two tough years, I can absolutely affirm that the course did not disappoint!
As the birthplace of macroeconomics, Cambridge also has a long-standing history of pushing the frontiers of the subject. Since economics wasn't offered as a subject in my school system, I did most of my prior research independently. In this process, I remember reading a short book with summary profiles of famous economists throughout history –  from Alfred Marshall to Keynes. It quickly became apparent that they were virtually all Cambridge economists! Whilst the discipline has certainly evolved since they were alive, the fundamental questions it endeavours to answer haven't changed much at all. Cambridge's long-run legacy of shaping the field cannot be overstated, so the possibility of being a part of that history seemed exciting.
 
Why did you choose Christ's?
I'm quite easily beguiled by pretty historical buildings (guilty as charged), and I was charmed by the idea of a more traditional college experience. For those reasons, Christ's central location, quaint appearance and ideal size made it a strong contender.
It's also home to one of the most internationally diverse communities across the University. During the application process, the large amount of access work the College commits itself to – especially in my home country of Denmark – instilled in me a sense that my application was in safe hands and that I would feel welcome in spite of my less conventional school background.
 
How has the College system helped you?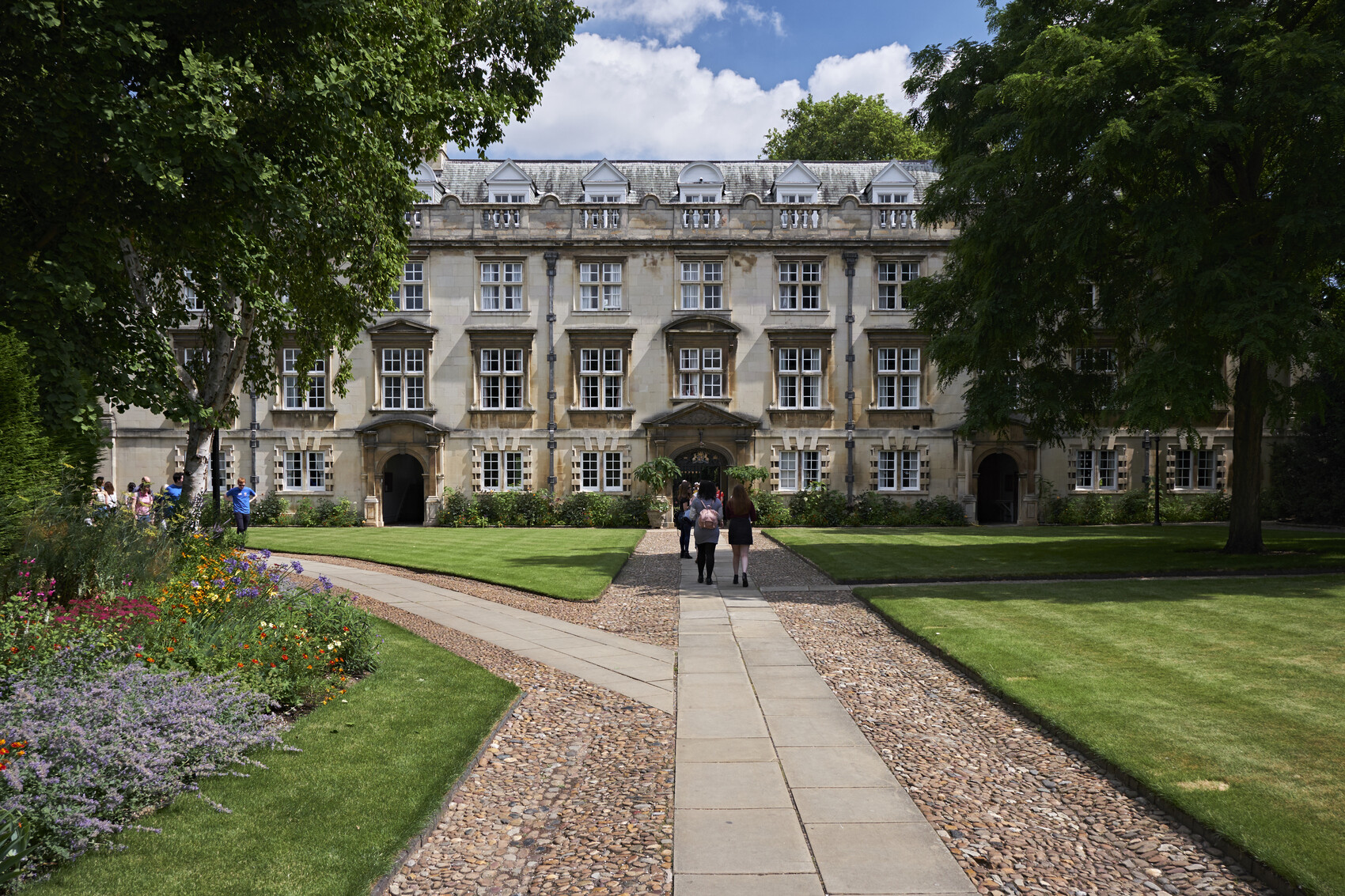 No matter what college you end up at, you'll quickly come to realise the numerous benefits of the Oxbridge collegiate system. The level of academic, personal and financial support it allows for is, in my view, an underappreciated privilege among students here. When you think about it, most universities are responsible for tens of thousands of students at once, so the scope for personalised support is normally limited. At Cambridge and Oxford, the system helps to ensure that each and every student feels seen and valued by the college community.
Personally, my Director of Studies and Tutor (an academic who is not involved in your subject, who provides pastoral support) have been extremely helpful and understanding whenever I have gone through some tough times.
More recently, I was given a generous vacation grant of £900 to cover living costs during my summer internship! There are many opportunities for undergraduate internships in Economics during the summer, so I would highly recommend applying for a few. I spent six weeks in London at the Institute for Fiscal Studies researching determinants of social inequalities between UK families. This provided a great opportunity to apply the knowledge I had built up in my degree to real-life issues.
 
How did you find the application process? 
Thankfully, the Admissions Team was extraordinarily helpful back when I was applying. Since I didn't know anyone who had applied to Cambridge from my school, I had quite a lot of queries and worries regarding the process. Each and every one of my questions was met with clearly communicated advice and kindness.
I attended my interviews in person, and I think my interviewers would agree I was a nervous wreck! If you are applying from Denmark, you need not worry since the interviews are quite similar to the oral exams you may have done so far. However, whereas oral exams primarily test knowledge you have already acquired, the interviews are there to explore how you engage with new information and arguments. My best advice would be to 'expect the unexpected', listen carefully and be flexible. The experience probably won't be as you envision, and that's okay!
 
How did you find settling in?
Moving to university as an international student can be particularly daunting. Luckily, the International Freshers' Week gives you nice, slow start where you'll be surrounded by fellow internationals who are in the same boat as you.
Even during Covid, the sheer number of activities provided plenty of opportunity to get to know most people in College. While everyone here is of course brilliant at their subject, they are not superhumans; I was happy to discover how down to Earth everyone was.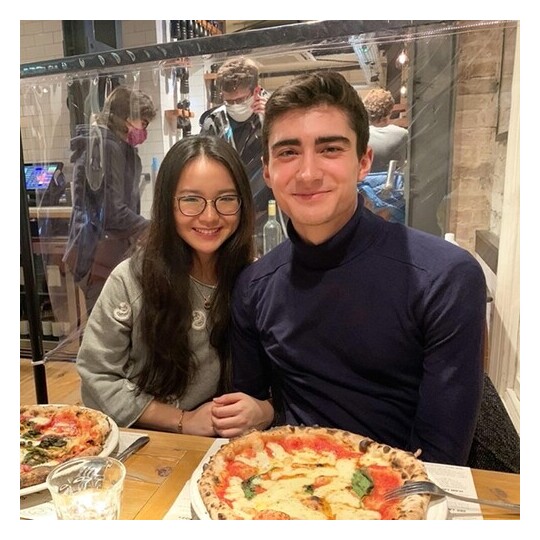 As a fresher, I was under the fallacious impression that making friends would require me to meet as many new people as quickly as possible. Since this doesn't come very naturally to me, I quickly became very overwhelmed! The truth is that meaningful friendships usually take time to build up, and they may start and flourish in unexpected ways. Looking back, I wish I had taken a more effortless approach and let friendships blossom organically. My best advice would be to be content with who you are and trust that you'll meet the right people eventually!
 
What does your timetable look like? 
The workload of the Economics Tripos in the first year was a giant leap from that of my secondary school! Since terms are so short, they are packed with content.
Usually, I would have around two supervisions per week, each of which took on average seven hours to prepare for. Even though I got better and better at managing my time for my supervision work, it took much longer for me to be satisfied with not getting it perfect every time. 
Beyond supervisions, my contact hours mainly consist of weekly lectures (around 11–13 a week). The lecturers go through the content relatively quickly, so I often end up spending a lot of time consolidating my knowledge by writing notes. Luckily, there are loads of brilliant study areas scattered around the Sidgwick Site.
 
How challenging do you find the work? 
Everyone in my course finds the content challenging, so we all needed to accept that not every assignment would be met with endless praise and full marks. Once you change your mindset to one of maximising learning as opposed to being perfect, the course becomes a lot more fun.
The best parts about university studies are when you get to take risks and challenge the status quo with your own perspective. My favourite part about first year was developing a critical stance on various research papers on the causes of the Industrial Revolution by pointing out merits and faults in their arguments and estimation strategies. This style of essay writing helps build up the confidence that your own views are just as valid and may be able to contribute to the field.
What has been your favourite supervision so far? 
One of my favourite supervisions to date was centred around "Arrow's Impossibility Theorem" – a mathematical result stating that no democratic voting system with more than two alternatives can ever lead to internally coherent decision making. Delving deeply into this topic demonstrated both the power of logical, abstract reasoning and how easily it can be undermined by presenting an alternative set of assumptions.
What is the social life within College like?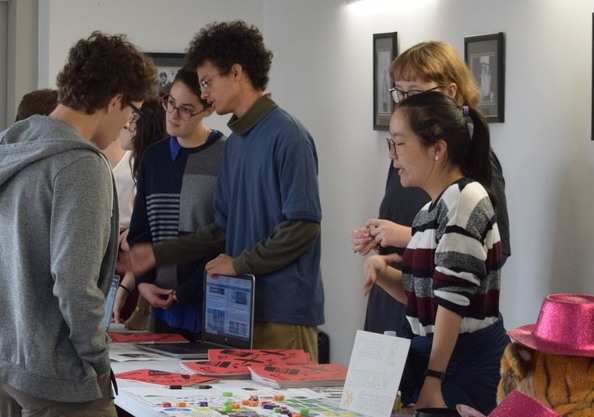 Student life at Cambridge is incredibly rich, with hundreds – if not thousands – of societies. As a medium-sized college, Christ's feels both familiar (you know almost everyone in your cohort) and rife with fun opportunities. Our highly devoted JCR committee (the college-level student union) regularly organises bops (imagine a school disco for university students!) and other social events, and there is an abundance of both academic and non-academic clubs. I'd also highly recommend moving out of College in your second year into one of the hostels with your best mates.
What have been the highlights of your year?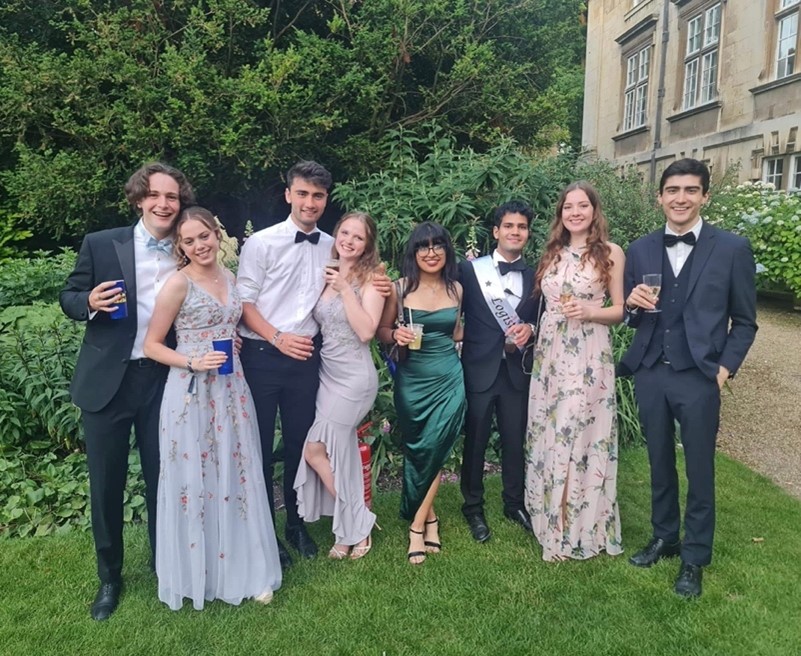 In my spare time, I'm currently President of Cambridge University Scandinavian Society and spearhead the organisation of events for Scandinavians across the University. This year we had the pleasure of going to Oxford for a dinner and party with Oxford's ScanSoc and the real Scandinavian ambassadors to the UK!
By far my favourite experience at Cambridge so far was the Christ's May Ball: after a tough exam term, there was nothing more cathartic than dressing up, trying delicious food and drink, dancing with friends, and singing along in euphoria to Scouting for Girls. A must!
What willl you take away from your time at Christ's?
It's hard to understand just how quickly the past two years have gone by. For now, I'm looking forward to another jam-packed and Covid-free academic year. While I look forward to pursuing graduate study next year, the Cambridge undergraduate experience is undoubtedly in a calibre of its own. I'll cherish and treasure my time here until graduation and beyond.
September 2022
Please be aware if you're considering an application that our student writers describe their experiences. Although the majority of the information stays the same, some details may change from year to year. Do read the student profiles in combination with our undergraduate admissions pages for full information.
Back to Student profiles page / Economics at Christ's / Prospective students from Denmark / Economics Taster Day / Next (Sanchit's profile)