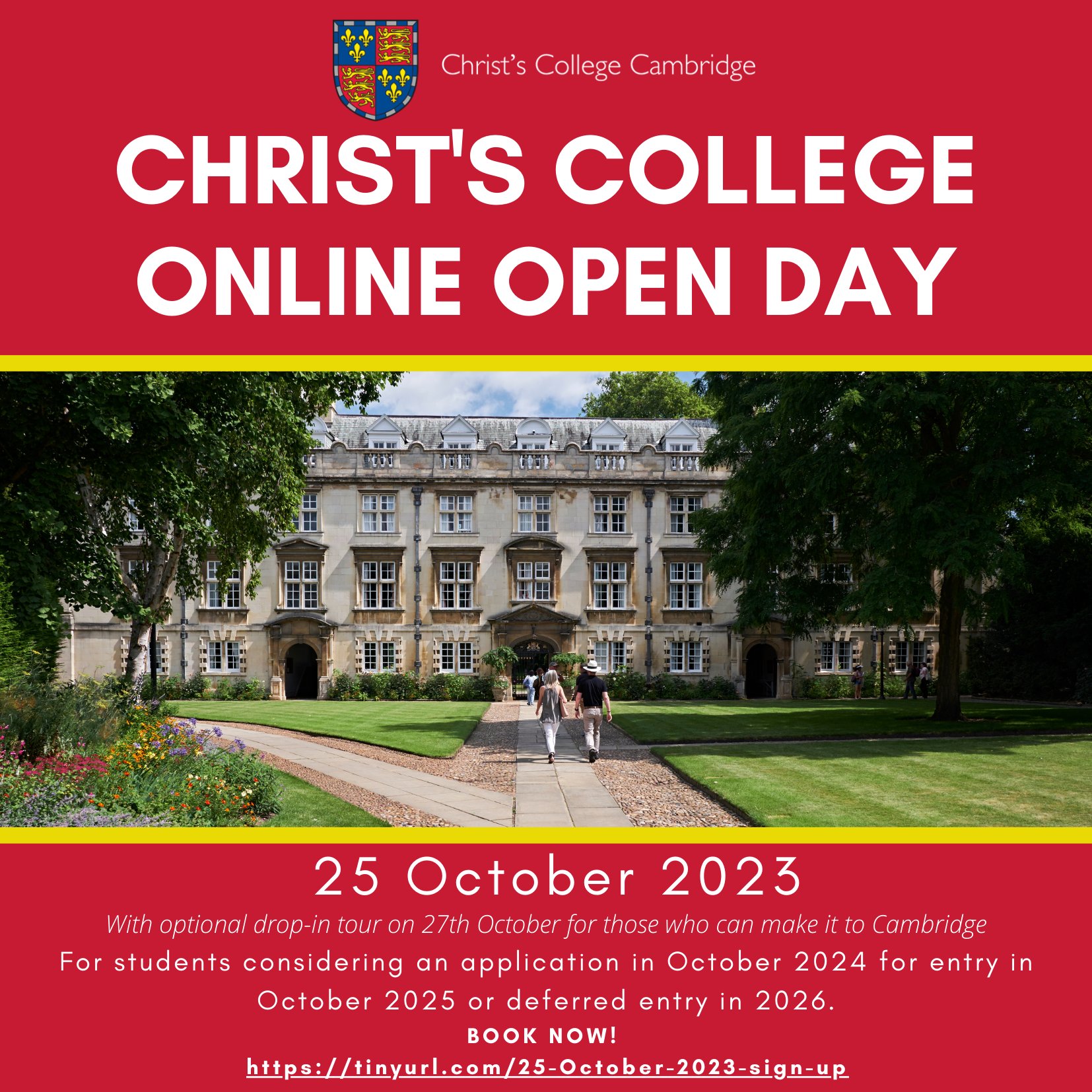 Why study Music at Christ's?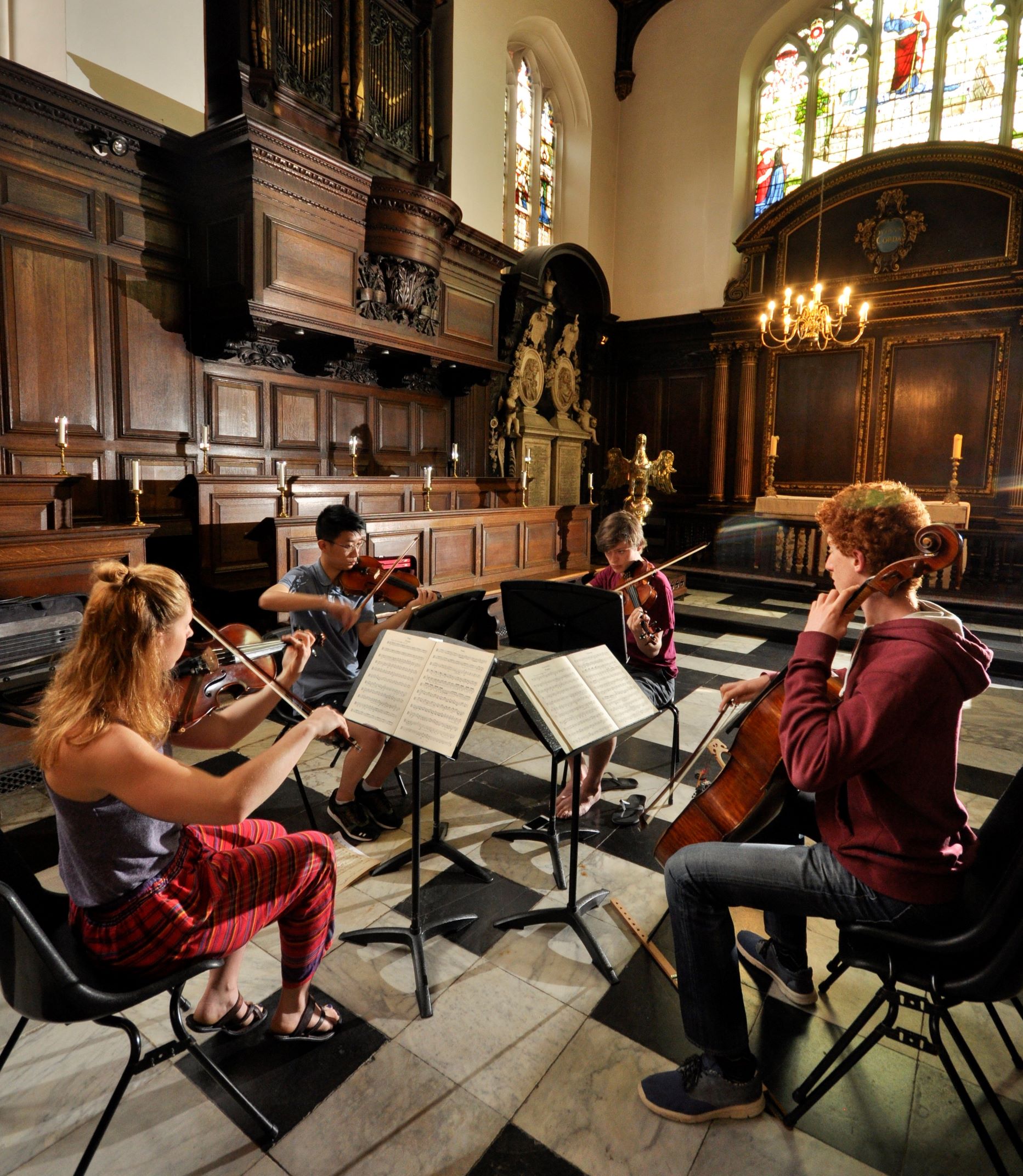 Music has always been the heart of Christ's College – from the glorious choral music of our Chapel choir to our many orchestral, vocal and chamber performances, with plenty of light-hearted musical fun in between. We're small enough for our musicians to all know each other, and large enough to present exciting opportunities for musical collaboration at any scale.
Music and non-Music students alike are active members of Christ's College Music Society, which runs regular events including an annual dinner and informal 'squash o'clock' concerts in the Chapel. Christ's Choir is an outstanding mixed choir which sings thrice-weekly in College, regularly records CDs, and tours around the world, with regular concerts in London.
Music students have an electronic piano with headphones in their room, and can also use the College's practice facilities. We have two performance spaces: the Yusuf Hamied Theatre and the Chapel, and there are two grand pianos and three upright pianos in College. We run a yearly performance competition where students compete for the Charles Blackham Memorial Prize. The College pays instrumental lesson fees for undergraduate Music students and travel to those lessons if needed.
Christ's library has a wide range of course texts and readings in music history, while the Old Library holds first editions of major texts in the history of music theory, including Glaurean's Dodecachordon (1547).
Some Christ's graduates have gone into the music profession as performers, including Rosie Bowker (flautist), Hugh Williams (organist), James McKeon (director) and Jonny Sells (baritone) or become teachers or arts administrators. Others have used this degree as a springboard into quite different careers such as law, accountancy and management.
 
Course content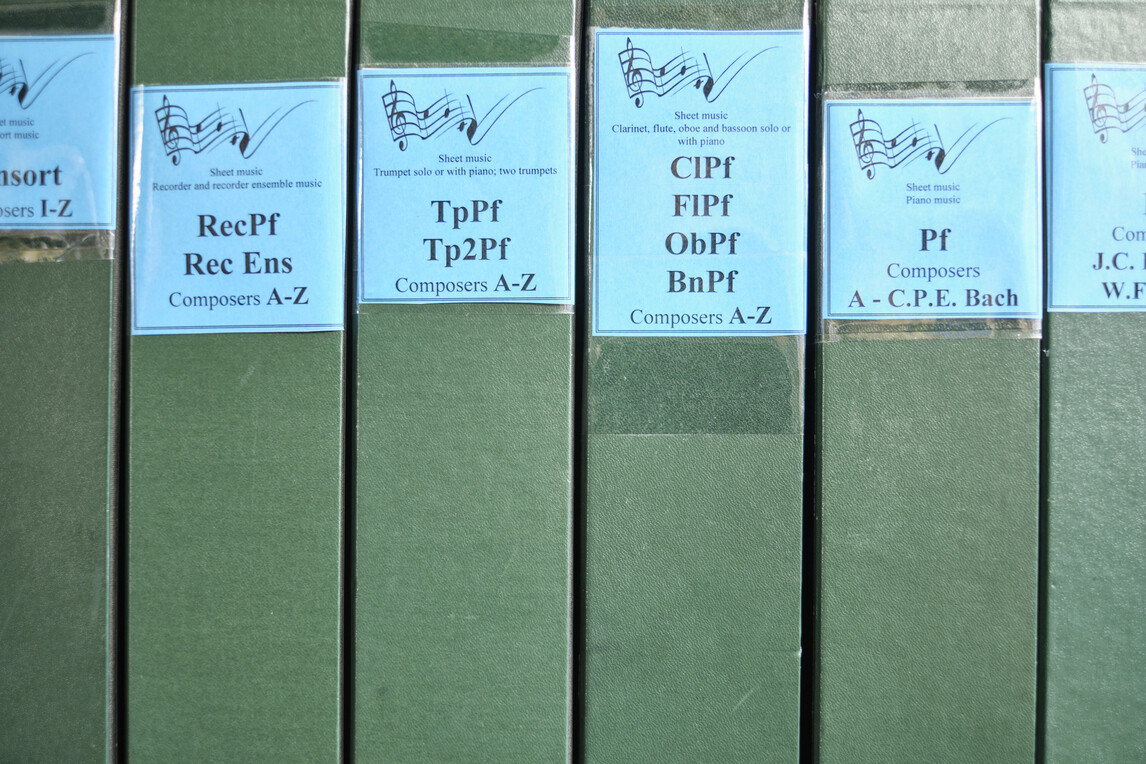 The Music course is a three-year degree designed to let you specialise as you go along, according to your strengths and interests. As well as providing an excellent grounding in a broad range of music-specific skills, the course hones your talents for critical evaluation and analysis, communication and teamworking.
Please visit the University website for full details of the Music course content and structure, including the course film. You will also find information on the Faculty of Music degree page. If you have further questions about course content, please contact undergraduate@mus.cam.ac.uk.
 
Teaching
Your lectures and exams are organised by the University's Faculty of Music. Here at College, we teach in 'supervisions' (tutorial sessions 1-to-1 or in pairs) to give you individually tailored tuition and support – a major advantage of a Cambridge education. We also help you develop your essay writing and research skills, and train you to use subject-specific e-resources.
Christ's Director of Music and Director of Studies in Music is musicologist and cultural historian Professor David Trippett. Our Director of Music is Professor David Rowland, a performer, conductor and writer.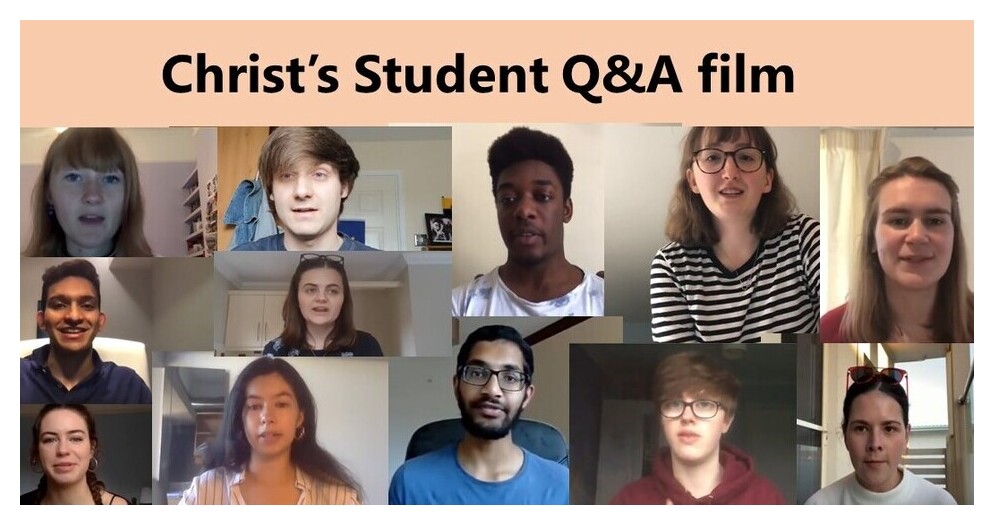 What do our students think?
Simon, Claire and Emily studied Music here at Christ's College, Cambridge. They have written about their experiences in their student profiles:
If you would like to hear more from Christ's students, please watch the Christ's student Q&A film, and visit our Student Profiles page.
Preparing for an application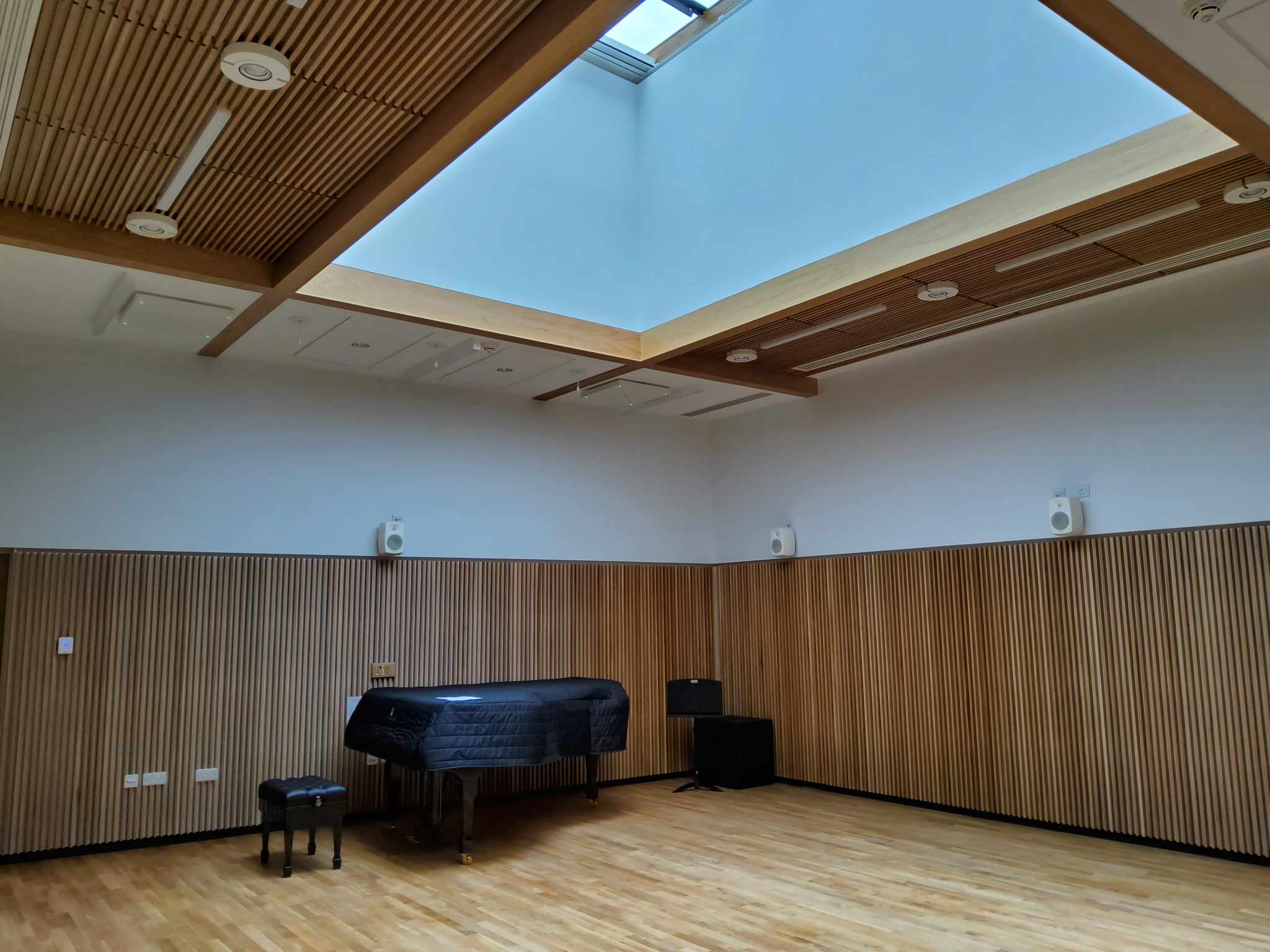 The Music course is so varied that we don't recommend any particular activities, books or listening strategies. We find that Music students arrive for interview with a very wide range of skills and interests.
If you see yourself as a performer, you need to learn more about the works you play. That way, you can appreciate them in their historical context and analyse them and their performance history to better understand their structure, content or horizons for interpretation. If your musical interest is mainly academic, you should gain some basic composition skills in traditional areas. Good starting points would be the harmonisation of Bach chorales, the completion of two-part modal counterpoint exercises or keyboard variation sets.
Whatever your particular skills, you'll get the most out of the Music course at Cambridge if you enjoy studying independently and are keen to pursue your own interests. Further information and helpful links are available in the resources section below.
How to apply
Visit How to Apply for full details and a timeline of the application process. We welcome applicants from all backgrounds and school types, all over the world. If you're applying from outside the UK, please read our international students section.
News
If you are considering an application in October 2024 for October 2025 (or deferred Oct 26) entry, we recommend that you sign up for the next College Open Day (online with optional visit), which will include a Music subject meeting.
There is no Admissions Assessment for Music. If you are applying this year, please see the current applicants section.

Subjects: what do you need?
We expect you to take Music as one of your post-16 subjects at A-level, IB Higher Level or equivalent. If you haven't, you can apply with ABRSM Grade 8 in Theory with Merit (or above) instead.
It's also helpful to take an essay-based subject such as English Literature or History.
We encourage competency across a broad range of skills, so you're not necessarily at a disadvantage if you're a beginner pianist. However, we do advise you to work hard on your keyboard skills so you can support harmony and counterpoint training.
Written work
After we receive your application, we ask you to send us two pieces of work you feel accurately reflect your abilities and interests:
A harmony exercise
An essay, preferably (but not necessarily) on music
This should be your own original work, prepared during the normal course of your studies and already marked by a teacher. We recommend you keep copies for your own reference as we may discuss it at interview.
We publish full guidelines on written work in the Current Applicants section on 20 September each year.
Interviews
If we invite you for interviews, these usually take place in early December. At Christ's we continue do all of our interviews online, as we have done for the last three years. You can have your interviews either at home (most applicants do this) or at school (if easier). Those invited for Cambridge interviews are normally interviewed for 35-50 minutes in total. At Christ's, we usually split the time into two interviews with academics in Music. These usually involve:
A brief aural test
A harmonisation exercise
An analytical discussion of a short piece of music
A critical discussion of a piece of text relating to music
Discussion of some general themes in the study of music
We may give you some preparation work before one of your interviews. Information about this will be in your invitation to interview.
You're also welcome to play on your instrument, if you'd like to perform a piece during one of the interviews.
Further, more general information about interviews (including two useful films) is available in the Cambridge interviews section, and it's worth also having a look at supervisions (short film here), as interviews are similar to what you do every week as a Cambridge student.
Offers
We decide the terms of each offer individually, but our typical conditional offer is:
If you're taking another qualification, we expect you to be working at or close to the top of the mark range i.e.
Option Internationale du Baccalauréat: at least 17/20, with 17 or 18 in relevant subjects including Music
European Baccalaureate: at least 85% overall, with 9/10 in relevant subjects including Music
You can look up other qualifications in the offer levels for other exam systems and international entry requirements, and if you are applying from outside the UK please read the Christ's international students section for further information and check the country pages.
If you will have finished school when you apply, please also read about post-qualification applications, taking a gap year, and, if relevant, applying from a university.
Helpful resources
Guidance from the Faculty of Music
This includes reading suggestions to help you prepare for the various elements of first year Music. See also Approaches above.
ChoraleGUIDE:
Tom Pankhurst's resource for harmonising Bach chorales
Music research blog
A blog on research at the Faculty of Music
BBC Radio 3 - Podcasts
BBC Radio 3's Composer Of The Week is a guide to composers and their music (accessible in the UK only)
Discovering Music: early 20th Century
British Library resource featuring composers such as Berg, Britten, Delius, Elgar, Holst, Ravel, Schoenberg, Smyth, Stravinsky, Vaughan Williams and Webern. Access digitised treasures from the collections, sound recordings, and articles.
Cambridge Female Composers blog

Promoting the study and performance of music by female and non-binary composers. 

The map of Woman Composers
Interactive map featuring more than 500 female composers
Faculty of Music Youtube Channel
Talks and films including recordings from the July 2020 Virtual Open Day
J. J. Fux's Gradus ad parnassum

This provides a good grounding in modal counterpoint (which even Beethoven studied).

Gresham College Music Lectures

Lectures available online

Essential Symphonies

From the BBC Radio 3 archive

Podcasts
The Art of Composing; The Labyrinth of Music Theory; Song Appeal; Musicality Now; Switched on Pop (iTunes links - those also available on Spotify in bold)
MusicMap
An interactive hub of popular music, showing how it is all connected.
Classical Music
The official website of the BBC Music Magazine, featuring podcasts, reviews and artist interviews.
HE+ Music
Website for secondary school students who would like to explore Music
CamGuides
Introducing the

academic and information skills that you will need during your studies, as well as how and where you will be working.

Come to an open day or online event
Our open days and events page advertises regular online opportunities as well as events you can attend in Cambridge. If you can, sign up for a College Open Day (our October, February and September events normally include a meeting with a subject specialist). Between February and August we run regular webinars:
Subject Matters: The importance of post-16 subject choices (this one is also run Sept - Nov)
Cambridge for Beginners
Christ's College: A look at the Grounds and Facilities
Personal Statements and preparing for an application
Further subject-specific opportunities you might wish to consider include Subject Masterclasses organised by Cambridge Admissions Office, and subject-specific talks in the July Cambridge Open Days. If you are a UK student from a background where there is little tradition of entry to Higher Education, you can apply to attend a Sutton Trust Summer School in Music or to shadow a current undergraduate studying Music via the Cambridge SU Shadowing Scheme (do be aware that there's a high proportion of applicants to places for both of these last two opportunities so please don't be discouraged if you don't get a place).
It is also worth watching the recordings from the 2021 Music Faculty Virtual Open Day.
Want to know more?
For more detail of what the course involves, read Undergraduate Music admissions on the University website, and take a look at the Faculty of Music information for prospective students too.
For information about extra-curricular music at Christ's, see the Music Society page in the student life section.
If you have any other questions, send them to us at admissions@christs.cam.ac.uk. We're here to help.
Back to the subject list / How to apply / Why choose Christ's? / Music practice & performance spaces