Cambridge University Hillwalking Club (CUHWC) organise 3 weekend trips a term to the mountains in the UK, covering different national parks each time.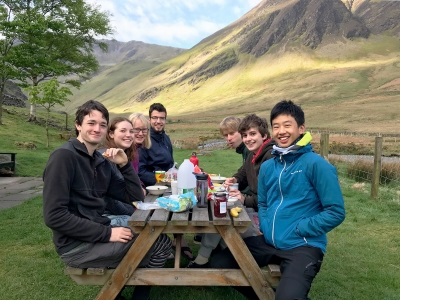 Andrew, a current Christ's student who is on the CUHWC committee, says:
"If you're interested in the sound of Hillwalking Club then you'll definitely get along with everyone there because of the likemindedness of people who love the outdoors. We also get together every week in the pub and for other socials which was a good way to get to know people as a fresher. 
Coming from Manchester, the Peak District was familiar territory for weekend trail running outings, and luckily it didn't feel too different still having ways to get to these hills even studying in Cambridge. The proportion of people from Manchester, Yorkshire, Northumberland etc. in the club is noticeable!
People in CUHWC are some of the friendliest I've met in Cambridge, and the nature of the activity means everyone's accepted and you can choose how much you want to dedicate and train. The best way to first try it out is come on the Freshers day trip to Edale and talk to current members about what you want to get out of it!
I have time to go on weekend trips once or twice a term! Otherwise there are termly day trips too. Once there anyone can essentially do whatever they want. I love to make epic long outings alone on familiar northern terrain to release the build up of trail desire from road running in Cambridge."
You can read more about Andrew's experience of studying at Christ's in his student profile, and if you're interested in joining the hillwalking club, the easiest thing will be to find them at the university Freshers' Fair.