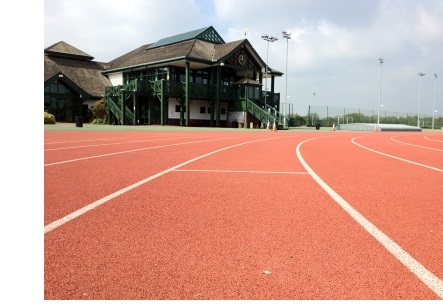 If you like running / jogging, Christ's is ideally located. You don't even need much equipment - just grab your trainers and you can go through the side gate straight onto Christ's Pieces, and from there, Midsummer Common and up the river, or Jesus Green and a loop around town. Cambridge is full of 'commons' - big areas of grass (with paths) that are open to the public. From Christ's, you can get to grass, river and be running past the cows so quickly (less that 1 min!) that it's hard to imagine that we're actually in the middle of a city here and going for a run, a jog, a plod or whatever you want to call it, is a great to clear your mind and keep yourself healthy. There are quite a few runners in Christ's, so if you're not sure about routes or want a running buddy, just ask when you arrive. 
If you want to run with others, do track and field athletics, train to run faster and/or longer, or race for Christ's / the University, you might want to join Cambridge University Athletic Club and/or Cambridge University Hare & Hounds.
 
Cambridge University Athletic Club (CUAC)
Cambridge University Athletic Club (CUAC) is based at the Wilberforce Road Sports Ground. Facilities include an outdoor track, with all equipment for throwing, measuring, timing etc. available in the pavilion. The club holds training sessions on Wednesday evenings and Saturday afternoons, as well as scheduled events.
Ryan, a member of CUAC currently studying Classics at Christ's, says:
"I knew there was a Cambridge athletics club long before I joined, as I often took part in club competitions in secondary school at the Cambridge track.  At uni, the club has been great for forming a social group within my particular sport (horizontal jumps) and more widely within the athletics community. We are always happy for newbies to sign up and give it a try non-competitively! The regular exercise gives me immense satisfaction and the necessary training to allow me to improve as an athlete."
 
Cambridge University Hare & Hounds
There's also a large University Running Club, the Hare & Hounds. The main focus is cross-country running, but if you go along, you'll find track runners, road runners, fell runners, long distance runners and triathletes too, and lots of people train with both the Hare & Hounds and the University Athletic Club. The Hare & Hounds have runs every day, including some for beginners and social runs as well as interval training and longer runs - there's something for everyone and you pick and choose according to your ability and the training you're looking for. There is a 5K taster run during Freshers' Week, which is a great opportunity for new students to get involved with the club.
You can run for Christ's in a series of races organised by the Hare & Hounds, or if you're speedy you may be selected for the university squads. There are also a number of London Marathon places available to club members and a club-organised "Boundary Run" - either a half- or full- marathon around the boundary of Cambridge. 
Florence, a current student at Christ's who runs with the Hare & Hounds, says:
"I run most days when not injured, ideally as part of a 7.20 am group run. The Hare & Hounds is my second home at Uni! It's an amazing group, with lots of socials and lots of great people. Running also helps with time management and keeps me motivated - sport is definitely a big part of my life."
Public events
There are also plenty of public running events in Cambridge that students can join in. The closest 5k parkruns are Storeys Field parkrun and Coldham's Common parkrun - a couple of hundred people turn up there every week to run, walk or jog a friendly 5k first thing on a Saturday morning (register before you go to the first one). There are also local races such as the Cambridge Race for Life, the Town & Gown 10k, or the Cambridge Half Marathon - do ask other runners once you get here if you are looking for more events.