If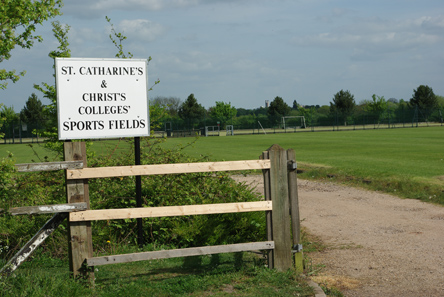 you like tennis or want to get into tennis there are lots of opportunities for players of every level. As well as informal games between students having a break from work, and the university social tennis, Christ's competes in the College tennis league, as well as the annual one-day Colleges tournament (called 'Cuppers'). There are also tennis socials.
Strong tennis players may also trial for the University Lawn Tennis teams , or 'blues teams', to play against other universities. The big competition of the year is the Varsity Match against Oxford University, and you can find out more about the university teams and see some photos on their facebook page. 
 
Facilities
Of course it's the nature of tennis that you'll play all over the place, wherever is most convenient for all players. The College shares a sports ground on South Green Road with St Catharine's College. This is an eight-minute bike ride from College and includes three lawn tennis courts as well as hard courts. There are also a number of public tennis courts dotted around Cambridge including four hard tennis courts on Christ's Pieces, right next to the College, and a further six courts on Jesus Green, 5 mins away. There is no need to book – you just take along your racket and balls and have a game!
The University Tennis Ground is at Fenners on Gresham Road, close to Christ's, just on the other side of Parkers Piece (the big square of grass). There's some information on the University Sports website.
 
Students
Amongst the students who have written profiles, tennis players include Ellie, who says 'I would highly recommend playing college sport, even if you have no skill at all, just to meet lots of new people' and James, who says 'Whenever I'm not working I spend a lot of my spare time playing tennis – I train five days a week for the uni team, and have a match against another uni every Wednesday. This is a fairly big commitment so I don't have a lot of time to do other things, but I'm pretty happy with that - I enjoy it.'  
 
Other racquet sports
Cambridge also has a Real Tennis Club. Real Tennis is the original sport that modern tennis derives from and it's played on a special court (there are only a few of them in the UK!). If you've never heard of Real Tennis (quite likely as it's fairly unusual!), see this description or the wikipedia article. 
Christ's also has a very convenient squash court in the basement of the Yusuf Hamied Centre (New Court), and you can play in the College squash ladder if you want to. See also the Cambridge University Squash Club.
You may be interested in badminton
There is a table tennis table in the undergraduate common room.
 
Back to Student Life / Christ's facilities / Applications and Admissions