Why study Psychology at Christ's?
Students are hugely positive about their experiences studying this subject at Christ's, not just because of our College's friendly community feel, but because we offer excellent tutorial and cross-college support.
Undergraduates can join active research groups, such as the behavioural science lab and field studies run by Christ's Director of Studies, Professor Theresa Marteau. These look at how changing behaviour can improve population health and are widely popular with students.
PBS graduates to date have gone on to study for further degrees, or to work as research or care assistants with a view to training as clinical psychologists. Information about becoming a psychologist is available on the British Pscyhological Society website.
 
Course content and structure
The PBS course (or 'tripos') is a three-year degree. Please visit the University website for full details of the Psychological and Behavioural Sciences course content and structure.
Teaching
You attend lectures at the Department of Psychology, just a short walk away from Christ's (see map). You also have weekly 'supervisions' here in College. These small-group (or one-to-one) tutorial sessions are arranged by your Director of Studies and give you the advantage of personally-tailored guidance and tuition from an experienced supervisor. And our modern library is designed to ensure you get the peace you need without feeling isolated when you're studying independently.
Christ's currently has two academics in Psychological and Behavioural Sciences. Dr Camilla Nord is the Director of Studies and  Professor Dame Theresa Marteau is a bye-fellow and Director of the University's Behaviour and Health Research Unit in the Department of Public Health and Primary Care as well as Associate Fellow of the Centre for Science and Policy.
 
What do our students think?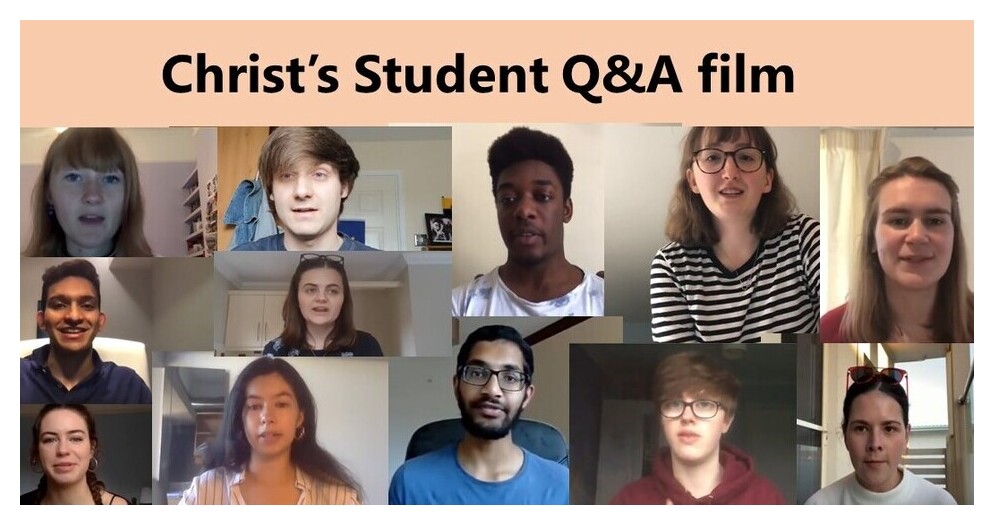 Read about the experiences of students studying PBS here at Christ's.
If you'd like to hear from other Christ's students, please watch the Christ's student Q&A film, and visit our Student Profiles page.
"Out of all of my papers this year, I thought that the most interesting essay I got to work on was either one on social norms, or another on non-traditional families, as I enjoyed being able to explore ongoing research."
Liz
How to Apply
Visit How to Apply for full details and a timeline of the application process. We welcome applicants from all backgrounds and school types, all over the world. If you're applying from outside the UK, please read our international students section.
Updates
Please check the subject requirements carefully before applying to Christ's, as we require either Biology or Maths at A level or equivalent.
On interviews: students who apply in October 2022 and are selected for interview will be interviewed online - you will not need to travel to Cambridge. For more detail see the interviews section below.

Subject requirements
Applicants for Psychological and Behavioural Sciences at Christ's College must be taking (or have taken) Biology or Mathematics amongst their A-level, IB Higher, Scottish Advanced Higher or equivalent subjects.
Students taking the International Baccala

ureate must take Biology or Maths: Analysis and Approaches as one of their Higher Level subjects.

Students taking USA Advanced Placements should take five subjects including Biology or Calculus BC.
We do not require you to be studying Psychology at school.
Interviews (online in 2022)
If we invite you for interviews, these usually take place in early December. Those invited for Cambridge interviews are normally interviewed for 35-50 minutes in total. At Christ's, we usually split the time into two interviews with academics in Psychological and Behavioural Sciences. During one of these, we'll ask you to interpret a graph, solve a problem or comment on an essay question. 
For an idea of what to expect, please read the information and watch the short films on Cambridge admissions interviews.
There will be no written assessment for Psychological and Behavioural Sciences at Christ's College.
Offers
Christ's College does not have fixed quotas of places for different subjects and the exact numbers admitted in any one year will depend upon the strengths of the fields of applicants in various subjects. However, our aim is to make around three offers each year for PBS. 
Our typical conditional offers for PBS are A*AA or A*A*A at A level, 42 points overall in the IB with 7,7,6 in relevant Higher Level subjects, or the equivalent in other qualifications. If you are an international applicant taking another qualification, do look at the international students section for further information. If you apply after you have finished school and we give you the offer of a place, it will not normally have further academic conditions if you have already met our requirements. Further information is given on our page for post-qualification applications.
 
"Both the best and the hardest thing about PBS is that it combines humanities and the sciences."
Oscar