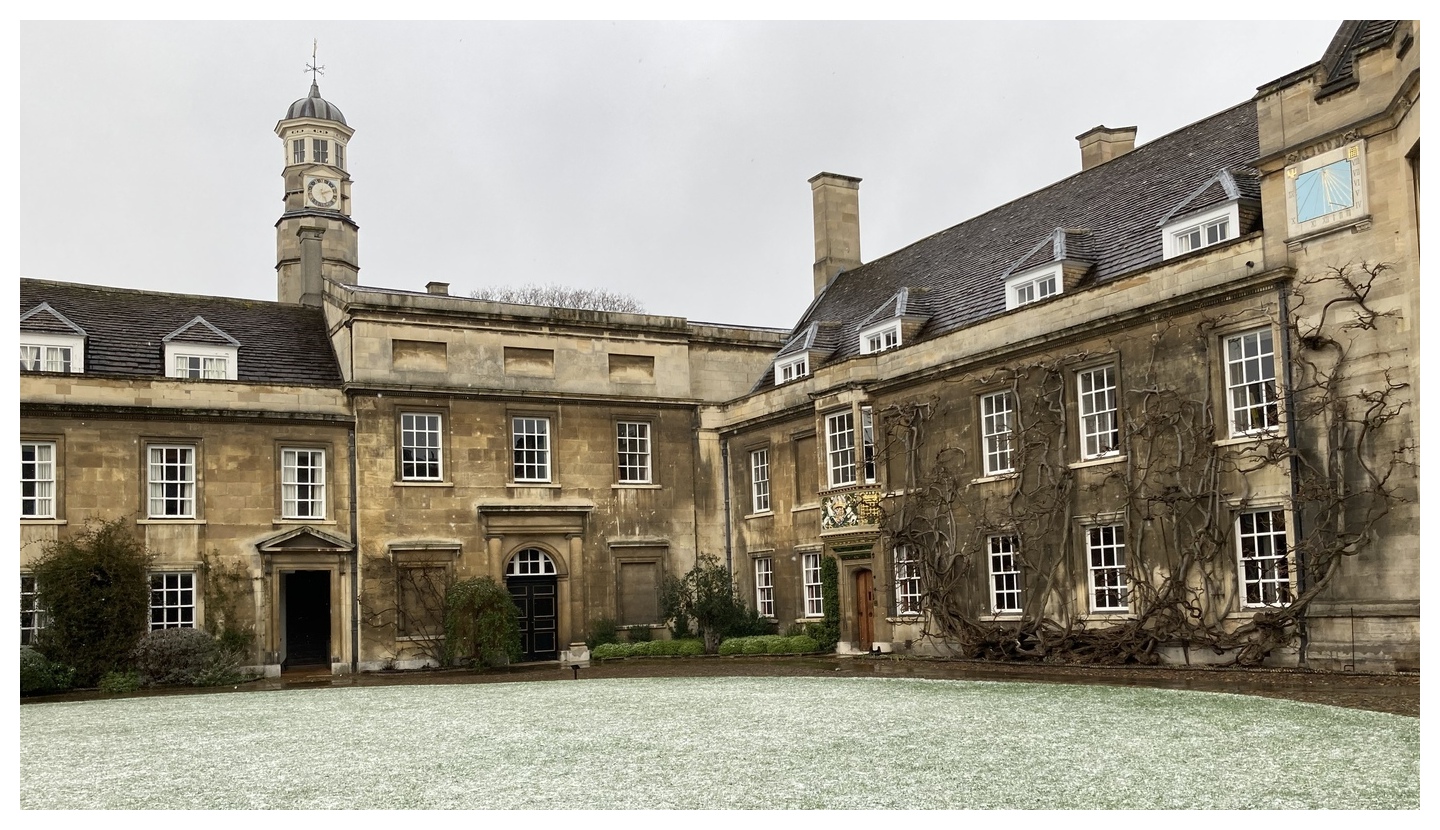 This page is for 2023 entry students who are not UK or Irish nationals. It is part of the offer-holders section. 

 
Do I need a visa? 
If you're not a UK or Irish national and would like to know if you need a visa to study in the UK, you can use this Gov.uk tool to find out. There is also a page here for EEA nationals.
Note that whether or not you need a visa, we need all 2023 entry offer holders who are not UK or Irish nationals to complete the visa questions form and upload tool below.
10 February - Christ's visa questions form and upload tool
Questions about sending things after 10 February? Please see the offer holders questions.
Please could ALL students who are not UK or Irish nationals complete the visa questions and upload form by 10 February in the year you are due to start at Christ's. This will collect information and any documents that are relevant to you (pdf files please). If you do not need a visa the information collected will assist us in confirming this.
Before working on each form, you will need to ensure that you have the relevant documents saved as pdf files on your computer with the correct file names.
If you have a phone, you may find that you can use CamScanner to do this - it's an app that turns a phone into a scanner and allows you to save the image as a pdf.
Alternatively you could take a photo of your document, insert it into a Word or other text document, save it as a pdf and then upload it.
There is a separate page for passport upload and for the visa documents and upload form the file name formats should be:

13.5 - Subject - LAST NAME First name - Previous visa - UCAS Personal ID (no dashes)

e.g. for the fictional Ruchi Lim with dual nationality, it might be
13.5 - Economics - LIM Ruchi - Previous visa - 1082846382
Student visa guidance from Cambridge
The University of Cambridge has an International Students website which gives a great deal of support to students coming to study from outside the UK. In particular, you will find clear instructions regarding the process of applying for a Student visa.
After you have completed the 10 February forms, we will be in touch if we have any questions.
The International Student Office (university-wide) provides guidance for students and we will send any information to you as soon as it becomes available.

Please note that Colleges do not provide any advice on student visa applications and all enquiries will be referred to the International Student Office. We advise that you contact the International Student Office (international.students@admin.cam.ac.uk) directly for questions relating to visas. They provide a very useful Visa Advice Service offering free, confidential advice on a range of student-related immigration matters. They also normally organise a 'visa webinar' for offer holders in the summer to ensure that your questions are answered, and we will send you an email to advertise this in late May. 
This year's webinars:

If your passport is from a country outside the EEA/Switzerland:

If your passport is from an EEA country or Switzerland:

If you are starting your course in Oct 2023, information about 
Visa webinars will be sent to you by email in late May. These
webinars are on applying for a visa from outside the UK and
are hosted by the University's International Student Office.
The options depend on the passport you will be travelling on.

You can register to join a webinar by clicking on your preferred
date. Please note these webinars are provided for University
of Cambridge offer holders, 2023 entry only. When you
register, please provide your full first and last name. After you
have registered, you will be sent the link to access the webinar
a few days prior to it taking place. The webinars will last no
longer than an hour.

Undergraduates applying for an integrated Masters which requires ATAS clearance (Chemical Engineering) will receive instructions directly from the International Student Office by email. These emails are normally sent in May/June (roughly - we cannot confirm a precise date). Information about ATAS is available, but don't worry - the email you receive will tell you everything you need to know.
 
When you have met all the conditions of your offer 
When you have met all the conditions of your offer (depending on the case, these include academic grades, English Language qualification if required, and satisfactory financial guarantee and evidence documents), the International Student Office will send you by email your Confirmation of Acceptance for Studies (CAS). The CAS is a unique number, relevant only to you and to the course you will undertake at Cambridge. You will need to enter your CAS number in the relevant section of your Student Visa application. You cannot apply for your Student Visa without your CAS, and we cannot issue the CAS before all your offer conditions have been met.
The CAS confirms the University is sponsoring you for your Student Visa. You should ensure that you understand your responsibilities whilst holding a student visa.
You should CHECK the details in your CAS carefully once you receive it. Your CAS will include details which must match those on our passport (i.e. names as they appear on your passport, date of birth, sex, passport number, birth country and nationality). The

International Student Office obtains the CAS number from the UK Home Office having provided

these details.

If you find any errors you must let the International Students Office who sent you your CAS know immediately. They will issue a corrected CAS before you make your student visa application. Further detail.
 
A CAS can only be used for one visa application. If your student visa application is refused, you must request a new CAS. This will only be issued upon receipt of your full refusal notice and if the University is satisfied you will be able to meet the requirements for a new visa application.
 
The International Student Office begin to issue the CAS statements from June 2023 to students who have already met all conditions by then. Please bear in mind that it will take the International Student Office time to produce the CAS for each student who needs one - this will not be immediate. Please be patient, they WILL get your CAS to you by email as quickly as possible. Any updates will be on their Twitter Feed. Please do not email to ask when you will receive your CAS.

The University can only sponsor you with a CAS once you have met all of the conditions of your offer, whether academic or non-academic. Therefore, you might not receive your CAS until the end of August (for example, if your offer is conditional on A-levels).

A level / STEP results day: After results are released in summer 2023 the International Student Office prepares the CAS for those who have met academic conditions based on A level / STEP and other results published at this time. Please note that we cannot tell you exactly when you will receive your CAS email (remember that these are not processed by Christ's College). Please be patient, the International Students Team WILL get your CAS to you by email as quickly as possible.
Offer holders who are under 18
If you are under 18, the International Student Office will provide some additional guidance and instructions on applying for your visa, in relation to parental consent and Biometric Residence Permit (BRP) collection.
 
Summary table 
To sum up what you need to do from January in the year you are due to start your course if you require a Student Visa to study in Cambridge
| | | | |
| --- | --- | --- | --- |
| Complete the visa questions form and upload tool and the passport upload tool | Offer holders for 2023 entry who are not UK or Irish nationals | Note that you need to complete the form even if you do not require a visa as the information requested will assist us in confirming this. | by 10 February in the year you are due to start at Christ's.  |
| Meet all the conditions of your offer | Offer holders who will need a visa | All offer holders have financial conditions and must send Christ's the required documents. If your offer has academic conditions & English language conditons we wait for test/exam results. A CAS cannot be issued until you have met all offer conditions. | as soon as possible |
| Apply for ATAS clearance if relevant and send a copy of the certificate to Christ's. | Offer holders for Chemical Engineering. | You will receive an email from the International Student Office in May which you need to act on. | as soon as possible after you receive the email. |
| Apply for Student Visa (see website) | Offer holders who have met all the conditions of their offer and received a CAS from Cambridge. | The International Student Office begin to issue the CAS from June. Please be patient, they WILL get your CAS to you by email as quickly as possible. | When you can apply depends on where you are living currently. |
| Check your CAS document and prepare for arrival.  | Offer holders who need a visa | Read the prior to and on arrival information.  | When you have received your CAS. |
| Once you are in Cambridge: Collect your visa (BRP) | Offer holders who need a visa | Read the information about where to collect your visa (Biometric Residence Permit). | As soon as possible once you have arrived in Cambridge, UK. |
Back to offer holders main page / International Students section / Forward to next page: Disability and extenuating circumstances