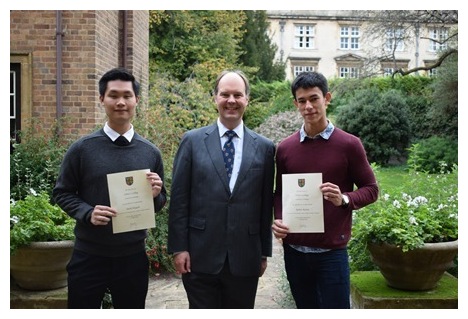 This page is part of the offer-holders section for students who have been offered an undergraduate place at Christ's College. 
Christ's 2023 entry offer holders with overseas fee status are invited to apply for a Christ's International Award. You will receive an email with the application form in the second half of February (it was sent on 22 February). Please could you complete the form and then upload it via the upload tool by Friday 3 March (09:00 in the morning UK time) following our instructions below.
 
About the Awards
For 2023 entry, Christ's will be offering up to five international awards to outstanding incoming undergraduates from outside the UK. These awards may be held in conjunction with other scholarships, including those given by the Cambridge Trust, and consist of:
An annual award of £10,000, for the duration of the undergraduate degree (3 or 4 years).
In some cases, depending on the financial need of the individual, the award will be accompanied by a full or partial waiver of the College Fee, currently £10,600 per annum, for the duration of the undergraduate degree.
The awards are not restricted by country or region; they are available to offer-holders resident in all countries outside the UK.
One of the awards is reserved for a woman who will be studying Computer Science, Engineering Mathematics or Natural Sciences (with a preference for Mathematics). There is no restriction by subject for the other four awards, and we aim to distribute them across the Arts and Sciences.
We hope to make up to two awards to students who have been assisted by the international social enterprise Project Access.
Award-holders will be invited to a celebratory ceremony during the first term at Cambridge.

How to apply for an award
Please follow these steps:
STEP 1: Receive the email about the Christ's International Awards. The application form is attached to the email. Please complete the form (including a signature rather than typing your name, please) and save it as a pdf.
STEP 2: Please save your application pdf on your computer with the file name in this specific format:
17 - Subject - FAMILY NAME First name - Christs International Award Application - UCAS Personal ID (with no dashes)
Here's an example: for the fictional Magali Lemaire holding an offer for Land Economy, the file name might be
17 - Land Economy - LEMAIRE Magali - Christs International Award Application - 1083829355
Note that there is a space before and after each hypen, and there is a number at the beginning.
STEP 3: Please open the file on your computer and check that it is legible. 
STEP 4: Please then complete the following upload tool, which includes a question that allows you to upload your pdf. Please make sure that you see the confirmation screen once you have clicked on submit form.
If we have a problem opening the file or if there's something wrong with the document you have sent for some reason, we'll let you know (as ever). Thank you for your help in sending your application following our instructions - it helps us to process everything for you as efficiently and accurately as possible.

Further details
It is fine to apply for both a Cambridge Commonweath, European and International Trusts Award (we'll email eligible offer holders about this in late January) and a Christ's International Award (we'll email eligible offer holders about this in the second half of February) - if you need both awards this is what you should do. You may be awarded both.
Back to offer holders page / Financial information for students with overseas fee status