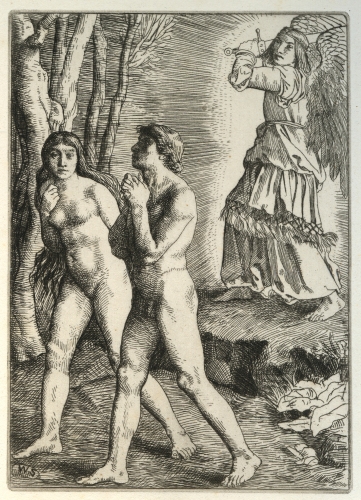 William Strang (1859-1921), 'Adam and Eve Expelled from Paradise', illustration to Book XII, etching. Paradise Lost. A series of twelve illustrations etched by William Strang. (London: John C. Nimmo, 1896). Ee.a.7, unpaginated.
William Strang was one of the original members of the Royal Society of Painter-Etchers. He was a prolific printmaker and also illustrated Pilgrim's Progress, Don Quixote and the 'Rime of the Ancient Mariner'. However, he was predominantly a portrait painter and his sitters included Thomas Hardy and Rudyard Kipling. His stunning illustrations to Milton were originally issued as single plates; only 150 copies of this bound series were printed, of which this is no. 29. They were later reissued in the form of photogravures for a 1905 edition of Paradise Lost printed in New York. Strang harnesses the delicate fuzziness of the lines produced by the acid etching process (as opposed to the crisp hatchings of traditional copper engraving) to create a dreamy, otherworldly atmosphere in many of his prints for Paradise Lost.
In Strang's etching of the Expulsion, Adam and Eve's awkward, forward-leaning postures convey the hesitancy of their first, 'wandring steps' out of Paradise.