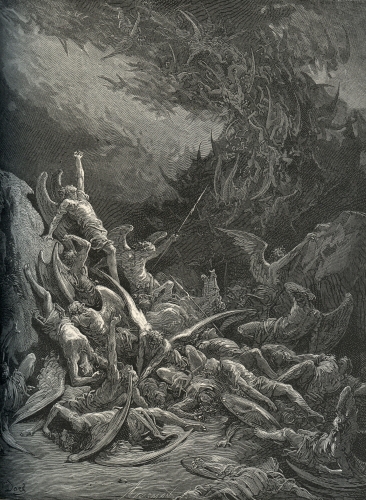 Gustave Doré (1832-1883), 'Nine days they fell', illustration to Book VI.871, engraving. Milton's Paradise Lost, illustrated by Gustave Doré, edited with Notes and a Life of Milton by Robert Vaughan. (London: Cassell, Petter, Galpin & Co., 1882). After p.168.

Doré's fifty plates for Paradise Lost are among the most brilliant of the genre. They were sketched out on wood with Doré's characteristic lightness and fluidity of touch, before being cut onto metal by a team of engravers with whom he worked very closely throughout his career.
Doré's depiction of the rebel angels' fall focuses in the foreground on their grounded, broken forms. The low viewpoint intensifies the menace of the dramatic cloud dropping like locusts from above.