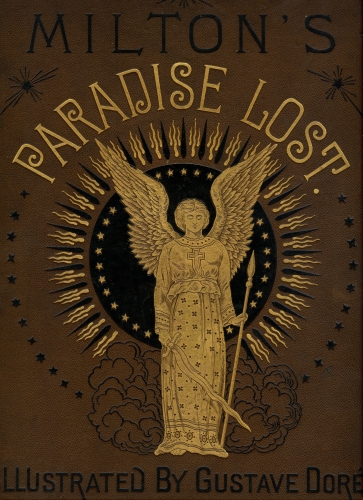 Milton's Paradise Lost. Illustrated by Gustave Doré. Edited with Notes and a Life of Milton by Robert Vaughan. (New York: Cassell, Petter, Galpin & Co., n.d. [c.1884]). Illustrated binding.
Gustave Doré was without doubt the most prolific of nineteenth-century book illustrators. Among many others, he also illustrated Dante's Inferno (1866) and Coleridge's 'Rime of the Ancient Mariner' (1876). Doré was commissioned by the publishers Cassell and Co. to engrave 50 plates for a new edition of Paradise Lost, first printed in New York and London in 1866.
The book displayed here is one of a number of editions released later in the 1880s. It has a beautifully embossed cloth cover, with a gilt design of an angel with a spear in one hand and a sword in the other surrounded by a sunburst.