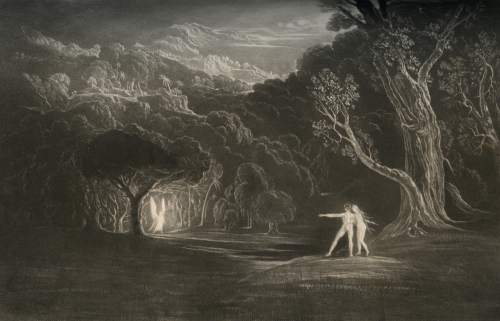 John Martin (1789-1854), 'The Approach of the Angel Raphael', illustration to Book V.308, mezzotint. The Paradise Lost of Milton, with illustrations by John Martin (London: Henry Washbourne, 1866). Ee.a.16, after p.138.
John Martin engraved twenty-four mezzotints for Paradise Lost, which were first published in book form by Septimus Prowett in 1827, who paid him the sum of £2,000. Prowett quickly commissioned him to engrave this smaller, very similar set of plates for £1,500. Martin also exhibited a series of oil paintings at the Royal Academy illustrating subjects from Paradise Lost, including The Fallen Angels Entering Pandemonium (1841), now in the Tate collection.

Adam instructs Eve to follow and behold an extraordinary sight, the angel Raphael approaching through the trees like 'another Morn'.