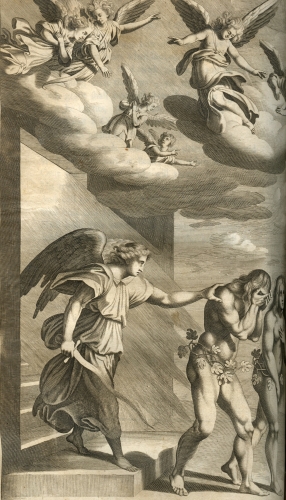 Michael Burgesse after John Baptist de Medina [?], illustration to Book XII, engraving.
Paradise
lost. A poem in twelve books...The sixth edition with sculptures; to which is added, explanatory notes upon each book, and a table to the poem, never before printed.
(London: Jacob Tonson, [1695]). Ee.2.3, facing p.317.
This illustration to Book XII is based on Raphael's adaptation of Masaccio's famous fresco in the Cappella Brancacci, Florence. It depicts Michael driving the couple from Paradise with sword in hand. Its iconography has more in common with that deriving from the stern account of the Expulsion in Genesis 3:24, 'So he drove out the man', than with the close of Milton's epic, with its carefully planted seeds of hope. In Milton's expulsion, Michael takes Adam and Eve gently by the hands.