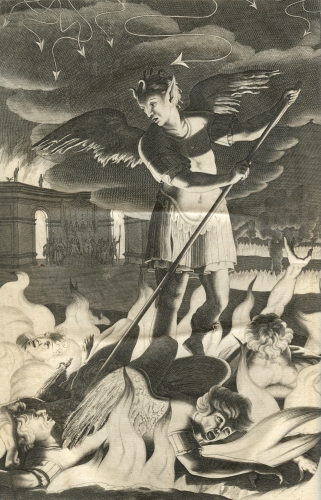 Michael Burgesse after John Baptist de Medina [?], illustration to Book I, engraving.
Paradise
lost. A poem in twelve books...The fifth edition, adorn'd with sculptures
(London: Jacob Tonson, [1692]). Ee.2.2, facing p.1.
These two plates (nos. 45 and 46) were first engraved by Michael Burgesse for the fourth edition of Paradise Lost, published by Jacob Tonson in 1688 (no. 28). Each one was designed by an unknown artist, possibly John Baptist de Medina (1759-1710), to whom the majority of other illustrations in the volume have been safely attributed.

The stunning chiaroscuro of this illustration for Book I reveals Satan leaning on his spear to support himself over Hell's burning lake. Starkly lit from below by the closeness of the flames, he calls to him the host of rebel angels, still prostrated by their fall.