Thanks to everyone who hosted the choir and assisted our wonderful organisers Simon Fraser and John Clay in organising the tour. It was wonderful to meet so many kind people, reconnect with alumni, and travel some beautiful parts of Canada! Read below for a report by one of the tour organisers.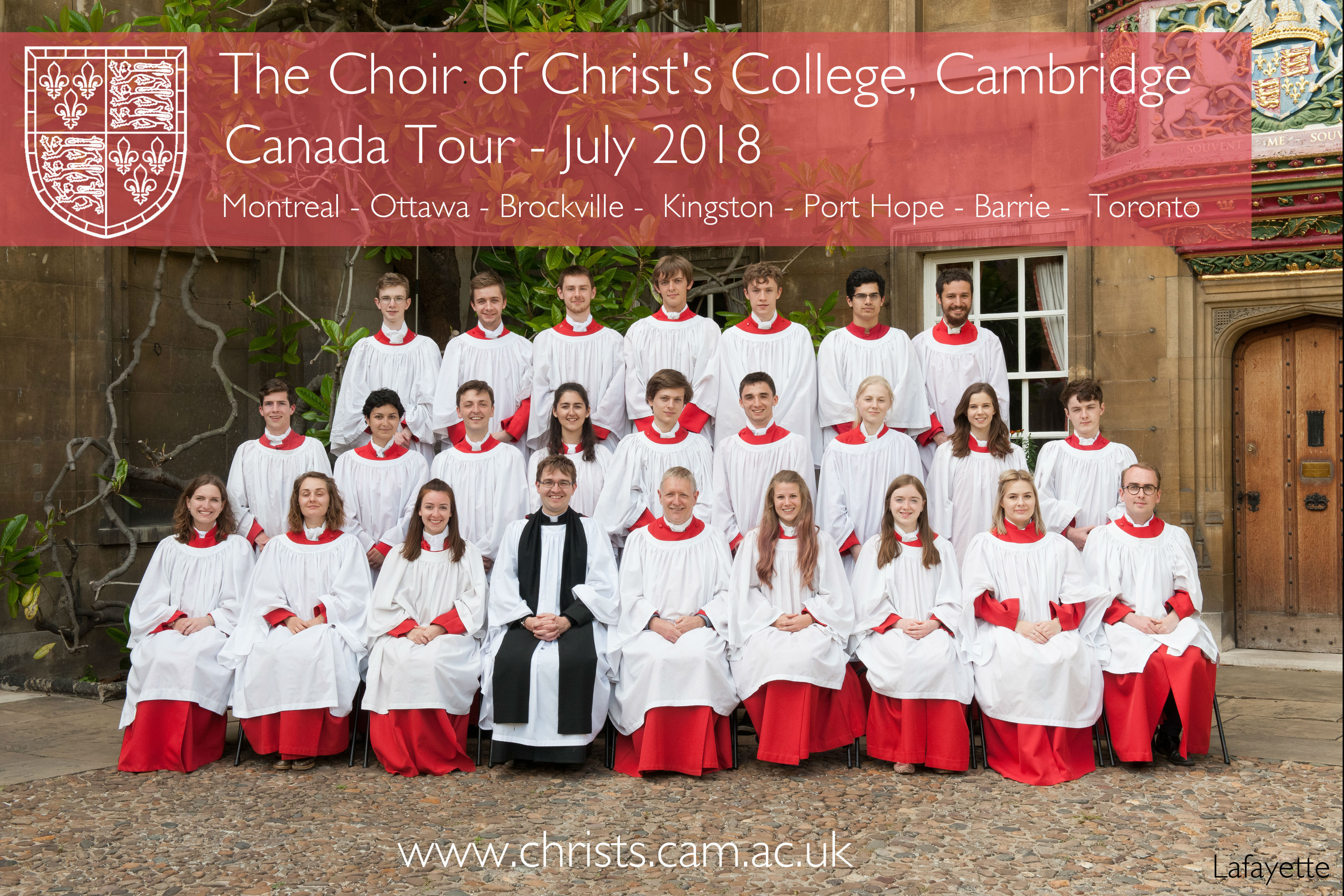 Tour organiser Simon Fraser reflects on another excellent tour.
This summer the Chapel Choir toured to Canada, on a trip encompassing Montreal, Ottawa, Kingston, Toronto and Niagara, as well as much of the greater Ontario region. We departed from Gatwick on July 1st (also coincidentally Canada Day!) arriving into Montreal that evening after a very long day of travelling. Despite arriving in the midst of a Canadian heatwave, with temperatures in the mid 30s and humudies of 60%+, the choir spent an enjoyable two days in Montreal itself, with an evensong service at the Anglican Cathedral and a concert in St James' United Church. Choir members also enjoyed spending time in the old parts of the city and at the Jazz festival which aligned with our visit.
We left Montreal itself for the only truly French speaking location on our tour, in Salaberry-de-Valleyfield, where we performed in a wonderful Catholic cathedral and were warmly received, with helpful translation of Professor Rowland's introductions being provided by Tom Baycroft. From there we moved on to the capital, Ottawa, where we performed two concerts. The first of these was at Trinity Anglican Church in the downtown area of the city, and we then moved to St Bart's, which is the official chapel to the Governor General and is located in the midst of most of Ottawa's ambassadorial residences. We were delighted to perform a sell out concert there, and on our subsequent day off our hosts kindly gave us a walking tour of the city (after watching the England game!) and put on a party at a lake cottage, which we all thoroughly enjoyed.
We then stopped in Brockville, at St Lawrence's Church as a midpoint on our way down to Kingston. We had performed here (as with many of the venues on the trip) several times before, so it was nice for the choir to be able to continue our relationship with churches in this way. Kingston was the next stop, where our two concerts were warmly received. At this point Professor Rowland sadly had to head home, leaving the remainder of the tour to conductors Gabriel Harley and Simon Fraser. From Kingston we travelled to the charming town of Port Hope on the edge of Lake Ontario, and performed in St Mark's Church before moving to Northern Ontario the next day to the city of Barrie. Here we were extremely well received with a large audience and even a local news crew who reported on the concert!
Richmond Hill (an outer suburb of Toronto) was also a successful and enjoyable concert, and provided a good stopping point before we performed in Toronto itself. The first concert we sung was at the Cathedral, a fantastic building to perform in with one of the most impressive organs we encountered on the trip. It was a privilege for us to perform at this prestigious venue, the Cathedral being one of the few remaining churches in Canada to maintain a professional men and boys choir. The choir spent a day off exploring the beaches of Toronto island before we performed at St Paul's Bloor Street and then St Clement's church.
The final week of the trip we spent on the south side of Lake Ontario, firstly performing in Burlington at St Luke's, which was another sell out concert, and then at St Thomas' in St Catharine's, which, despite the short panic of one of our soprano's flight home being cancelled, was an enjoyable concert, where we made use of the wonderful acoustic to perform in the round. The final stop of the trip was in Niagara Falls itself, and the choir enjoyed visiting the falls, and the smaller town of Niagara on the Lake after our final concert. This was also an opportunity for us to say goodbye to our leavers, and we enjoyed a final group meal in our hostel.
The choir is very grateful to Christ's College for its generous support.
Venues
Monday 2nd July - Christ Church Cathedral, Montreal (evensong)
Tuesday 3rd July - St. James' United Church, Montreal
Thursday 5th July - Trinity Anglican Church, Ottawa
Friday 6th July - Church of St. Bartholomew, Ottawa
Sunday 8th July - St. Lawrence Church, Brockville
Monday 9th July - St. Andrew's Presbyterian Church, Kingston
Tuesday 10th - St. James' Church, Kingston
Wednesday 11th July - St. Mark's Anglican Church, Port Hope
Thursday 12th July - Trinity Anglican Church, Barrie
Friday 13th July - Richmond Hill United Church, Richmond Hill
Saturday 14th July - St. James' Cathedral, Toronto
Sunday 15th July - St. Paul's Bloor Street, Toronto
Monday 16th July - St. Paul's Bloor Street, Toronto (lunchtime concert) and St Clement's Church, Toronto (evening concert)
Tuesday 17th July - St. Luke's Church, Burlington
Wednesday 18th July - St. Thomas' in St. Catharine's
Thursday 19th July - Christ Church, Niagara Falls