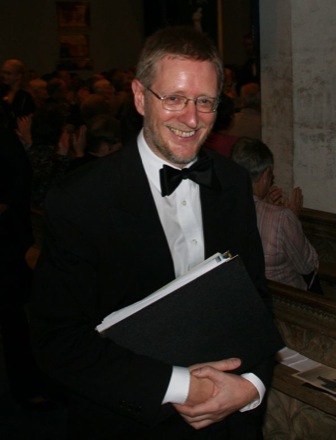 David Rowland was Organ Scholar at Corpus Christi College and during his third year he assisted the Organ Scholar at Kings by playing regularly at services. After graduating in 1978 he pursued research in Cambridge, while still playing the organ and in 1981 he won the prestigious St Alban's International Organ Competition. In the following year he was a major prizewinner at the Dublin International Organ Competition. Subsequently David became a lecturer in the music department of Glasgow University and then Director of Music at Christ's College Cambridge, where he has conducted the choir since 1984. More recently, from 2002-4 he conducted the Welsh National Youth Choir.
In addition to conducting he records, broadcasts and performs regularly in London's South Bank concert halls and in many other venues nationwide, on harpsichord, organ and early piano. David joined the staff of the Music Department of the Open University in 1989. He was Dean and Director of Studies for the Faculty of Arts from 2007-14, and is currently Professor of Music and Director of Taught Postgraduate Studies. He pursues research into the performance practice of the early piano, and in particular into the career of Muzio Clementi, on which subjects he has written four books and other scholarly material.
Email Tom Baarda (choir.admin@christs.cam.ac.uk) for information about the Choir.