Drawing on a diverse selection of items from the College's substantial special collections, Women at Christ's: Leadership, Legacy and Learning explores the influence of women at Christ's, charting their vital contribution to the College's history from its foundation to the present day.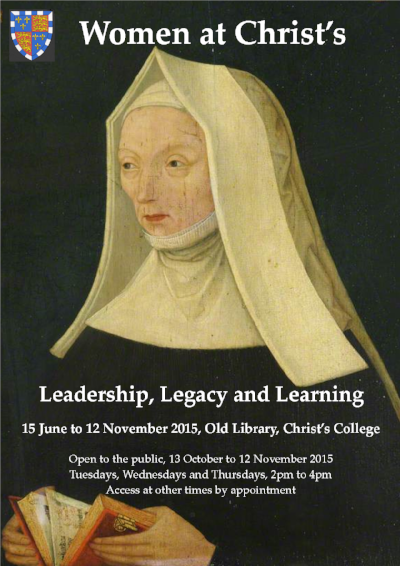 The exhibition opened on 15 June 2015 and remained on display until 12 November 2015.
Although the origins of Christ's College lie in William Byngham's creation of God's House in 1437, it owes its foundation to the vision and patronage of Lady Margaret Beaufort, mother of Henry VII and paternal grandmother of Henry VIII. It took over 450 years for female undergraduates, graduates and Fellows to be admitted to Christ's. Nevertheless, in the interim, whether as assistant staff, relatives or friends of those within the College, the role of women was significant.
A drive towards female education in the mid-nineteenth century, particularly backed by John Peile (Master of Christ's 1887-1910) and his wife Annette, placed the admission of women to degrees firmly on the University's agenda. In 1948, Christ's hosted the late Queen Mother on the historic occasion of her receipt of the first woman's honorary degree from the University. In the late 1970s, women were admitted to the College. Today, Christ's boasts many distinguished female members and a strong female scholarly presence.
An online version of the exhibition is available here.