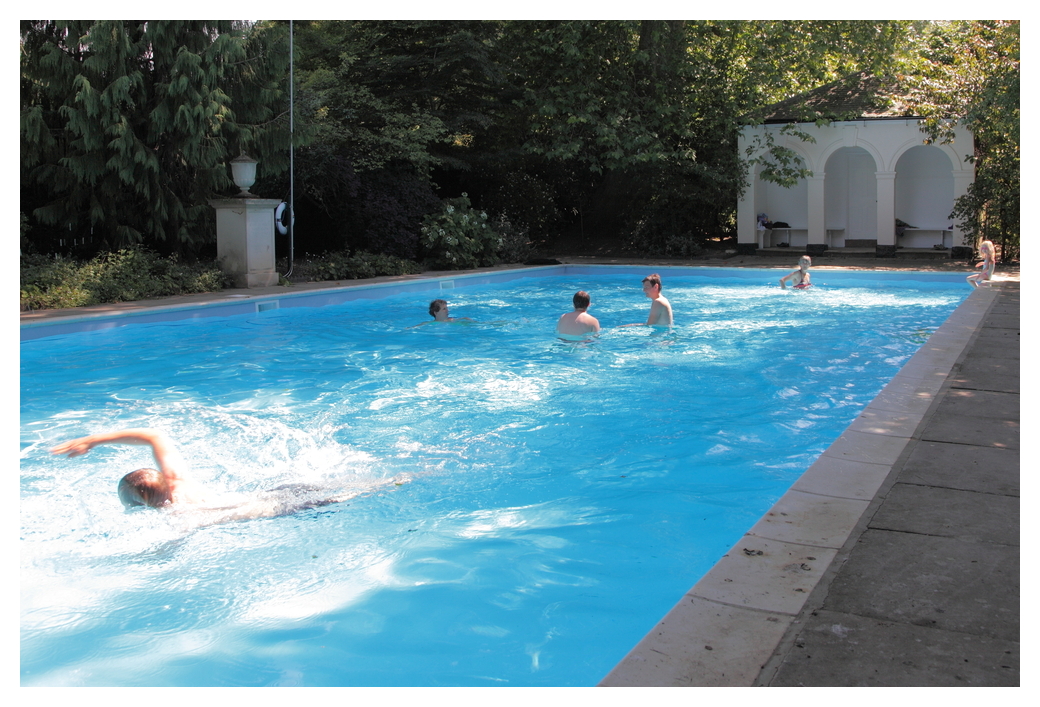 Christ's has a seventeenth-century outdoor swimming pool with a little pavillion, hidden behind trees and bushes in a back corner of the Fellows' Garden. You wouldn't know it's there until you get right up close to it and catch sight of the blue through the trees. The pool's dimensions are 18.3 x 8.7 metres.
The pool is technically a bathing pool and could be the oldest outdoor pool in England, as it is believed to have been created in the mid-17th century, however the exact year isn't known. It was fed with fresh water from Hobson's conduit, the 400-year-old water course designed to bring clean water into the disease-ridden Cambridge of the time. You may have heard of Thomas Hobson if you've come across the phrase 'Hobson's choice'.
I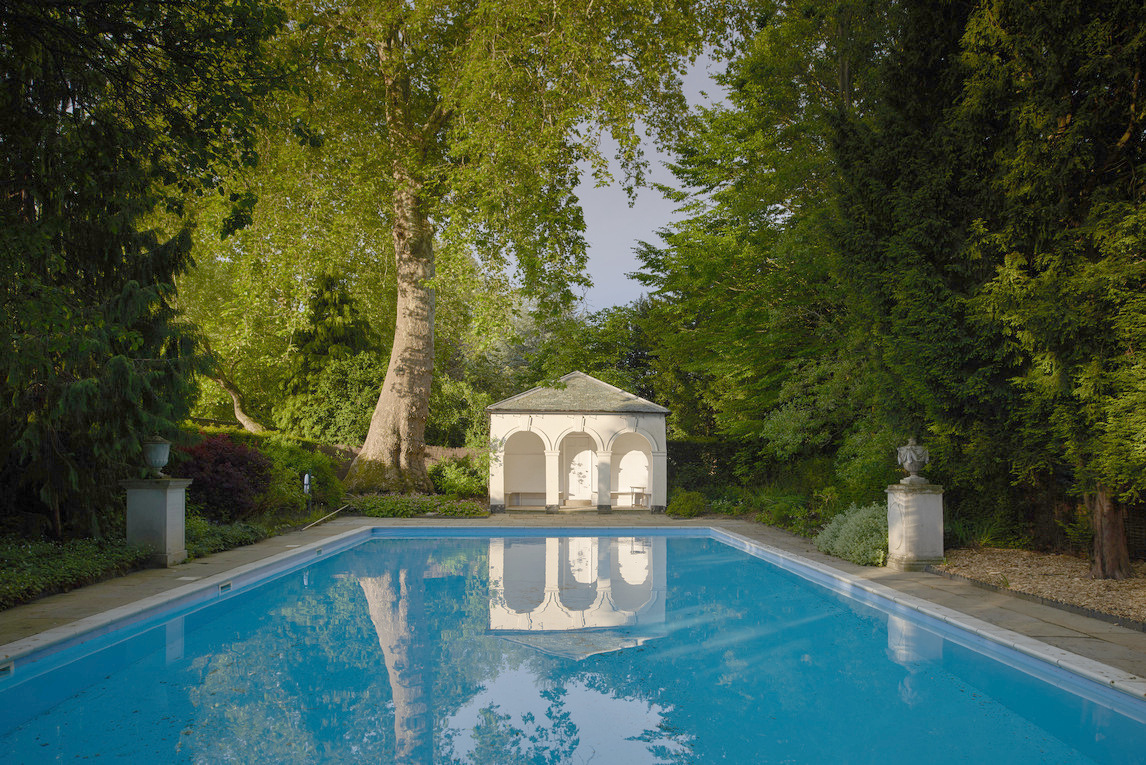 n the early 2000's the pool had fallen into disuse - it had green, murky water and wasn't  inviting! The College ran a fundraising campaign and in 2010 work was done to restore it. The new pool was renamed the Malcolm Bowie Bathing Pool (Malcolm Bowie is a former Master of the College) and it was opened officially in September 2010.

There's further information about the restoration in this news article, written at the time if you'd like to read more.
I enjoy the swimming pool, even if it's extremely cold!
Imogen (Philosophy)
When can students use the pool?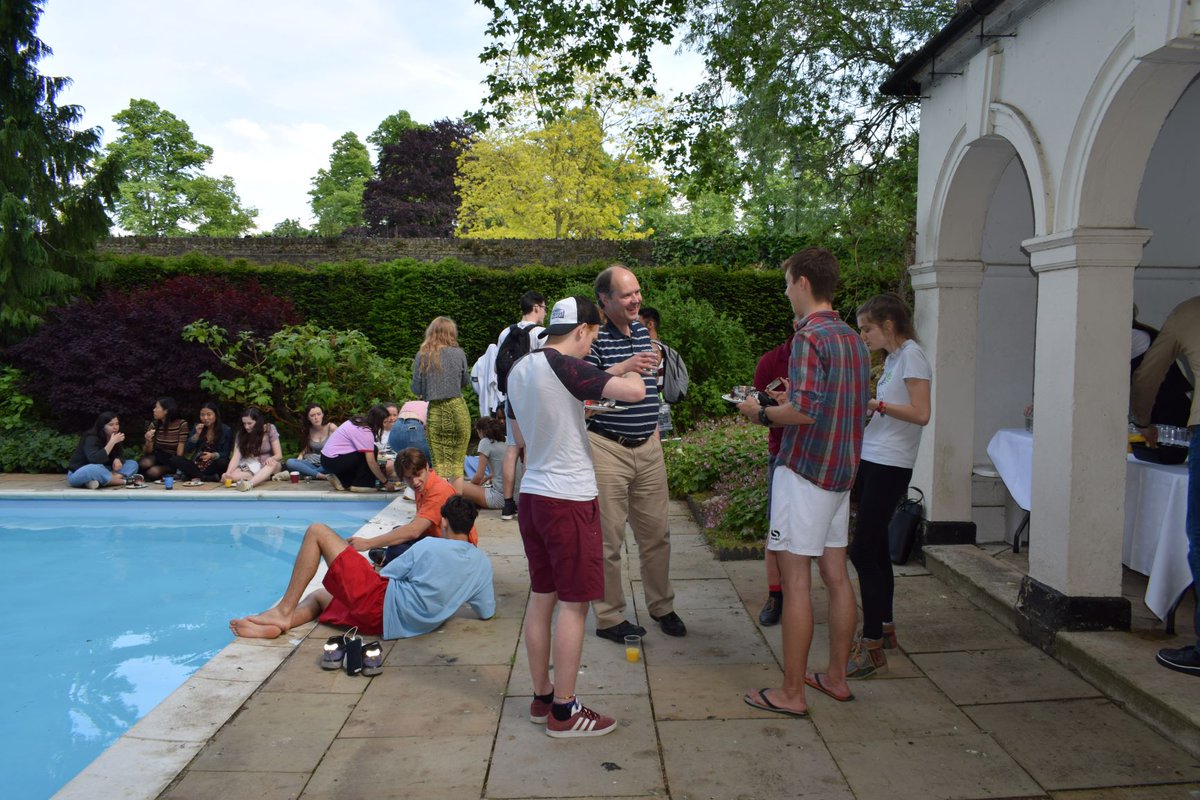 The pool is open from 9am to 5pm, Monday to Saturday, from May to September, and is used by students and staff throughout the summer months. It is very much enjoyed on hot days in College!
As well as taking a dip when you want to, in the exam period Christ's undergraduates are invited to meet at the swimming pool for the popular Tutors' Tea - an organised revision break and chance to relax and chat with other students and the college tutors, with drinks and snacks provided.
It is also a Christ's tradition for students in the same subject to all jump into the pool fully clothed as a celebration after their last exam each year. That's not compulsory, of course (and we warn you it's cold!) but it is good fun.
"I would 100% recommend the swimming pool to clear away any stresses."
Hannah (Natural Sciences)