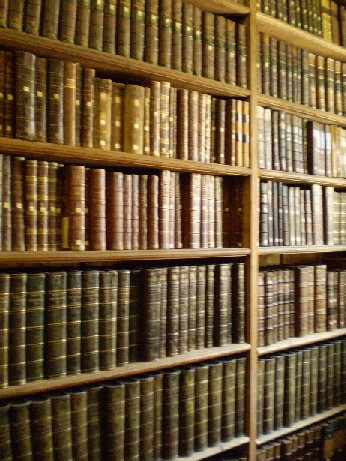 The College's archive materials fall into two main categories:
 materials located not in the library but in various locations around College, though principally in the Muniment Room above the College's Great Gate. Material in the Muniment Room is the responsibility of the College Archivist. A listing of the contents of the Muniment Room can be found here. 
a separate collection, known as the "Fellows' Papers", stored in the Lower Old Library. It is important to note that, although this collection is called the "Fellows' Papers", it contains much more than material concerning former College Fellows. The current catalogue of Fellows' Papers, describing these holdings at collection level (and sometimes at item level), is available for download here. Material in the Fellows' Papers collection is also the responsibility of the College Archivist.
Requests to view either category of archival materials should be sent to archives@christs.cam.ac.uk or to the College Archivist, Lucy Hughes (telephone 01223 768960; email: lcb15@christs.cam.ac.uk); to the College Librarian, Catherine Ascough (telephone: 01223 334950; email: library@christs.cam.ac.uk)
Major collections of personal papers among the Fellows' Papers include:
Charles Stuart Calverley (1831-84), poet
Charles Darwin (1809-82), naturalist. (Note however, that in respect of manuscript items Christ's College Library possesses only a limited amount of material, principally some 150 letters from Darwin to his cousin, William Darwin Fox (1805-1880); much more manuscript material relating to Darwin can be found at Cambridge University Library, and through the Darwin Online database.)
Donald H.W. Dickson (1924-), scientist
Brian Westerdale Downs (1893-1984), linguist
Douglas Rayner Hartree (1897-1958), mathematical physicist
Henry More (1614-87), theologian
William Henry Denham Rouse (1863-1950), classical scholar
Charles Lesingham Smith (1806-78), mathematician
David Stanbury (1933-97), teacher and naturalist
Alexander Robertus Todd, Lord Todd of Trumpington (1907-97), chemist, Nobel Laureate
Biographical information about many of these figures can be found in the online New Oxford Dictionary of National Biography.
Further information about archival repositories
Information about many of the College's archival holdings is gradually being entered into ArchivesSpace, the new (from 2020) Archives Management System for the University of Cambridge. The previous archives catalogue, Janus, is no longer supported and has now (as at May 2021) been retired; in fact, Janus never contained  a great deal of information either about Christ's College's archival holdings or about its Fellows' Papers Collection.
Christ's College Archives' "ARCHON code" is 1849. ARCHON codes are unique numbers used to identify archival collection locations within the UK, and key global repositories holding collections relating to British history. They are assigned by the UK National Archives. Christ's College Library also has its own ARCHON code; it is 267.
Christ's College Archives are not currently accessible via JISC's Archives Hub; but researchers looking for further information about UK archive repositories in general may well find it useful to consult that site. Click here for a link to basic information about Archives Hub.