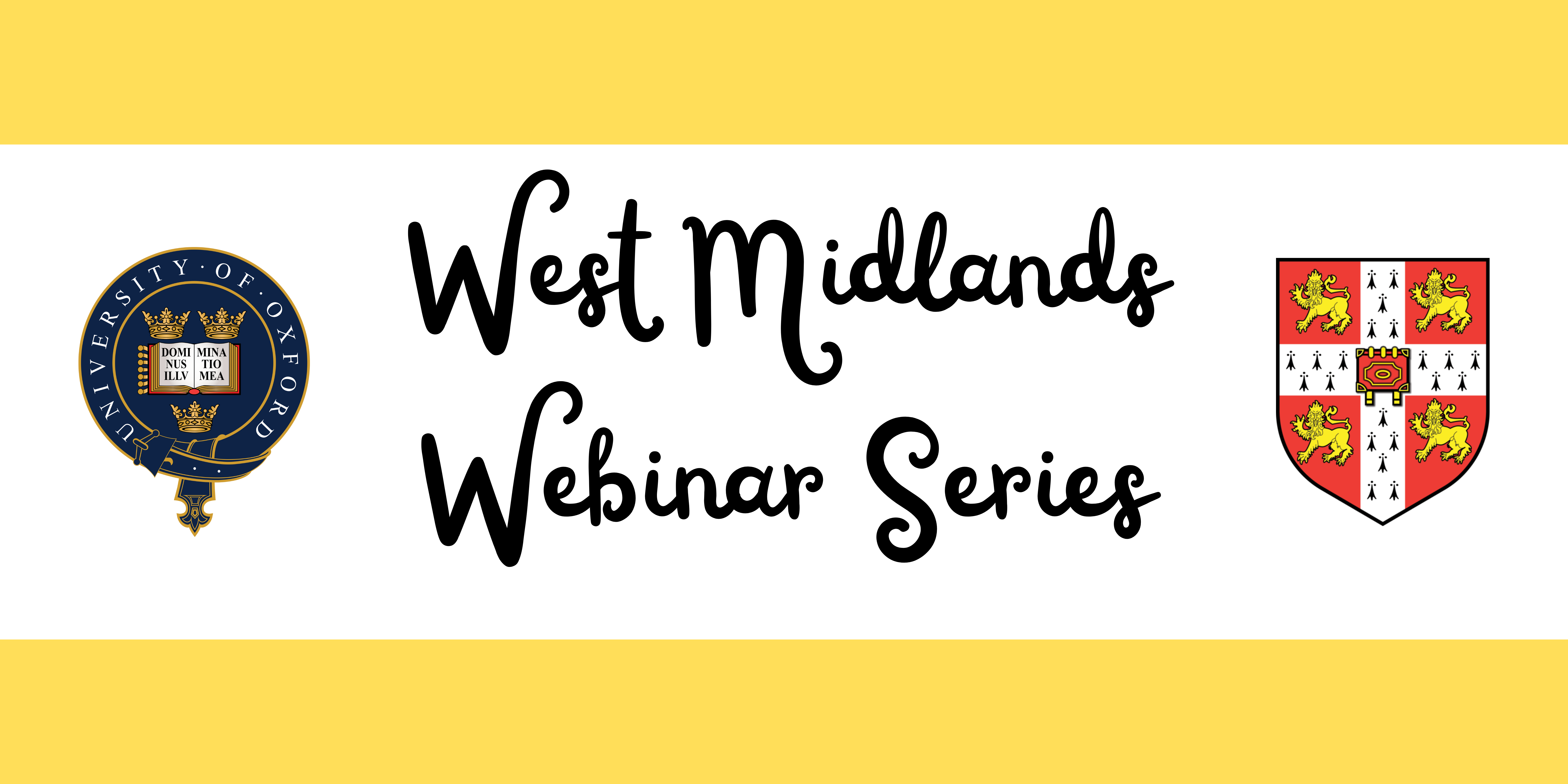 This programme will return in 2022. If you will be in Year 12 at a state school in the West Midlands from September 2022, applications are NOW OPEN. Click here to apply for a place. Applications are on a rolling basis - you can still sign up after the series has started. 
We are excited to be working alongside colleges at both the University of Oxford and University of Cambridge for the West Midlands Webinars 2022. These will be a series of four online sessions for Year 12 students at state schools or sixth form colleges in the West Midlands. This includes the Christ's link areas of Herefordshire and Worcestershire.
The Webinar Series
The webinars will cover various aspects of applying to, preparing for and studying at Oxford and Cambridge, and will be suitable for any student hoping to apply to competitive universities. If you're a high-achieving student (aiming to achieve above AAA at A Level), intellectually curious and ambitious, then these webinars will be a great start for your university journey. Whilst they will be focused on the Universities of Oxford and Cambridge, much information should still be useful in thinking about universities more widely and preparing to apply.
 
Format
These sessions will be run using the platform Zoom. As these sessions will run as webinars, your camera and microphone will not be enabled, and you will only be able to communicate with the hosts/panelists running the session by typing questions into the Q&A box. 
 
Programme
The full programme details will be available shortly. Joining details will only be sent via email to those with a confirmed place.
| Date & Time | Session | Colleges |
| --- | --- | --- |
| 17:00-18:00, Thursday 6th October 2022 | An Introduction to Oxford & Cambridge | Newnham College Cambridge & University College Oxford |
| 17:00-18:00, Thursday 20th October 2022 | Oxford & Cambridge: A Student's Perspective | Sidney Sussex Cambridge, Clare College Cambridge & current undergraduates from Oxford and Cambridge |
| 17:00-18:00, Thursday 3rd November 2022 | The Oxbridge Application Process: A Masterclass | Christ's College Cambridge & Keble College Oxford |
| 17:00-18:00, Thursday 17th November 2022 | Competitive Applications: Preparing in Year 12 | St John's College Cambridge & Oriel College Oxford |
Eligibility and Selection Criteria
To apply for this programme, you must:
currently be in Year 12
be attending a state school or sixth form college which is located in the West Midlands (i.e. if your school is not in this region, even if your home address is, you would not be eligible)
The West Midlands are the following regions:
Birmingham
Coventry
Dudley
Herefordshire
Sandwell
Shropshire
Solihull
Staffordshire
Stoke-On-Trent
Telford and Wrekin
Walsall
Warwickshire
Wolverhampton 
Worcestershire
We hope to offer as many students as possible a place on these webinars, and expect to be able to take all eligible applicants. However, if we have more applications than places available, we will prioritise students who match one or more of the following criteria:
Have lived, or are currently living, in local authority care
Are eligible, or have been eligible within the past six years, for free school meals
Are a refugee
Live in neighbourhoods with low overall progression rates to higher education
Have no parental history of higher education
Have a disability
Apply for a Place 
Applications are now open! If you attend a state school in the West Midlands, apply for your place here! We expect to be able to accommodate all eligible students interested so please do not hesitate to sign up. Applications are on a rolling basis, so if you have found this after the sessions have begun, please still sign up and attend the remaining sessions.
The sessions are designed to lead on from one another, so attending all is strongly encouraged but not required. Temporary access to recordings of the sessions will only be available at the end of the series, but you must sign up in order to receive these or catch up on earlier sessions missed. 
If you are looking for further support and advice around applying to Cambridge, please consider signing up to our student ongoing support mailing list, and check out our regular webinars, as well as our other events and open days.
Any questions?
Teachers and students can send any queries to Ellie at access@christs.cam.ac.uk.