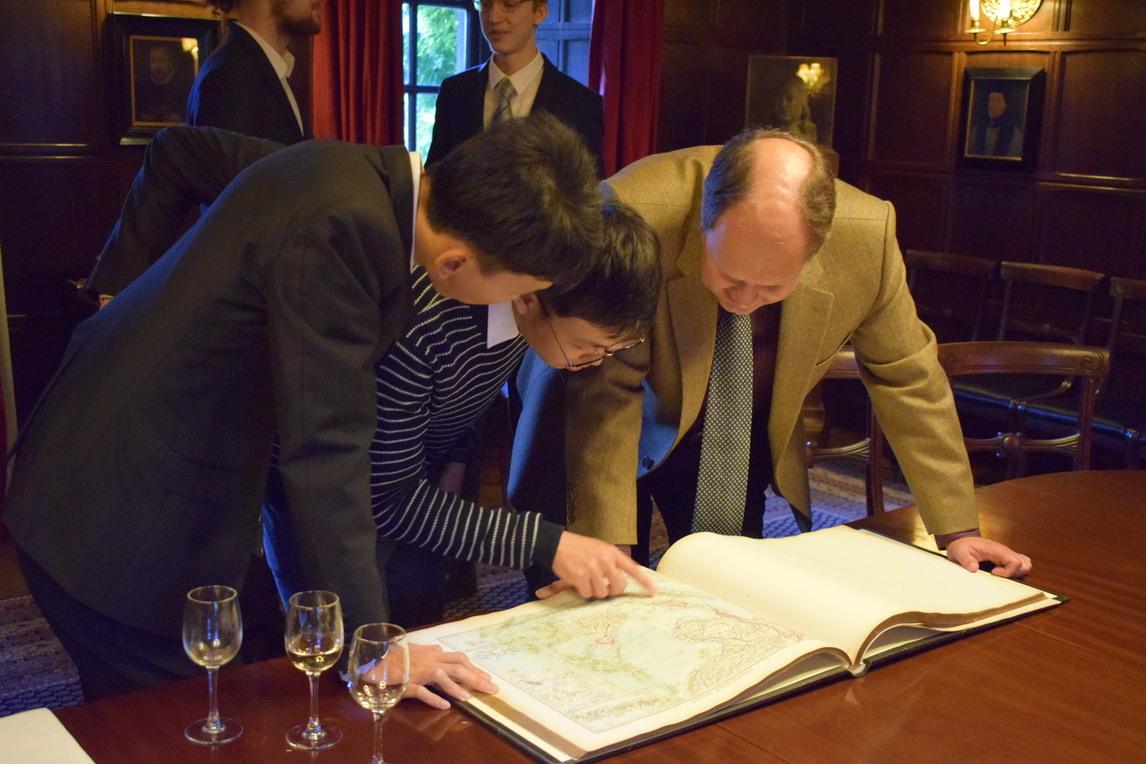 Welcome to all students from Malaysia who are considering an application to Cambridge University. At Christ's we have a long history of admitting students from Malaysia, and we currently reserve one of the College International Awards for an offer-holder resident in Malaysia (see below). We are always keen to hear from students who are looking at Cambridge courses.
This dedicated page is for students considering Christ's College, and we hope that you will find the information here a helpful addition to our international students section.
Qualification requirements
Our typical entry requirement for students taking the STPM (Sijil Tinggi Persekolahan Malaysia) requires grades AAA.
Our typical entry requirement for students taking International A levels is 
A*AA for Arts subjects other than Economics
A*A*A for Maths and Sciences subjects, and for Economics.
International A levels are offered by Cambridge International, Oxford AQA or Pearson Edexcel.
Our typical entry requirement for students taking the International Baccalaureate Diploma is 42 points overall (including bonus points), with 776 at Higher Level. Information about the IB Diploma in Malaysia. If you are applying for a course that requires maths, you must ensure that you are taking Maths: Analysis and Approaches at Higher Level.
Offers for Mathematics include STEP II and III. Further information about STEP and preparation support is available on the Maths page. 

Some courses also require an Admissions Assessment. The dates and registration details for these assessments vary from subject to subject so please check this carefully in relation to the course you are planning to apply for. 
You will also need to ensure that the subjects you are taking / have taken meet any subject entry requirements for your chosen course. These are set out on the subject pages. Where the entry requirements for a specific Cambridge course include particular A-level subjects, you will need to show that you have knowledge equivalent to the relevant A-level, if you have not taken the A-level course itself. You and your referee can assist assessors by providing details of the topics taught at your school, within each relevant subject. It is also helpful to list any major academic achievements outside the classroom.
Christ's (student population) was the perfect size. It was small enough not to feel lost having left home; big enough to have a diverse social circle.
Kenneith Yong, a former Medicine student from Selangor
English Language requirements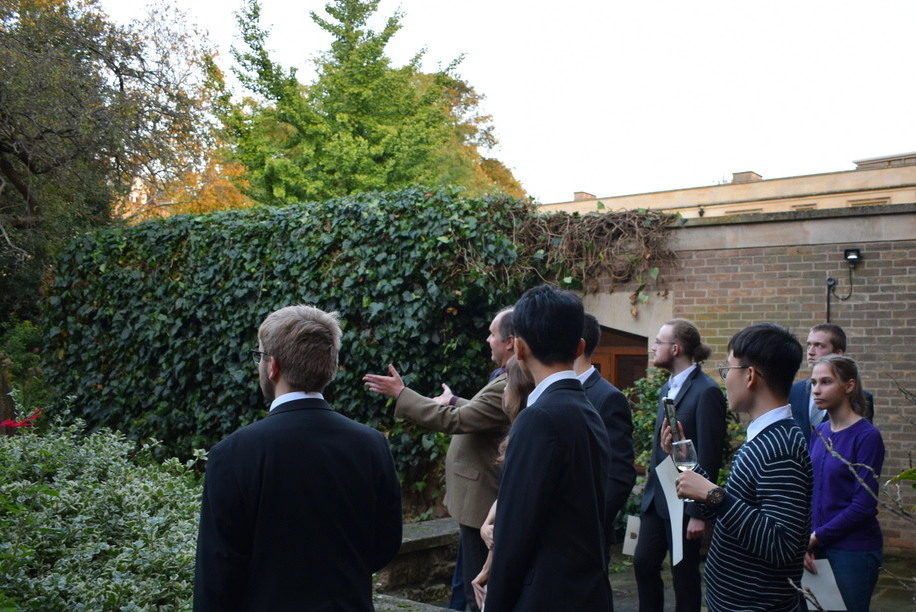 If English is not your native language, in most cases students from Malaysia will need to take an English Language qualification such as IELTS Academic or TOEFL and achieve scores as specified on the University website.
If you have already taken an English language qualification when you apply, please include this in your UCAS application, and include the certificate in your transcript. It is not a problem if you are not able to take an English Language qualification by the time you apply. In this case you may be asked to achieve the specified scores in one of these qualifications if we make you an offer, as part of the offer conditions . You would have from January (when you receive your offer) until August to take the test and send us the results.
Do bear in mind that for non-native English speakers who will need a visa to study in the UK, specific certificates are normally needed (e.g. IELTS Academic, TOEFL).
Christ's students and former students from Malaysia
We have quite a few current and former students from Malaysia. Emily is a Law student from Ipoh and explains that "there's a really lovely network of international students here - last Chinese New Year the Christ's Southeast Asians got together for steamboat in one of our rooms. Last year we had six Malaysian freshers - it was nice to see familiar faces and hear familiar slang ? ."
We hope that you will enjoy reading some of the further comments: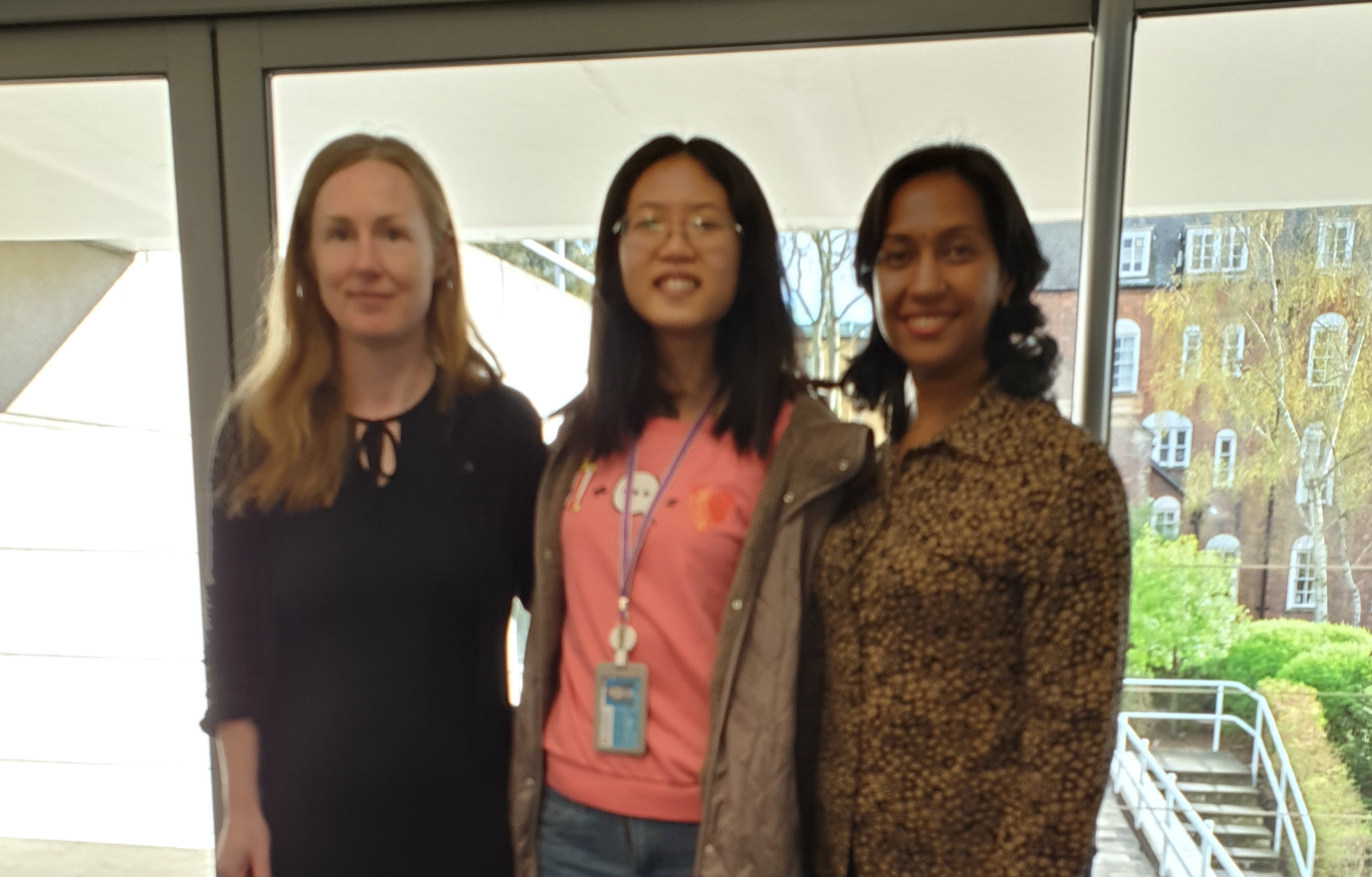 Another Malaysian student, Iris, is from Pulau Pinang. The picture shows a photo opportunity from when we welcomed visitors from her old school, KYUEM, to Christ's College. Iris was pleased to be pictured with both her former teacher and Dr Emily Tomlinson, our Director of Admissions who met her a few years ago on one of the school visits she does in Malaysia and advised her on Cambridge applications! Iris is now studying Natural Sciences here at Christ's.
Application process
We recommend that you apply as soon as possible once UCAS opens for applications in September. Your course may require registration for an admissions assessment by 15 Sept or 29 Sept 2023 (depending on the subject) and then the UCAS application deadline for all courses is 16 October 2023.  Application is for entry the following October (or for deferred entry the year after). We encourage all applicants to read the information about applying on the relevant subject page, as well as the how to apply page well in advance of September, as there are a number of parts to the application procedure which may take time to organise and complete:
If you have a "Registration Required" Written Assessment (needed for some of the courses), you will need to make sure you are registered for this by the relevant deadline. See details on the Written Assessments page. For example, applicants for Law must register between 1 August and 15 September and take the LNAT on or before 15 October. You can search for the test centres in Malaysia (scroll down to the bottom of Find a Test Centre) or in some cases you may be able to sit the assessment at your school (you will need to ask your school if they are a test centre).
There is more than one application form. You first make a UCAS application and then you complete an additional questionnaire called My Cambridge Application (previously called the SAQ).
You will need a referee who can provide a reference and predicted grades for any exams that you have not yet taken.
You will also need to arrange for your school to provide a transcript, which you upload as part of My Cambridge Application.
Do also explore our additional support pages for international applicants, and note that on 20 September Christ's publishes the current applicants section, which will support you (in detail!) through the next steps once you have submitted a valid application and chosen Christ's College in your UCAS application.
 
Interviews
You will see if you read through our how to apply page, that we have interviews as part of our admissions process. We interview the majority of applicants, though not every applicant is selected for interview. You can find out more about what interviews involve in our international application support section (which includes a page on interviews)

Christ's applicants who are selected for interview are interviewed online in all cases - the arrangements are the same for both UK and international applicants. You can have your interviews either at home (most applicants do this) or at school (if easier or if you have a better internet connection at school). We will collect information about your time zone in December as part of one of one of the forms that applicants complete.
In some subjects there is a "College Registered" assessment, which means an assessment that is only taken by those invited for interview. As the name implies, there is no registration for these assessments - they will be organised by Christ's for you to sit online if you are selected for interview, and we will send you full details at the time. You can check to see if there is a College Registered assessment and (if relevant) details for this in your subject by reading the how to apply section on the relevant subject page.
.
"I had an overseas interview in a college in Kuala Lumpur, Malaysia, where I also sat for my Law admissions test."
Emily, a current Law student from Ipoh, Perak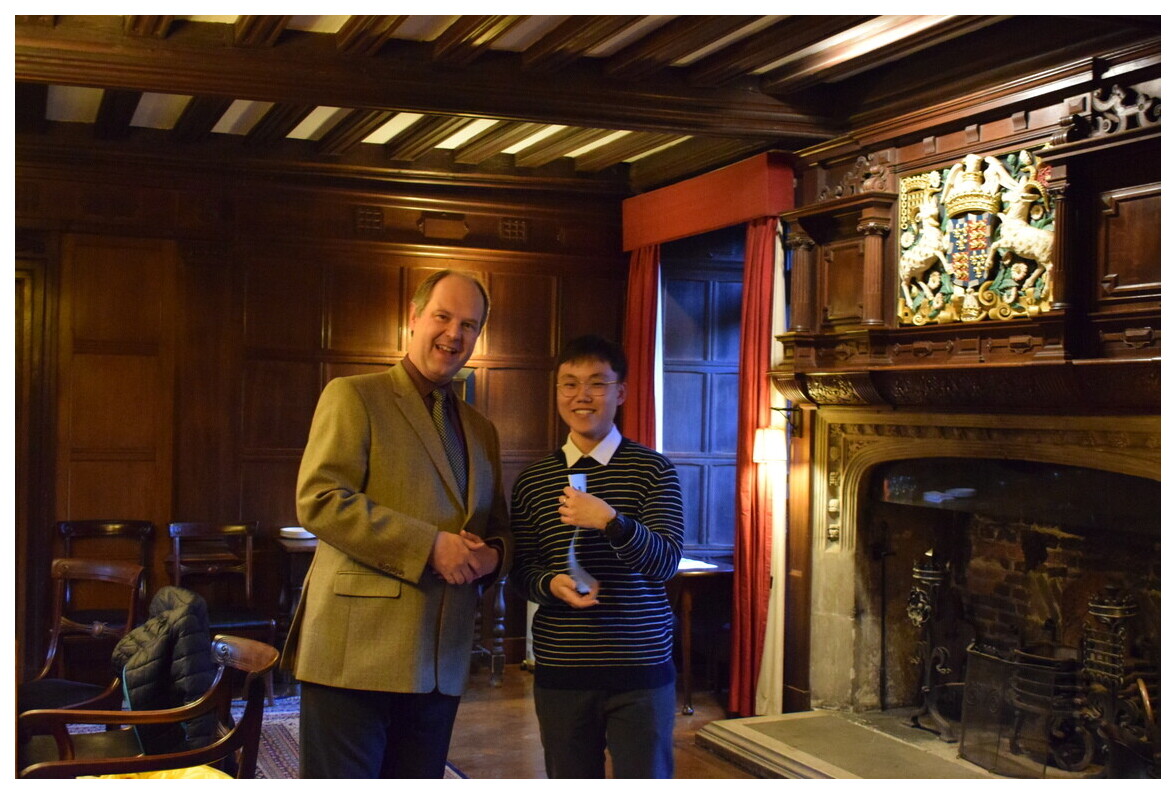 Finance
Offer-holders from Malaysia who are in financial need may apply for support from the Cambridge Trust, and Christ's also has additional awards:
Where can I find out more?
Do explore the international students section in particular, and make sure you read the relevant subject page.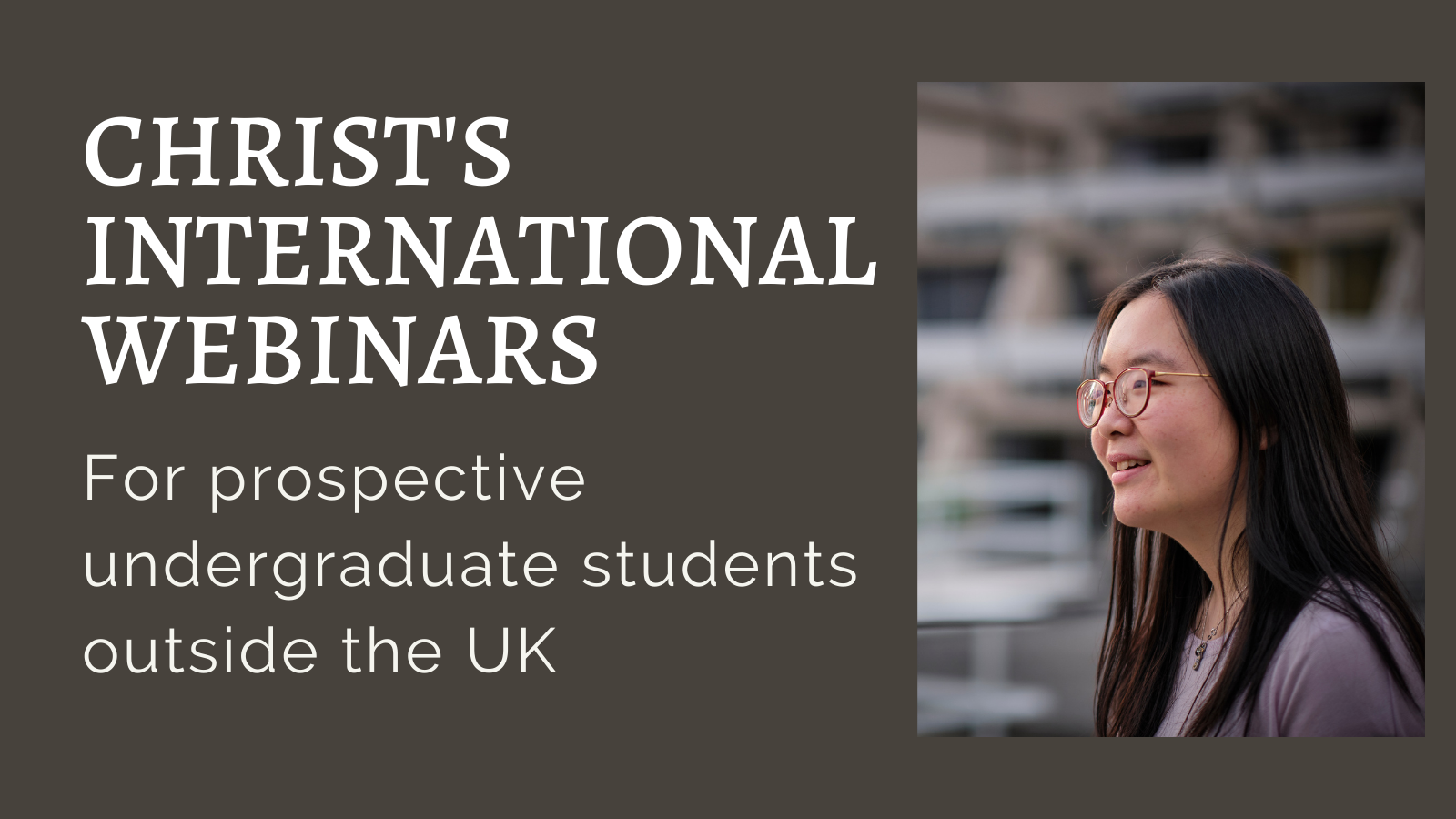 We encourage you to attend the Christ's Interational Webinar for Maylasia and Singapore, which will give you a good opportunity to find out more about applying to Cambridge from these two countries, and you may like to also attend other online events.
Please also feel free to email Kristy, Jan and Ellie in Christ's Admissions Office (admissions@christs.cam.ac.uk) with any questions. We'll be pleased to hear from you!
"I would advise other Malaysians to give it a shot because the whole application process is an experience in itself and a lot can be learnt from it."
Advice from a previous applicant from Malaysia