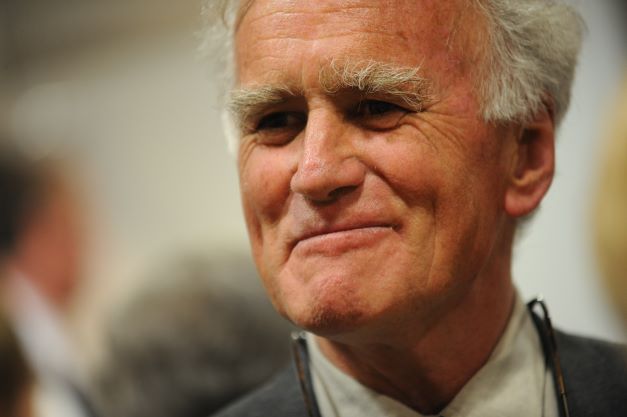 It is with great sadness that we advise that our greatly esteemed Fellow, Dr Richard Axton, died earlier today at his home in Sark.
Richard was admitted to the Christ's Fellowship in 1964 and became a College Lecturer in 1966.  He then became a University Lecturer in English in October 1971, a position he held for 30 years until his retirement in 2001.  Richard gave up his lectureship early to enable him to work for at least 3 years as though he were a Research Fellow in the College as he, and his late wife Marie, wanted to work on the cache of Anglo-Norman court records that they had unearthed in their archival work for the island of Sark.  He felt that the work was of some interest to social, economic and legal historians though was quite outside the domain of the English faculty.
Richard was best known in academic circles for his work on drama of the medieval and early-modern periods. For a series on 'Tudor Interludes', he edited Three Rastell Plays (1979), and with Peter Happé took editorial responsibility for The Plays of John Heywood (1991). Very often his research and expertise carried him toward bodies of literature that lie beyond any strict conception of an English 'vernacular'. His translation work featured in an edition of Medieval French Plays (1971), and in 1974 he published to the warm appreciation of critics European Drama of the Early Middle Ages.
Most recently, in 2008, when the College celebrated the 400th anniversary of the birth of one of its most famous members, John Milton, Richard worked tirelessly to help the College with the events that were arranged to commemorate this milestone.  In particular the production of Comus in the Fellows' Garden which was a highlight and the culmination of many long hours spent by Richard and the team in bringing the project to fruition.  One of our current fellows, Ned Allen, was an undergraduate at the time, and was tasked with directing the production's music in collaboration with one of Richard's former students, Annilese Miskimmon. 'Richard was a dynamic, ambitious and inspiring presence during the rehearsals of Comus', Ned recalls. 'He had high scholarly standards, and he held us to them. But he was also very thoughtful. I remember vividly one early morning workshop. Things were going a bit slowly. We could have wept with joy when Richard turned up with four piping-hot coffees from Costa – unprompted, eyes twinkling.'
In June Richard let us know that he had been awarded an MBE in the Queen's Birthday Honours for services to Heritage and Environment in Sark and was inaugurated with the medal itself by the Lieutenant-Governor in Sark on 7th July.
Richard was held in great affection by many of the Fellowship and by his multitude of students.  In his last email to the College he mentioned the many happy and stimulating hours he had spent at Christ's and expressed his overwhelming sense of personal good fortune and affection for the College. He will be greatly missed.