Many congratulations from us all to our Fellow, Dr Richard Axton, upon being awarded an MBE in the Queen's Birthday Honours for services to Heritage and Environment in Sark.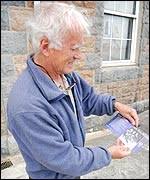 Amongst his many projects on Sark Dr Axton was instrumental in the creation of the Sark Observatory, which secured the world's first Dark Sky Island status.  Also,with his late wife, Marie, he saved countless manuscripts, books and documents to establish a history of Sark life, legal proceedings and feudal land tenure, where no academic record existed.
He has led La Société Sercquaise since 2005, has been an enthusiastic fundraiser for the island's 16th century buildings and has worked to create sustainable businesses for Sark residents, including a brewery and a new community dairy.