Friends of the Old Library Newsletters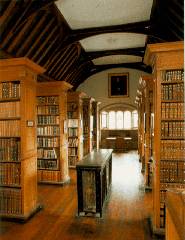 Past issues of the Friends of the Old Library Newsletters can be found below.
In order to view any of the issues, just click on the issue number below. The issues are available in Adobe Acrobat format. To view the form you will need a copy of Adobe Acrobat Reader. If you do not already have this software it is available for download.
The collections of the Christ's College Old Library are a priceless resource, including rare books and manuscripts from the medieval period to the twentieth century. First editions of Milton's works, letters from Charles Darwin, celebrated Oriental manuscripts, early printed legal and theological books: all these and more are held in trust for present and future generations of scholars. To guarantee the long-term preservation of this unique collection, the College has launched a major conservation and custodianship programme. Individuals interested in supporting this initiative are invited to become Friends of the Old Library. For an annual subscription, Friends receive privileged access to the Library collections, invitations to lectures by experts, and an annual newsletter. For further information, please email the Development Office.
2012
2011
Issue 11
2010
Issue 10
2009
Issue 9
2006
Issue 6
2005
Issue 5
2004
Issue 4
2003
Issue 3
2002
Issue 2 
2001
Issue 1