What to expect from your Library Induction:
1. Each summer, new students receive an informational email welcoming them to the library. You will also receive (as appropriate) an  Undergraduate and/ Postgraduate quick guide to library use.
2. At the beginning of the academic year, as part of general induction tours, you will be offered an induction tour of the Library.
On demand, we may offer separate sessions on iDiscover, our library catalogue. Our iDiscover page offers an online induction of iDiscover with visual guides and practical exercises to help you find the academic resources (books, e-books, journals, databases) specified as your course reading. If you missed the general induction tour or wish to learn more on iDiscover, please do not worry and just send us an email (library@christs.cam.ac.uk) to arrange something for you.
3. All our induction information for new and returning students can be found on our website all year around and staff are here to help along the way. 
4. You do not need to learn or expected to learn the information below immediately. It will take time to adjust to your course and should primarily focus on your course requirements. Make sure in the following weeks, after the start of the new academic year, that you visit our library and also check out our resources on iDiscover, our Cambridge Libraries catalogue. Library staff are available in the Library 9-5, Monday to Friday or contact us.
Virtual Library Induction for new library users

Blended Learning
This year will be a blended learning module which means it is a combination of classroom and online learning.
Visual Guide for Blended Learning: It covers the basic expectations for teaching & learning in the year ahead, commonly used platforms, availability of resources, and where to find support should you need it.
For further information please visit the Blended Learning Guidance Page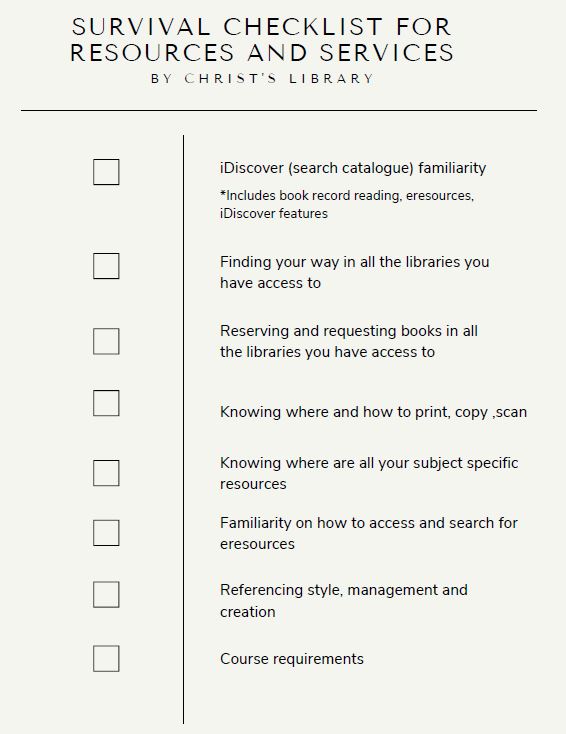 We have you covered. This survival checklist on resources will help you get started. All you need to know on how to find your resources before your first  assignment.  

  Libraries 
It is not uncommon for new students to have had little exposure to libraries before beginning their studies at Cambridge University. Maybe you have used your school library, public library or it is the first time you are using a library. Our library website, library staff and printed resources in our library can help you navigate through the resources needed for your studies.  When you are ready, pay us a visit or have a look on how to use the library.
  Cambridge Libraries:
Cambridge Libraries are quite unique in having more than 100 libraries just for Cambridge University. Each library aims to buy books approved by your Director of Studies or Tutors, for your subject of study. All those book are on an online catalogue that you can search. Your options on the online catalogue, iDiscover, may include information on how to find a physical copy of a book in your chosen library or links to online versions of that book. You will also slowly get to see how  a library can provide the resources need for your studies. 
Understanding Cambridge Libraries 
Which Libraries do I have access to?
During your studies you will have access to 3 libraries. These are
your college library;

your faculty/department library;  and

the University Library.
 Each library has their own regulations, opening hours and borrowing rights.
Cambridge University Libraries has created a helpful video on the different libraries you could be using during your studies.
Christ's Library: Our Library aims to provide all books needed for undergraduate Tripos Part I papers, and as many as possible for Part II papers. We are a 24/7 library that offer study space for our members and a book recommendation service if the book is not available in any Cambridge Library. We are on Christ's grounds that is located right in the city centre of Cambridge. 
Faculty/Departmental Library: Faculty and departmental libraries are designed to accommodate their subject and serve their own faculty or department. They are particularly useful when looking for physical or online resources specific to your subject. These libraries also have subject specific librarians.
University Library: With registration all members of Cambridge University can access and borrow at the University Library. Holding more than 9 million materials including specialized collections, this library is great for further research. The University Library is a copyright library, which means that it receives a copy of every book published in the UK as a legal deposit, either in print or digitally. Core materials can be borrowed or consulted in the University Library but do keep in mind the popularity of some of the materials. 
Why use Christ's Library?
Depending on your subject you might find that your Faculty/Departmental Library or the University Library or Online resources have the resources you are looking for yet  as a member of Christ's College you have exclusive access to  material that might be unavailable or in high demand in other libraries. Non Christ's members can consult but not borrow books from Christ's Library. This is where Christ's library becomes an importance source and study space for your studies. We aim to provide all books needed on all subjects for Part I papers and as many as possible for Part II papers, with some material for Part III and postgraduate studies also available. You will also have the Christ's Library staff to help along the way with any library enquiries and personally helping you make the most of the vast amount of resources available to you.

Library staff are available Monday- Friday, 9-5 at the Issue Desk, First Floor opposite the library entrance. We can deal with enquiries in person or remotely relating to your library stay, library account, our collections, available resources and more. Please do no hesitate to contact Library staff 

 Overview of Christ's Library 
Visiting Christ's Library
How do I get to the Library?
Finding the Library is very easy. It is close to the main entrance of college as it is situated in First Court, making it easy to access at all times.
The Library is situated on First Court. First Court is where the Porters, The Buttery and the Chapel are situated. Next to "The Buttery", on the right,  there is a narrow corridor that leads to a patio and the Ground Floor of the Library. Follow the Library Corridor on the Ground floor up the stairs to the First Floor where the Reading room is situated. Please be aware that the library is not visible from First Court.
Please check out our visual aid video on how to get to our library and our College map.
Members of College are allowed access 24 hours a day, in both full term and vacation, using their University ID card.  Readers are reminded not to admit non-members of Chrirst's to the Library. Surveillance cameras operate at all times.
Staff operating hours:
The Library is usually staffed 9am - 5.00pm, Monday to Friday throughout term and vacation. The library office is located on the first floor opposite the library entrance. For users who need to be certain of staff help, eg students with a crucial deadline or visitors making a special journey, we recommended to contact Library staff in advance.
Visitors:
 Alumni, members of other Colleges within the University, and all external visitors, should apply for admission by contacting Library staff in advance.  Contact Library staff
Disability access:
The Library is accessible to wheelchair users at all times, and there is ramped access into the building. Users with special access needs are recommended to contact the Librarian and or Porters in advance of their first visit. For further information on disability services  please visit our disability/assistive resources website  (/assist)
Collections
Library:  24/7 access 
Floor 1,2,3 houses our 21st century material. The first floor is a Reading Room that also serves as a study area. Our Library aims to provide all books needed for undergraduate Tripos Part I papers, and as many as possible for Part II papers. Some material may also support postgraduate studies. 
The Reference section of the library includes Cambridge University examination papers from previous years, plus encyclopaedias and dictionaries.
The library also has a "General Interest" collection of non-academic books and DVDs. This include our Wellbeing and Study skills collection.
We provide the latest issues of a limited number of periodicals found in our display stands on the First Floor. 
Accessible to Law students, it is a small study space with law textbooks for borrowing. Additional law material can be found in the Working Library. It is a separate location found in First Court, College entrance directly to your right, where the old library stairs are situated. 
Houses our 20th and 19th century material. The library team is working on a project to create records for previously unrecorded 19th century material in the Lower Old Library. These records are slowly becoming accessible on iDiscover.
Our holdings range chronologically from 11th-century manuscripts through to 18th-century works. We hold materials in English and Latin, but also in Greek, Arabic and Sanskrit.
Online cataloguing of our holdings is ongoing; if you have come across a reference to an item that does not appear in the University of Cambridge Libraries' online catalogue, iDiscover, please contact us.
Quick Guide Booklets to library services
All booklets are in PDF format and are also available in printed form in the library Reading Room.
Library Services
Part of your study experience is finding the right resources for you. You will be using iDiscover, our online catalogue, to search for books and online resources. 
Books can be borrowed and returned via the self-issue terminals in the Reading Room in the Library, First Floor. Please place returned books on the 'Returned Books' trolleys to the left of the self-issue terminals. Alternatively you can ask a member of staff
To renew a book please log in to your account (found on iDiscover, top right corner of page) or ask a member of staff. You will need your Raven pass.
We follow a NO FINES policy at Christ's Library but do fine for lost books.
Books for the College Library are chosen from Departmental and Faculty reading lists and at the recommendation of Directors of Studies.
But purchase recommendations from students are always very welcome! 
There are six MCS (Managed Cluster Service) computers in the Reading Room, two further terminals on the landing outside the Library entrance, and a Quick Print MCS computer in the Print Room. The "Christs" wireless network is available throughout the College, including the Library. You can also bring your own laptop. 
Please remember to connect your laptop to the College printers and add money to your printing account balance before any visits to the library for printing. It will take some time to set it up.
We have a webpage dedicated to supporting any additional needs of our users. Library staff can provide additional information and try to accommodate you as best as possible.
If you for whatever reason cannot come to the library we offer limited remote services for our users. These services are subject to staff availability. We advise users  to be registered with the Disability Resource Center. Please visit our page for our Assistive Resources.

 Additional Library Services
Camguides
CamGuides is a set of resources for students beginning undergraduate, or taught Master's, degrees at the University of Cambridge. There are two separate versions:
CamGuides is designed to help students prepare for their studies in Cambridge, regardless of their subject or college. It focuses on some of the academic and information practices and skills that students commonly engage in, or require, for their degrees.
CamGuides is an open resource, and there's no need for any formal University of Cambridge affiliation to use the sites.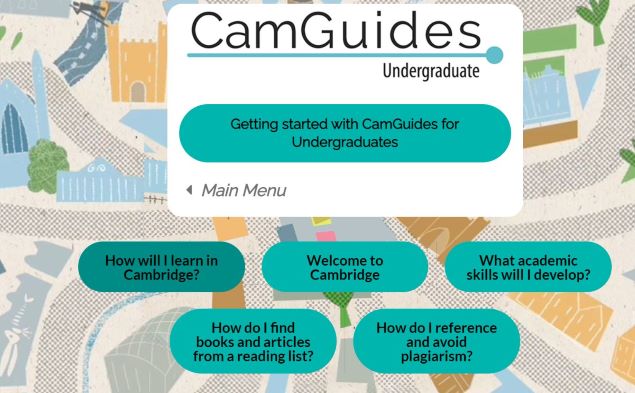 Referencing
For every course, in all subjects, you will be asked to provide a trail of information around the research you have conducted for whatever piece of work you present during your course. Your source of information is called a "reference" and depending on your department it might need to be a specific format . You will need to keep track of what you read and what you used to create your piece of work. Below is some information on how to form and manage your references.
1. Your course will specify what Reference Style you should be using during your course. Some subjects have no specific guidelines while others wish for a specific referencing style. Please have a look at he Libguide on referencing to find the referencing style of your subject. Keep in mind that not all subjects follow a specific referencing style. 
Faculty/Departmental libraries may do sessions on your specific referencing style or on referencing management software. 
2. Reference management software will let you download references from catalogues and databases, store pdfs and take notes, keeping everything in the same place and searchable so you can track it down later. Plus, it is all backed up online so that you can access it whichever device you are working on. Use iDiscover to copy the reference to the reference style you want. Please visit our iDiscover page or watch this visual guide. 
3. One of the most useful features is that it can help you to cite references in a Word document and automatically build your bibliography/list of references. You probably won't want to get started with this software until you are a little way into your course and have written a few essays, but the guides below will give you more information if you are interested in finding out more about them now.
Mendeley and Zotero are free. You can also download them or access them online. Youtube Channel of Mendeley.
Endnote Desktop is provided for free by the University on Managed Cluster Service computers, and can be obtained for a personal computer via University Information Services. Endnote Online is free to use. Youtube Channel of Endnote.