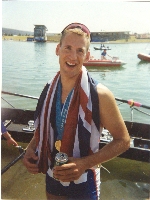 Olympic rower Kieran West (m. 1995) was born in Kingston-upon-Thames and studied Economics and Land Economy at Christ's, where he also completed his PGCE in Mathematics. Having been a National Rowing Champion at the age of 15, West first rowed for the Blue Boat in 1999 and went on to be elected President of Cambridge University Boat Club in 2001, winning the Boat Race on both occasions. He represented Great Britain for the first time in 1998 at the Under 23 World Rowing Championships in Greece, was selected for the senior team the following year and won a silver medal at the 1999 World Rowing Championships. At the 2000 Sydney Olympic Games he was the youngest member of the first British Eight to win a gold medal since the 1912 Stockholm Olympics and the first member of Cambridge University to win the Olympic Games while still a student. He was subsequently awarded an MBE for 'services to rowing' in the 2001 New Years Honours List.
Over the course of his rowing career West won every major international and domestic rowing event: the Olympic Games, World Rowing Championships, Rowing World Cup, Oxford-Cambridge Boat Race, Head of the River Race, Head of the River Fours and Henley Royal Regatta.
Read an interview with Kieran West in a former issue of 'Pieces' here.