Listening to you
We regularly involve you in assessing our services and resources. Gathering both quantitative and qualitative data enables us to understand your concerns about our services and explore ways in which we can improve things.
How do we gather your feedback?
 
1.Our feedback board found in the library corridor, ground floor
 
2.Our feedback box on the first floor in the Reading room
 
3.Our online feedback form 
What feedback is useful to us?
All comments are useful to us. We want to hear about your ideas and experiences, and how you are feeling during your study experience in the library and outside it. For example:
How does the library connect to your everyday routine?
If not do you have everything you need for your study experience?
We particularly welcome your comments on:
Our services 
What we offer
What you already use
What you would like to use 
 
Our books 
Did you successfully find the books you wanted?
Have you asked library staff for help?
Have we bought books for you?
Did we cover your reading lists?
 
Online Resources 
How much do you use online resources like ebooks or ejournals?
Have library staff helped you find or use eresources?
 
Our space 
Do you use it? How often?
How do you use our space for study? 
Any recommendations?
 
Website 
What information do you expect to find on the website?
Did you find what you were looking for?
Is the information on the website clear or confusing?
Did you find any pages particularly useful?
 
Your subject 
What are the special needs of your subject?
Do you use Christ's Library for its books or space or both?
Do you also use your Faculty/Departmental library? If so, for what?
Information about our Feedback board Pilot - May 2022
We gathered 5 participants for a usability test of our new feedback board . Usability testing is qualitative research on such topics as : the board's aesthetics; how you express your comments on the board; whether the different categories of the board work well, and how the librarians respond to your comments. 
The feedback board was placed in the library corridor and anyone could anonymously place a comment in any of its four categories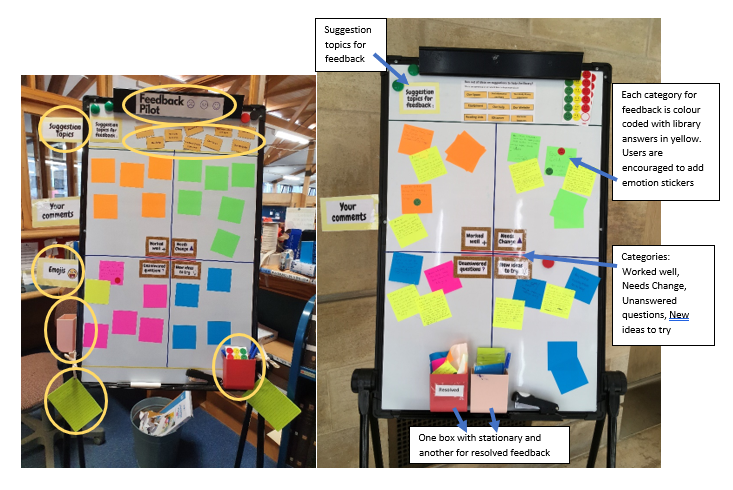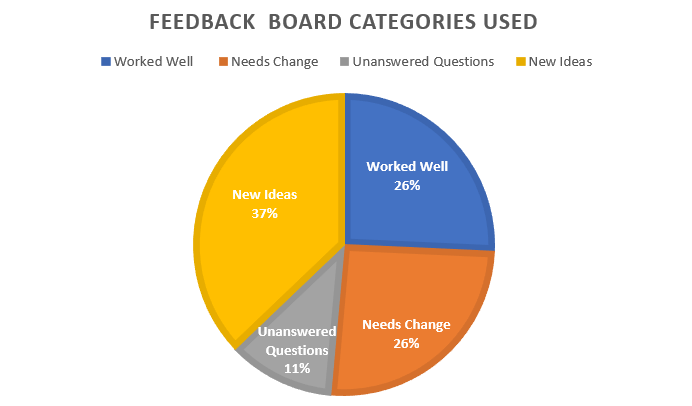 Results of Feedback Pilot
   You like our stationery and have given us some great ideas on how to expand further.
 Our desks need modernization. The library was built in the 1970s. We have recently changed the chairs and added some ergonomic equipment to the Reading Room and sofas in the library corridor downstairs. A new library will be built in the next few years that will provide a flexible working environment. 
  The library temperature. The air conditioning/temperature regulation system with the combination of the wall of windows often makes the room too hot or too cold.
What we did!
We personally answered every single comment and these are our action points: 
1. We brought engineers to check the air conditioning/temperature control units. We now have new air conditioning units for better temperature regulation.
2. We looked into noise complaints and added appropriate signs in the library.
3. We bought almost all the new stationery you asked for, and distributed it in the reading room and library corridor. Some items can also be borrowed from the library office.
4. We bought jigsaws and reinstated Squash O' Clock.