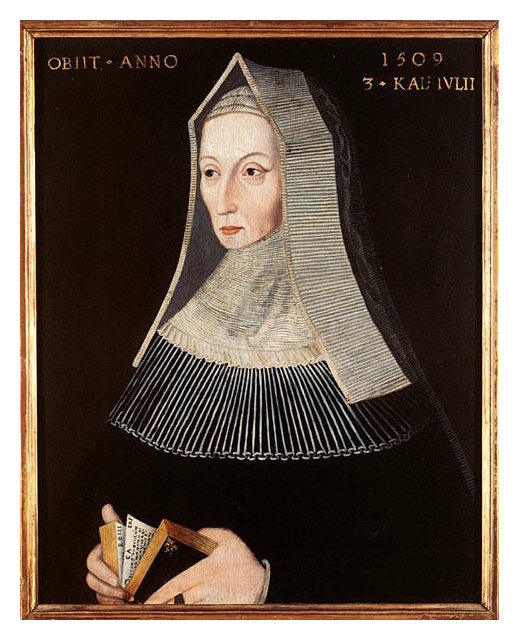 Lady Margaret Beaufort (1441/1443-1509) is best known as the mother of Henry Tudor, later King Henry VII of England, the first monarch of the Tudor dynasty, whose claim to the throne was based on his mother's descent from the Plantagenets. A key figure in the later stages of the Wars of the Roses, she is seen by many historians as the influential matriarch whose actions changed English history. However, she was also an important patron of educational institutions. During her lifetime she established one of the first free schools for the general public, endowed several academic posts at the Universities of Oxford and Cambridge and founded two Cambridge Colleges: Christ's College in 1505 and, posthumously, St John's College in 1511. Her life therefore offers a fascinating window into one of the most turbulent periods of English history and an opportunity to consider issues related to the study of gender in history.
To explore these ideas, Christ's College will be holds an annual Lady Margaret Beaufort themed History Taster Serise. The aim is to give you a taste of what it is like to study history at Cambridge University through a series of lectures and workshops exploring Lady Margaret's life and legacy. The series takes place online through March 2022 (7, 14, 21, 28 March) and at the end there's an optional visit to Christ's for those who can get to Cambridge (8 April 2022).
Applications have closed for the 2022 Taster Series. If you're currently in Year 11 (Year 12 in Northern Ireland, S4 in Scotland), you can register interest here for the 2023 History Taster Series. 
 
Eligibility
This Taster Series is aimed at academically able students who meet all of the criteria below:
you are in Year 12, S5 (Scotland) or Y13 (Northern Ireland)
you attend an academy, school or college that does not charge fees (to anyone).
you are studying History for A level, IB Higher Level or Scottish Higher or equivalent.
you are interested in exploring the past in ways that go beyond the standard school curriculum.
If you are from outside the UK and are unsure about your eligibility to apply for this event, please contact us for further information.
"I really liked the opportunity to hear from experts, combined with hearing from people my own age who are as passionate about history and interested in similar things to me."
A participant at the 2021 History Taster Series
Theme and content
The History Taster Series is themed around Lady Margaret's life and legacy, as well as the study of gender history, with sessions given by Christ's historians, the chance to chat with current students studying history and a tour of the College. The series also normally includes application advice and plenty of opportunities to ask questions.
Apply for the History Taster Series
Applications have closed for the 2022 History Taster Series. If you have got a place, please see the History participants page.
If you're currently in Year 11 (Year 12 in Northern Ireland, S4 in Scotland), you can register interest here for the 2023 History Taster Series. 
 
Practical details
The History Taster Series is for students only (there are no sessions for parents & guardians). Online sessions for this event are running at 16:30 on Mondays 7,14,21 and 28 March for 2022 series participants. There is an introductory session followed by three academic sessions with subject specialists.
At the end of the series there's an optional Christ's visit on Friday 8 April including a College tour, Q&A with students and buffet lunch. Visiting students are responsible for getting themselves to Cambridge, however we provide travel information and a map of the college:
If you are in (or were previously in) Care, please read about the Care Travel Fund (eligibility criteria apply).
For students travelling a long way, limited accommodation is normally available at Christ's on the night before the taster series visit on a first come, first served basis.
Comments from previous participants
We asked some of our previous participants what they would say to future students considering an application for the series. You can read their comments here.
"I enjoyed learning in more detail than in school about various aspects of English society through the lens of women, which encouraged me to reflect on how this changed over time."
A previous participant, 2021